No-bake mojito cheesecake
The mojito cheesecake is a cake that uses the ingredients of a mojito to create a great mojito-flavored dessert. During summer, when the heat is unbearable in most countries, a refreshing dessert is the only thing you are looking for, and here you have it. This cake is perfect for summer, whether you are celebrating a birthday or just wanting to enjoy a summery dessert.
We made this cake to celebrate Mother's day this year. As usual, we were asked to prepare the dessert, and we wanted to experiment with something new (again, as usual).
We had come across this dessert some time ago so it was time to put our hands on it. We were not really in love with any recipe we found, so we used a recipe for the cookie crust from a previous cheesecake we had prepared and played with the rest of the ingredients to create our version.
If you are a lover of cheesecakes, save this No bake Easter egg cheesecake and Gingerbread cheesecake. You will love them, trust us.
Ingredients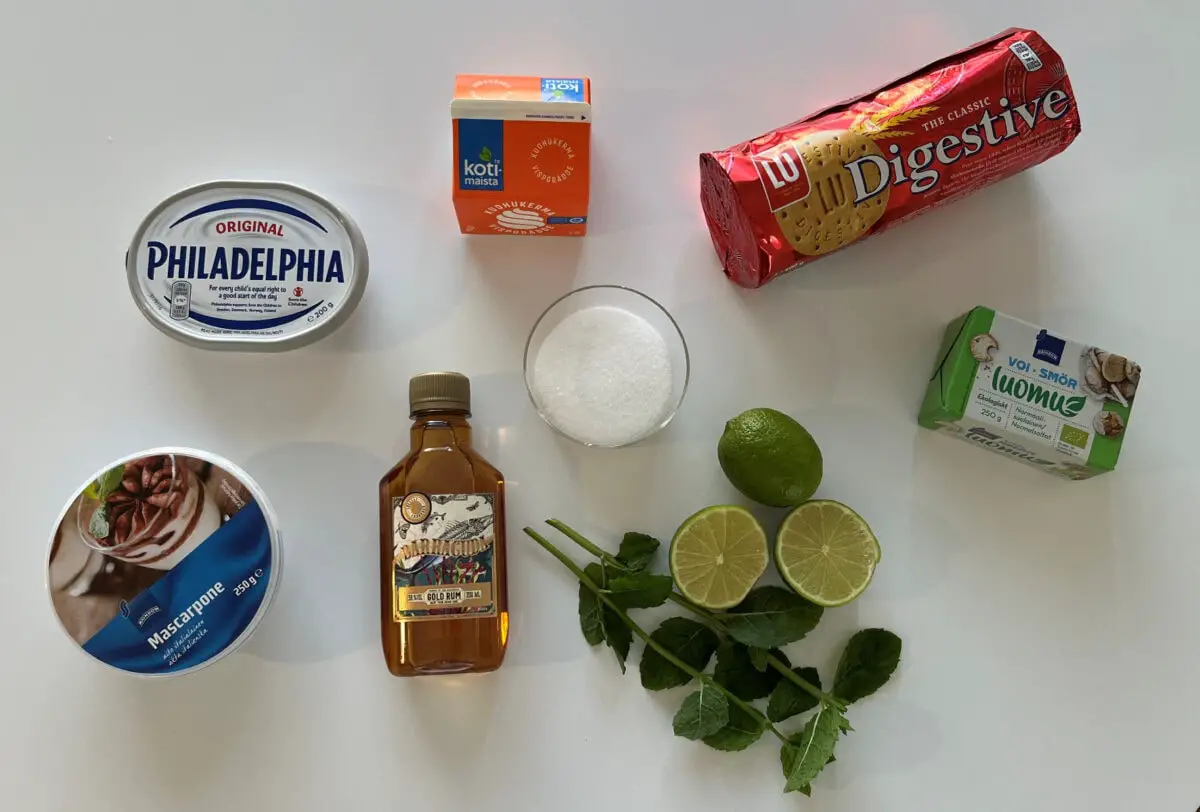 If you are a fan of Mojitos, you'll definitely love this incredibly tasty Mojito cheesecake. Transforming a drink into a delicious cheesecake that is sweet, sour and fresh at the same time is the best you can do to face the hot season.
In order to make the cookie crust you will only need:
Cookies: We used digestive cookies, but you can replace them with cookies of your choice.
Butter: We normally buy salted butter, but feel free to use an unsalted one.
Once the crust is ready and stored in the fridge, you can start taking care of the filling and the mojito syrup that you will use to recreate the flavor of the cocktail. The syrup is very easy to make and you can't really make it wrong! You will need:
Rum: We used Barracuda Gold Rum, but any white or dark rum will work just fine.
Lime Juice: We recommend using fresh limes to squeeze instead of using a bottled version. This way, the flavour will be more intense and natural.
Sugar: Granulated.
Mint: A few leaves will do, around 3 Tbsp.
Once you have prepared the syrup, you'll mix it with the rest of the ingredients:
Mascarpone: We used Granarolo mascarpone (under the brand "Rainbow" in a Finnish supermarket chain).
Philadelphia: Of course, any cream cheese will do, but bear in mind the fat percentage. Philadelphia has 21% and you should not be using low-fat cheese. Remember to take it out of the fridge some minutes before using it.
Cream: The same applies here. We used a cream with 35% fat.
Topping
For this Mojito cheesecake, we opted for a very simple topping: some lime slices and some mint leaves, to give that additional touch and a summery feeling.
If you want to try some different toppings, you can even put some berries, such as blackberries and/or blueberries, or create some decorations with the whipped cream.
Variants
If you wanna make a kid-friendly version, you can use a non-alcoholic rum drink, for instance, Ronsin.
Storage
Once your mojito cheesecake is ready, remember to place it in the fridge, well covered, for around 6 hours. The amount might be slightly longer if your fridge is not cold enough. The chances that some of this cake is left are close to zero, but if that is the case, you can store it both in the fridge or in the freezer.
Refrigerator: you can store it for around 3 days.
Freezer: The cheesecake can be stored for up to three months. Remember that, even when storing it in the freezer, it needs to sit in the fridge for six hours prior to storing it.
How to cut a Mojito cheesecake
How to cut a cheesecake may sound complicated at first, but it's actually pretty simple. This method works great for both removing the cake from the pan and cutting it into pieces when serving.
When it's time to serve, take a long knife and rinse it in hot water to be slightly wet when cutting. Once the first piece is out and served, proceed in the same way, cutting the others.
Tips
We highly recommend you plan this cheesecake in advance. As it needs to set for several hours, planning to make it on the same day is not a good choice, unless you will have to eat for dinner and you have plenty of time before.
No-bake vs baked
If you are wondering what is the difference between a no-bake and a baked cheesecake, the answer is simple: the no-bake cheesecake does not need to cook. Instead, it will need to sit in the fridge for around six hours.
FAQs
Can I make an alcohol-free mojito cheesecake?
Yes, just skip the mojito or replace it with an alcohol-free drink
Can I replace the fresh mint?
We do not recommend using dried mint, or a bottled mint-flavoured liquid because the fresh mint will give a more intense, natural, and authentic flavour
Can I make it in advance?
Yes, this mojito cheesecake can be kept in the fridge for 2-3 days and in the freezer for up to three months. We recommend making it in advance so it has the proper time to sit in the refrigerator.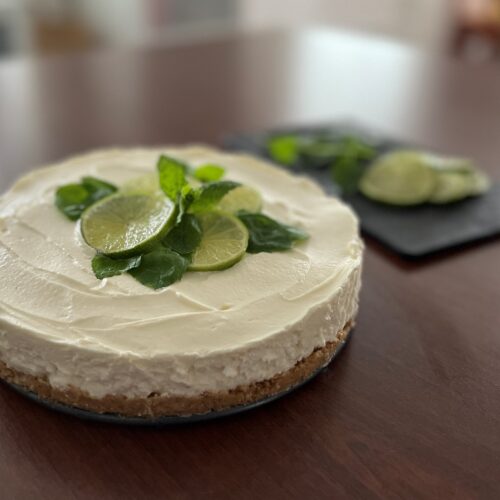 Mojito cheesecake
Mojito cheesecake is a fresh summer cheesecake made with mojito syrup. Perfect for a birthday or as a refreshing dessert during summer.
Equipment
1 Springform cake pan (18cm / 7 inches)
Ingredients  
Cookie Crust
100

gr

butter

270

gr

digestive biscuits
Filling
400

gr

mascarpone

120

gr

Philadelphia

220

gr

cream to whip

Mojito syrup

see below
Mojito syrup
4

Tbsp

lime juice

zest of 2 limes

115

gr

sugar

2

Tbsp

rum

3

Tbsp

mint
Serving
2

slices of

lemon

10

leaves of

mint
Instructions 
Grease springform pan with butter.
Cookie Crust
Melt the butter in the microwave – around 15-25 seconds at 800W.

Crush the biscuits with a rolling pin.

Mix butter and biscuits in a bowl and spread evenly onto the pan.

Place in the fridge and let it set for 30 minutes.
Mint syrup
Add the lime juice, zest, mint and sugar into a saucepan. Heat over low heat until sugar has dissolved completely. Stir constantly.

Let simmer for a minute and set aside, letting it to cool completely.

Strain the liquid into a bowl to remove all the remaining mint leaves and lime zest that remain in the strainer.

Mix the rum in the syrup once it is cooled.
Filling
In a bowl, add mascarpone and Philadelphia, then mix until combined.

Add the cooled mint syrup and mix until combined

Whip the cream separately and add it to the filling by folding it gently, until combined.

Pour the mixture onto the biscuit base and spread evenly. Place in the fridge for at least 6 hours.
Serving
Remove from the pan with a knife, going through the edges around the cake.

Decorate with the toppings of your choice and serve.
Video
Nutrition
Calories:
650
kcal
Carbohydrates:
47
g
Protein:
8
g
Fat:
48
g
Saturated Fat:
28
g
Polyunsaturated Fat:
3
g
Monounsaturated Fat:
7
g
Trans Fat:
0.4
g
Cholesterol:
113
mg
Sodium:
332
mg
Potassium:
140
mg
Fiber:
1
g
Sugar:
26
g
Vitamin A:
1486
IU
Vitamin C:
3
mg
Calcium:
147
mg
Iron:
1
mg
Caution
Nutritional information shall not be used for medical reasons.