The translation service is offered by Google translate. By using it, you accept Google's Privacy Policy and their Terms of Service. Google will install a cookie when you click on a flag to store your preference.

AR
BG
ZH-CN
CS
EN
FI
FR
DE
HI
HU
IT
PT
RU
ES
Tacos are a Mexican dish consisting of a small hand-sized wheat tortilla, that is then filled with ingredients. There are a lot of variants for the filling, following traditional and less traditional versions of this dish. Following our recipe, you make tortillas for authentic Mexican tacos. Feel free to follow our tips for the fillings or come up with your own.
The origin and history of tacos
It seems difficult to report exactly the date when tacos were invented. What we know for sure is that they are Mexican.
History has it that the first time the term was used might be in the 18th century and that it was credited to silver miners. Mineworkers used the word taco to refer to a small piece of dynamite used to excavate rock areas and it looks like the word then spread to the tortilla eaten as a taco when prepared.
Tacos are quite widespread around the world as Mexican street food has expanded, alongside other street food cultures.

Traditional variants
You can never get tired of tacos and one of the reasons is that around the globe you can always find many incredibly tasty variants of this Mexican dish.
Here you will find some of the most known authentic Mexican tacos variants:
Tacos al pastor (Shepherd-style tacos), made of thin pork steaks. The meat is marinated in adobo sauce. Usually, vendors set up spinning trompos, where the marinated meat is cooked, with a wedge of pineapple on top and bottom of the trompos. Then, it is placed on the tacos. Commonly, you add cilantro and onions;
Tacos de cabeza (head tacos), made with the meat from the head of a cow. As you can see in brackets, cabeza is the translation of head, which refers to the cow. The meat is braised or steamed to favour the tenderness and then it is served in a taco with salsa, cilantro and onion.
Tacos de camarones (shrimp tacos), originated in Baja California in Mexico. They are fish-based tacos, made with grilled or fried shrimp, usually served with lettuce, sour cream, pico de gallo e avocado;
Tacos de pescado (fish tacos), also originated in Baja California. In this case as well, we have grilled or fried fish served with pico de gallo, lettuce or cabbage and sour cream or mayonnaise.
As you can see, the traditional authentic Mexican taco fillings are very much meat-focused. In some taco traditions, fillings with vegetarian ingredients include beans, cheese, and a mix of some vegetables.
These authentic mexican tacos are quite common and are part of Mexican traditions (and American as well), but you will find many others that form part of local traditions.
Authentic Mexican tacos – our vegan option
The options that we listed above contain meat or fish, but what about a vegan option?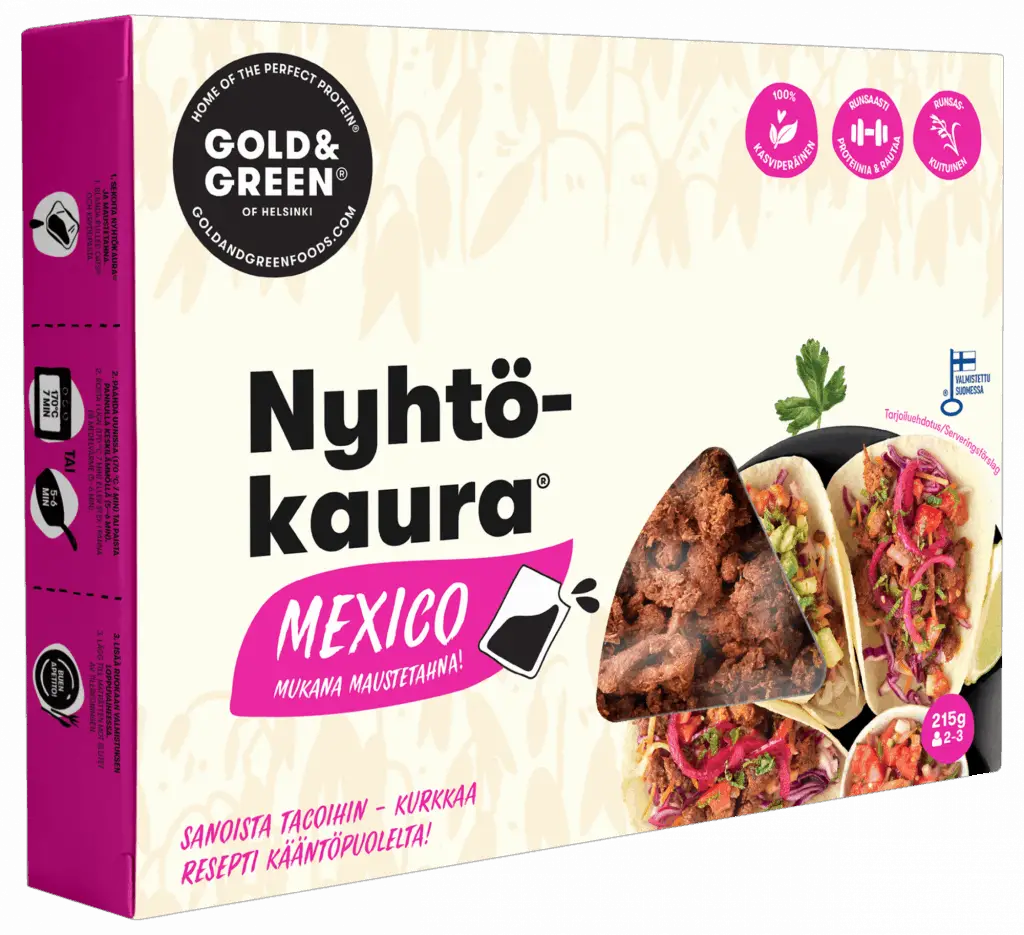 Authentic Mexican tacos can be fully vegan by using vegan options, such as Nyhtökaura, a Finnish product made with oat, pea protein, fava bean protein, and other ingredients. This product is not globally widespread, but the company is exporting it right now in some countries. Check their website to be up-to-date with the current situation.
If this product is not available in your country, take into consideration similar options to fill your tacos. Vegan proteins often contain some types of beans, peas, mushrooms, or other options. Luckily nowadays, new options are being introduced constantly!
Tortillas for authentic Mexican tacos
The recipe we have for you here is a simple recipe for making authentic corn tortillas for your tacos. The ingredients are very simple as you only need cornmeal for tortillas, water, and salt. See our arepa recipe if you want to know more about the cornmeal you need to use because tortillas for authentic Mexican tacos use the same cornmeal as the Colombian/Venezuelan arepas.
You will need to divide the dough into small pieces, roll them into balls, and then flatten each ball. To make sure that you flatten the tacos enough and that you make a beautiful circle shape, you can use the flat bottom of a pot or a pan to flatten the balls. For the best result, place a piece of plastic wrap on a flat surface, put a ball of dough on it, place another plastic wrap piece on the ball, and flatten it with the pan. The tortilla needs to be quite thin, so just press well to flatten the tortilla.
How to store your authentic Mexican tacos
If you plan on storing your homemade tortillas for authentic Mexican tacos for just a couple of days, wrap them properly and keep them at room temperature. If you don't plan on eating them in a couple of days, place them in an airtight container for 5-7 days.
For longer than a week, place them in the freezer. Take into account that putting them into the firdge and freezer will dry them out. Our suggestion is always to eat them when they are made or the day after.
If you liked this authentic arepas recipe, please follow us on:




Authentic Mexican tacos
Instructions
Add the cornmeal into a mixing bowl and mix in the salt. 

Start adding water little by little, while mixing. When everything is mixed, wait for a few minutes before starting to knead.

Knead the dough until you form a smooth ball of dough that doesn't stick to the sides of the bowl.

Divide the dough into as many pieces as you need (the default of this recipe is 12). Shape them into balls.

Heat a pan over high heat. You can heat the pan over maximum heat and then regulate the heat if it is too hot. 

Flatten the balls of dough. To do so, take a piece of plastic wrap and place it on a flat surface. Then, take a ball of dough, put it on the wrap, and place another piece of wrap over the ball. Then press a flat bottom of a pot or a pan on the dough until very thin and round. Remove the flat tortilla and repeat with the rest.

The pieces of plastic wrap need to be bigger than the tortilla that you create by flattening.

Cook the tortillas on the hot pan for a minute or two per side, until starting to get brown and small air bubbles form. 

Serve with the filling of your choice. We used pulled oats, guacamole, and some sour cream. Or opt for variations of more authentic fillings as written in the article above the recipe.
authentic tacos, homemade tacos, tortillas for tacos, mexican tacos
Did you make this recipe?