The Brita cake is a typical Finnish summer cake made of a meringue base, fresh berries, and whipped cream. Whether summer or not, making this cake is always a good option.
We made this extraordinarily delicious cake for the first time last year. It was a sunny summer Sunday, in July, and we were visiting relatives close by. We were asked to make a cake while the others were in charge of making the rest of the meal. We wanted to experiment with something new that we had never tried to make ourselves. What better time than that to try out this Brita cake?
Why is it a summer cake?

The reason why it's usually made in summer is that you need fresh berries to fill the cake with – and summer is the best period to pick them up from the forest! Finnish people know it well and if you are a foreigner visiting the country or living here, you can't miss the great opportunity to experience this.
If you are interested, please take a look at the Berry and Mushroom Picking article by Nationalparks.fi. As the article says, There is no fee to pick wild berries or mushrooms! 
If it is not handy for you to have fresh berries or you want to make this cake in a different season, you are free to use frozen ones. You can thaw them in the fridge over night or outside for some hours. A faster solution, if you are short on time, is to unfreeze them in the microwave. In this case, you need to pay attention as high temperatures can kill the vitamins. You should always prefer slow thawing!
Remember though, the fresher the berries, the tastier and healthier they are!
Brita cake recipe
This cake is generally made with fresh strawberries, but you can use any other berries, too. You can easily mix many types of different ones. It's pretty common to add chopped almonds on the top too and that's how we made our cake. However, adding just fresh berries and whipped cream works perfectly too if you prefer not to use nuts. So with all the different fillings to choose from, there are many different Brita cakes to try! How do know whether you like something if you don't try it?
After the first time, came the second time, and then a third, and so on. Making it is not difficult at all, but it requires concentration in order to follow each step carefully. We have divided our recipe into three instruction sections, so it's easier to follow.
Can I store Brita cake?
If you are unable to eat your Brita cake in one go, you can store it in the fridge for 1-2 days maximum. The whipped cream may become acidic very soon, so we strongly recommend you finish it up as soon as possible.
We also do not recommend storing the Brita cake in the freezer because the whipped cream may go runny.
Take into consideration that the whipped cream catches flavors from the fridge very fast, so if you store it in the fridge, use a very well closed box.
---
Let us know if you have tried this delicious Finnish summer cake! If you are looking for more summer desserts, have a look at our Tiramisù and Coffee-free Oreo tiramisù!
If you liked this Brita cake recipe, please follow us on: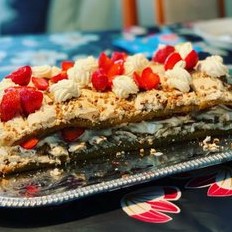 Brita cake
The Brita cake is a typical Finnish summer cake made of a meringue base, fresh berries, and whipped cream. Whether summer or not, making this cake is always a good option.
Ingredients  
350

grams

Fresh berries

2

deciliters

Whipping cream

2

Egg whites

2

Egg yolks

125

grams

Butter

1

deciliter

Chopped almonds

1.5

deciliters

Flour

1

teaspoon

Vanilla sugar

2

teaspoons

Baking powder

2.5

deciliters

Sugar

1

deciliter

Milk
Instructions 
Cake layer
Preheat the oven to 180 °C (350 °F).

Cream together butter and 1 dl of sugar. Add egg yolks. Add flour, baking powder and milk, and beat until well combined.

Spread the mixture evenly (25x30cm/10×12 inches) onto a baking tray lined with parchment paper. Cook in the oven for about 10 minutes. Let it cool down.
Meringue
Beat the egg whites until they puff up. Add the rest of the sugars and vanilla sugar while beating until all sugar is added and the mixture doesn't move even when the bowl is turned upside down.

Spread the meringue on the pre-cooked cake layer. Add the chopped almonds on top. Cook in the oven for about 15 minutes until golden brown. Let cool down to room temperature.
Filling and assembly
Whip the cream and add some sugar.

Cut the cake in two equally sized pieces.

Spread all the whipped cream on one of the pieces and cover it with berries. Lay the second layer on top and sprinkle some berries on the top layer with additional garnishes of your choice.
Notes
Use strawberries or other berries of your choice.
On top, you can add more garnishes.
Nutrition
Calories:
378
kcal
Carbohydrates:
23
g
Protein:
7
g
Fat:
29
g
Saturated Fat:
15
g
Polyunsaturated Fat:
3
g
Monounsaturated Fat:
10
g
Trans Fat:
1
g
Cholesterol:
110
mg
Sodium:
255
mg
Potassium:
223
mg
Fiber:
3
g
Sugar:
5
g
Vitamin A:
828
IU
Vitamin C:
26
mg
Calcium:
129
mg
Iron:
2
mg
Caution
Nutritional information shall not be used for medical reasons.