The translation service is offered by Google translate. By using it, you accept Google's Privacy Policy and their Terms of Service. Google will install a cookie when you click on a flag to store your preference.

AR
BG
ZH-CN
CS
EN
FI
FR
DE
HI
HU
IT
PT
RU
ES
A classic Italian bruschetta is one of the most typical Italian starters. It is one of those that cannot miss on a table when having a Sunday lunch, above all in the South of Italy, or when having a pizza with family and friends in an authentic Italian pizzeria.
It consists of bread rubbed with garlic and topped with tomatoes, olive oil, and salt. As always with bread, you can top it with several other ingredients too, among which cold cuts or cheeses.
History and etymology
Locating historically the origin of the bruschetta is an impossible mission. It is such a common appetizer in many Italian regions that it can be found in some of them in different centuries. We know for sure that the bruschetta has existed for many centuries as of now.
What bread to use for a classic Italian bruschetta
In Apulia, where bruschetta is very common, one of the most common bread is the Altamura DOP bread. You can find it in bakery stores and supermarkets and it's the perfect bread for this.
In Finland, what we love the most is a bread called "Paesano" made by Fazer, one of the most well-known bakery companies in the Nordics. You can have a look at it here (highly recommended if you visit Finland; you can easily find it in the big supermarket chains).
What we really really recommend is you make your own homemade bread for this classic Italian bruschetta recipe. Nothing tastes better. You can have a look at our recipe that we made for homemade bread with olives and follow it by skipping the olives.
The important thing is to have fresh bread that can be cut into thick slices, that is soft in the middle, but becomes crunchy from the top when toasted. Don't use toast.
How we like a classic Italian bruschetta
As said, when you add ingredients to a piece of bread, only your imagination is the limit. In fact, many combinations are possible for a bruschetta. The most classic Italian bruschetta (and how we like it) is prepared first by rubbing garlic on the soft part of bread, to give it a subtle garlic flavor. Clearly, you can regulate the amount and time based on your preference.
Then we usually prepared a separate bowl with oil, tomatoes that have been previously cut into small pieces, salt, and oregano. We also can add fresh basil. We suggest you make this some time in advance in order for the tomatoes to absorb the oil, salt, and oregano for better flavor. You can then, with a teaspoon, take a little amount from the bowl and place them on the slice of bread, little by little.
In the end, you sprinkle some additional oil if you prefer. Southern Italians use oil abundantly so they would surely go for it!
---
As said, bruschetta is a simple and delicious starter to accompany your meals. Tell us, how do you like bruschetta? Do you usually enjoy a classic Italian bruschetta with cherry tomatoes or are you more into bruschetta with different ingredients?
If you liked this classic Italian bruschetta recipe, please follow us on: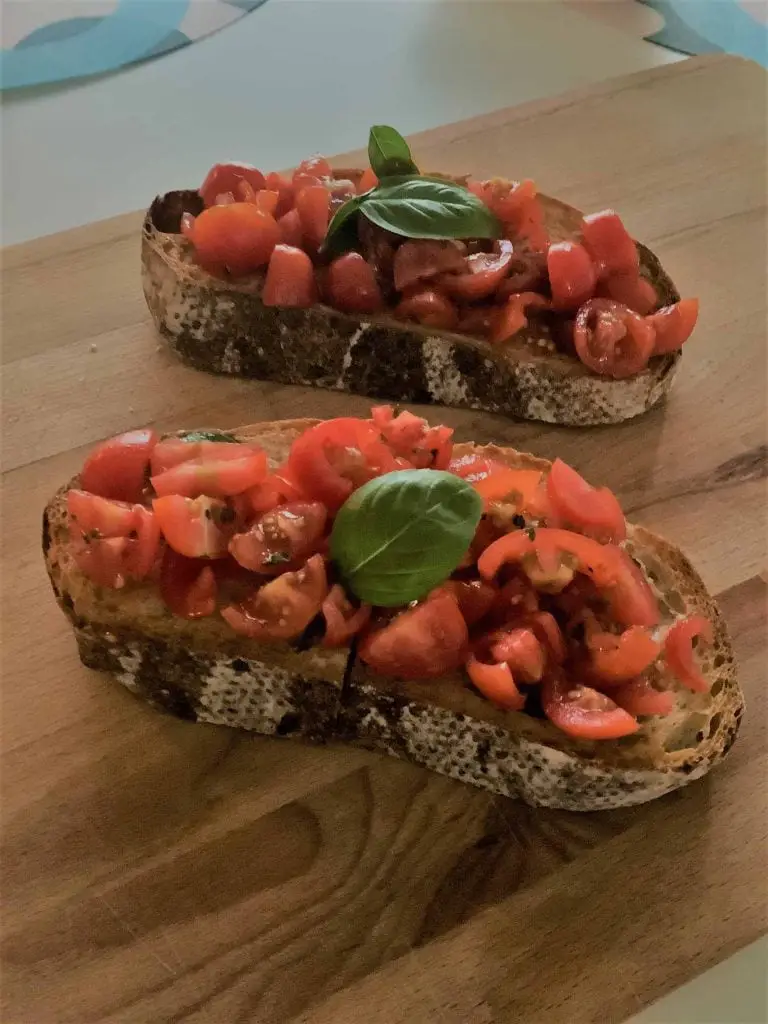 Classic Italian bruschetta
Instructions
Cut the cherry tomatoes into 6-8 pieces and place them in a bowl. Add a pinch of salt, oregano, and shredded basil leaves. Drizzle some olive oil in the mix. Let rest for half an hour.

Toast the slices of bread in the oven (grill mode 200°C) for 5-8 minutes, turning over the slices halfway. The slices need to be nice and toasted from the top but still soft from the middle, so regulate the cooking time accordingly.

When the slices are toasted, rub the garlic clove gently on each slice and drizzle some olive oil on the slices.

The garlic is optional.

Add the tomato mix on each slice and garnish with additional basil leaves if you wish. Serve warm.
authentic italian bruschetta, how to make bruschetta, what is bruschetta, good bruschetta bread
Did you make this recipe?