The translation service is offered by Google translate. By using it, you accept Google's Privacy Policy and their Terms of Service. Google will install a cookie when you click on a flag to store your preference.

AR
BG
ZH-CN
CS
EN
FI
FR
DE
HI
HU
IT
PT
RU
ES
An easy italian sponge cake is the perfect base for your cakes, above all birthday cakes.
When I was a child, my family used to make sponge cakes for almost every birthday. They would usually fill them with pastry cream and cover them with whipped cream. It would also be common to color the whipped cream and draw something on the cake, or even place objects. A very classic one would be with a football team and mini football players on the field, and the two goals on the extreme sides.
Why this is an easy Italian sponge cake
Before making this recipe for the first time, I was literally terrified. To me, my mum is an institution when it comes to baking and making sponge and birthday cakes, so thinking that sometimes they did not turn out the way she expected it to did not make the job easier.
We were in charge of making a birthday cake for a 70th birthday. We would usually make a cheesecake or some other type of dessert, for instance, a Pavlova or a Brita cake in summer. We were required to make a proper birthday layer cake with a sponge cake base, so we had to do it.
We decided to use the word easy in our keyword and in our title because our original fears proved out to be baseless. This recipe will make a perfect sponge cake, ready to be filled and decorated as you please. In only 15 minutes you will have a batter ready to be put in the oven. Then you will need to wait for only 40 minutes and your easy Italian sponge cake will be ready – soft and puffy just like a sponge cake needs to be.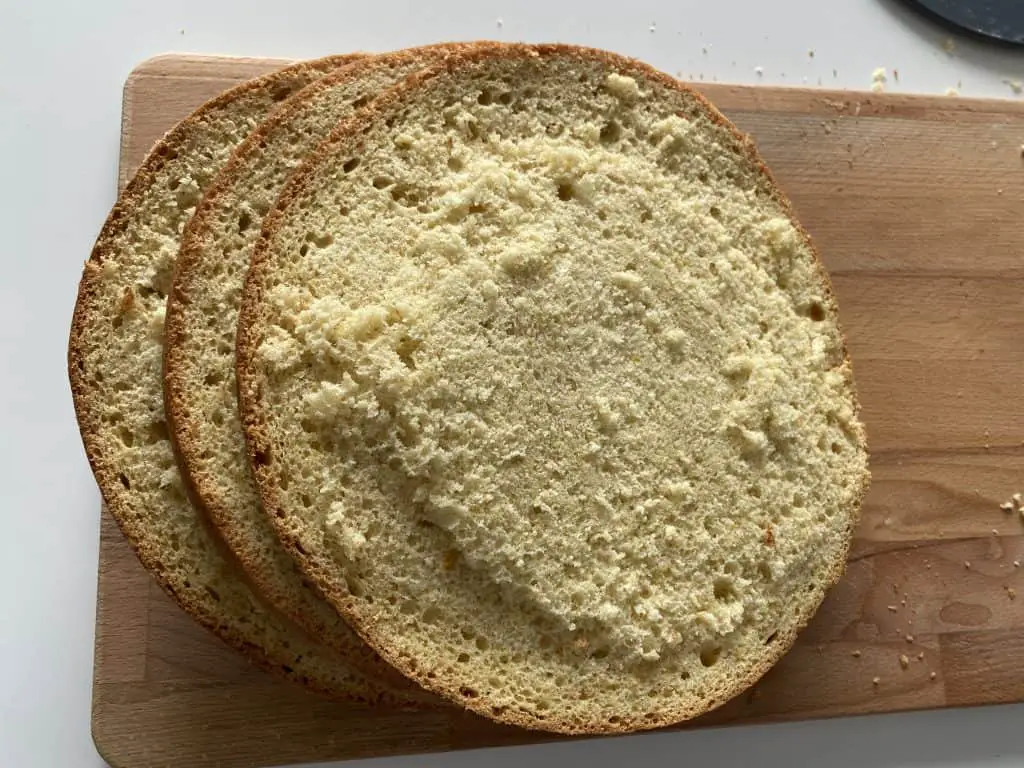 How to make a birthday cake
As said, we cooked this sponge cake to make a birthday cake. As it was summer, we opted for a delicious strawberry and cream cake. The recipe for it can be found here. Briefly, we made this easy Italian sponge cake for the base. Then we used strawberries as a filling and used the extra juice to moisten the sponge cake after cutting it. We cut the cake into three layers so we moistened the three of them.
We then filled the middle parts with mashed strawberries mixed with powdered sugar as well as a mixture of whipped cream, quark, and sugar. We covered it in buttercream and then added strawberries, mint leaves, and meringues as decoration.
---
If you liked this easy Italian sponge cake recipe, please follow us on:




Easy Italian sponge cake
Instructions
Separate the egg yolks from the whites and beat the whites until stiff peaks form. Set aside.

In a separate bowl, beat the egg yolks with six tablespoons of hot water.

Add sugar and the lemon peel, that you have previously grated, and keep beating until fluffy.

Add the flour and baking powder and keep beating.

Add the beaten egg whites and stop beating. Fold in with a wooden spoon from the bottom to the top until well mixed.

Preheat the oven at 180°C.

Take a 24cm round cake pan and cover it in butter and flour, so that the batter won't stick to it.

Pour the batter and spread as evenly as you can.

Cook for 40 minutes and once ready, let it cool before cutting or decorating.

Try not to open the oven door while cooking.
sponge cake, easy sponge cake, soft sponge cake, the best sponge cake, sponge cake recipe
Did you make this recipe?