Fettuccine, plural of fettuccina and literally translated as little ribbons, are a type of pasta particularly known in Lazio, in Roman cuisine, and Tuscany. It is a thick and flat pasta with egg and flour. It is also very similar to tagliatelle, which are typical of Bologna, in Emilia Romagna. Italian regions all have their own culinary traditions so even small differences in the style of pasta and their names might exist. One of the most common dishes with fettuccine or tagliatelle is eating them with mushrooms.
Pasta and mushrooms to use
Like said, this pasta dish is made with fettuccine but you can just as easily use tagliatelle. Either of the two is just fine. Both of them can be made home if you have a pasta machine, or you can buy them easily from the supermarket (they are usually sold fresh in the refrigerator aisles or dried in the pasta department).
For this recipe, we used local champignon mushrooms, as they are common to find and generally affordable, compared to other types of mushrooms. If you wish, you can use portobello, or even porcini, mushrooms or any similar types of mushrooms. Using just the champignon mushrooms, our mushroom fettuccine turned out extremely delicious, so we can recommend them!
The rest of the ingredients are pretty easy and simple. You will just need oil, butter, parsley, white wine, garlic, salt, and pepper. In order to make your dish fully vegan, you can just replace the butter with some more oil and use a vegan white wine. White wine is not strictly necessary but we found that it does bring an extra bit of flavor to the dish.
Long pasta alternative to mushroom fettuccine
If you are uncertain whether to make your mushroom fettuccine or perhaps you decide to postpone making this recipe to a later day, here you find some suggestions on dishes where we used long pasta:
Amatriciana-style vegetarian pasta: we all know how amazing amatriciana pasta is. What if we told you that this version is suitable for vegetarians because we made our own vegan bacon by using tofu? And what if you replace the pecorino cheese with a vegan option to have a full vegan amatriciana pasta?
Spaghetti alla puttanesca: this recipe comes from Naples and the Lazio region in Italy. You will find some differences between the two versions so that you can make a pescatarian version with anchovy fillets. If removed, your dish will be fully vegan.
If you liked this mushroom fettuccine recipe, please follow us on: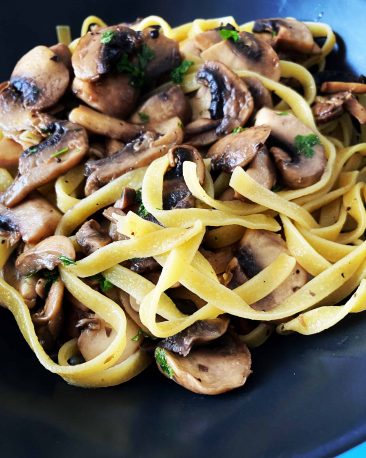 Mushroom fettuccine
Fettuccine, plural of fettuccina and literally translated as little ribbons, are a type of pasta particularly known in Lazio, in Roman cuisine, and Tuscany. This recipe with mushrooms is a clasic!
Ingredients  
320

grams

fettuccine

or tagliatelle

500

grams

mushrooms

35

milliliters

extra virgin olive oil

1

clove

garlic

50

grams

butter

salt

black pepper

0.5

deciliters

white wine

fresh parsley
Instructions 
Clean the mushrooms and cut them into slices. Cook the pasta al dente in salted water.

While waiting for the pasta, melt the butter in a pan over low heat. When the butter has almost melted completely, add the oil. Increase the heat slightly (medium).

Add the garlic clove and the mushrooms. Add salt and pepper to taste. Let the mushrooms lose some of the liquid and then increase the heat and add white wine. Let it evaporate over high heat for a short while. The total cooking time should be about 8-10 minutes.

Remove from heat. Remove the garlic clove. Chop the parsley.

Add the cooked pasta into the pan with the mushrooms and mix over low heat. Add the parsley and mix well. Serve immediately.
Caution
Nutritional information shall not be used for medical reasons.