Gorgonzola and walnut pizza
Some weeks ago we wrote this recipe on how to make a Margherita pizza. Now it's the moment to take a step further, starting to add some different toppings to it. Gorgonzola and walnut pizza is the first we want to publish. We are definitely in love with it, so choosing it as one of the first topping ideas was a must.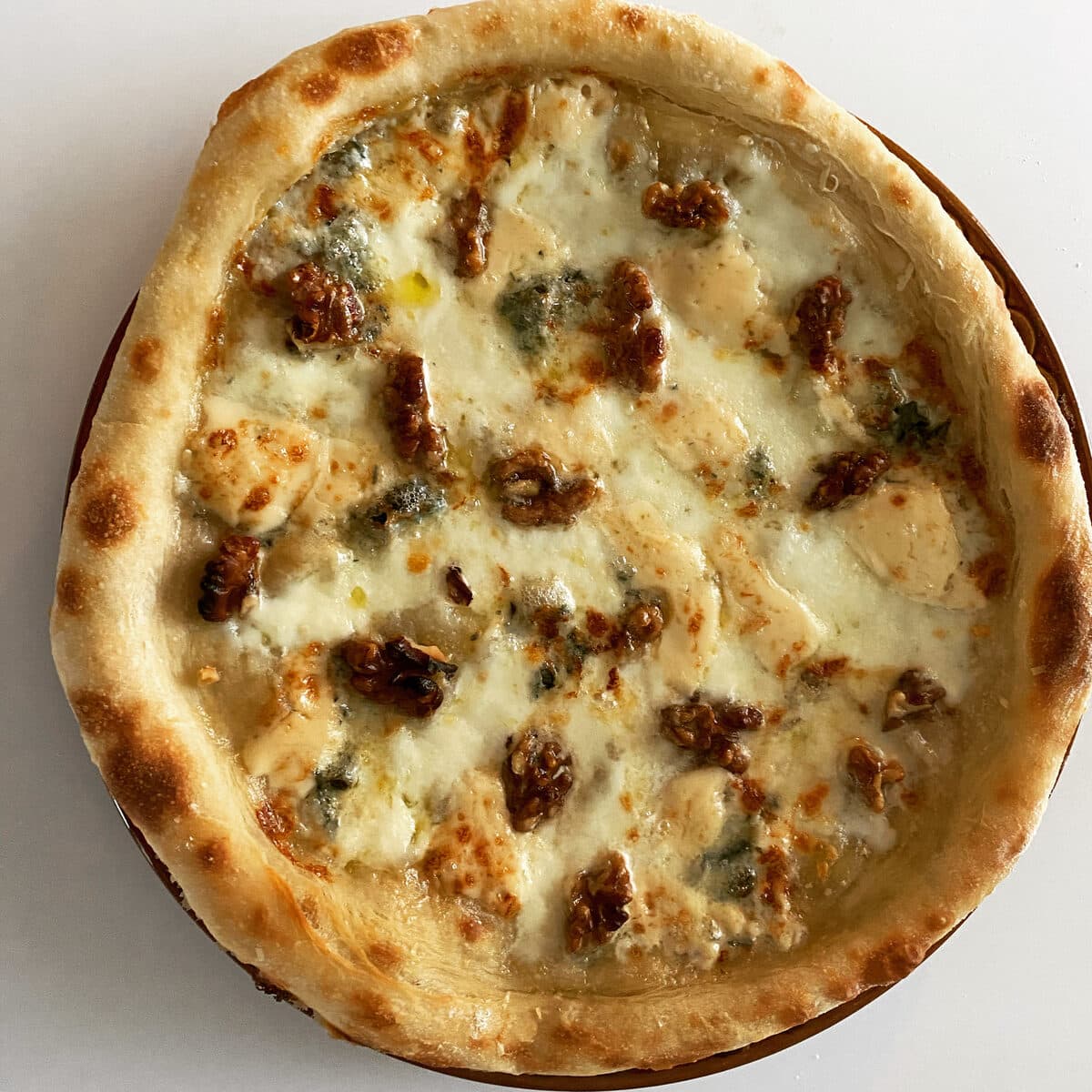 Some like to have pears on pizzas with gorgonzola, so it won't be rare to find pear, gorgonzola, and walnut pizza, but we have never tried it so far, and maybe we won't in the near future. We really love this combination just as it is.
How to make a great gorgonzola and walnut pizza
Above you will find the link to make a perfect dough for a Margherita pizza, which we recommend for all the pizzas you make, regardless of the toppings. The dough we make requires a 20-hour leavening, so you won't be able to make it for the same day, but trust us: it will be completely worth it.
This pizza is a pizza bianca, or a white pizza, as it does not contain any tomato sauce. Pairing tomato sauce with toppings like gorgonzola and walnut is not a great idea because the sauce will definitely hide the taste of these elegant toppings. The rest of the basic ingredients are the same, so you will need some mozzarella and Parmesan cheese with your choice of toppings. Even though pizza with tomato sauce might be the most common type around the world, it is not uncommon at all to have white pizzas in Italy – some toppings just don't need that tomato sauce to accompany them.
For the gorgonzola, we usually use a mild one, but this is really up to you. If you prefer a stronger taste, you can opt for a spicy one.
How to store it
If you want to finish your pizza later on, or if you make extra doses of it, you can keep your gorgonzola and walnut pizza in the fridge, well-closed in an airtight container, for a couple of days.
You can also store your pizza in your freezer for a couple of months. When it's time to eat it, you can thaw it and heat it up in the microwave or in the oven.
Remember that the pizza will taste a bit different and have a different texture if you freeze or refrigerate it, and enjoy it later. A pizza that is enjoyed straight out of the oven is of course the recommended option!
---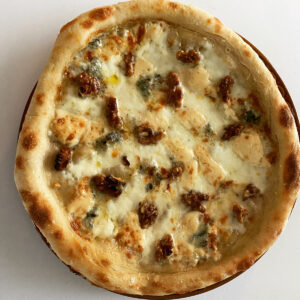 Gorgonzola and walnut pizza
Gorgonzola and walnut pizza is one of our best pizza combinations. When making more pizzas to serve to your guests, this one cannot miss.
Ingredients  
pizza dough

see link in the instructions

200

grams

mozzarella

grated Parmigiano-Reggiano cheese

use vegan parmesan for vegetarian recipe

gorgonzola cheese

use as much as you like

chopped walnuts

use as much as you like
Instructions 
Prepare the pizza dough, following the recipe of our Margherita pizza here. That recipe makes six pizzas, so be sure to make the right amount of dough for your needs.

When the dough is ready to be used, preheat the oven to 250-275°C (480-530°F). Cut the mozzarella into slices the size of a finger. Then place them on a plate and let them release excess moisture in the fridge. Cut gorgonzola into small pieces. Chop walnuts.

Place some flour on a plate, grab a ball of dough and dip both sides of it in flour. Place onto a baking paper and gently press the dough with your fingers from the center towards the edges. Continue until the base is very thin but leave some thicker crust.

Sprinkle with grated Parmigiano-Reggiano cheese. Bake the pizza in the oven for a minute or two. When you see the pizza dough starting to cook, take it out.

Place some mozzarella slices evenly on the pizza. Then add gorgonzola and walnuts. Drizzle with some olive oil. Put the pizza back in the oven and cook for 4-6 minutes, until the pizza looks cooked from the crust.

Serve immediately for best taste.
Notes
Use as much blue cheese and as many walnuts as you please.
Caution
Nutritional information shall not be used for medical reasons.