English muffins are a classic breakfast bread in North America that can be enjoyed with either sweet or savory toppings, so here you have the perfect recipe for the best English muffins, to make them home.
As we couldn't find any English muffins in Finnish supermarkets, we tried to make them ourselves. The result was great and after tasting these homemade muffins, there is no need to buy them from a supermarket. Believe us: these are the best English muffins you can have! Just follow this simple recipe and you will be amazed!
Making them at home is actually quite simple. However, cooking the muffins on a pan over low heat does take time. Your patience is rewarded with muffins that are crispy on the outside and chewy on the inside.
Remember to split the muffins open with a fork instead of a knife. That way the muffin will maintain its typical nooks and crannies that form because of the sticky dough.
If you wish to make something different for breakfast, why not try them?. Simply split the muffin in half, toast the halves and add your preferred topping among the several available options.
History
History has it that English muffins were invented by a British guy: Samuel Bath Thomas. He emigrated to the USA, to New York to be precise, in 1874. Six years later, he opened his first bakery store, which he named Chelsea. Then, a new one opened up. In the meanwhile, he kept selling his muffins to bakery stores and supermarkets around America.
The term English muffins was not utilized from the beginning. In fact, only in 1894 it was first used, and then it became overly popular. The term was even trademarked in 1926.
In spite of the name, they are not British. In fact, in the UK they are simply called Muffins or even American muffins.
We must admit though that history has it also that the word muffin comes from the Low German muffen, which means little cakes. The word was first mentioned in a book written by Hannah Glasse, The Art of Cookery Made Plain and Easy. During the 19th century, it seems that men used to walk on the streets carrying baskets of delicious muffins to sell to people. They were called the Muffin Men.
What toppings?
Now that you have made your best English muffins, the next question is: what toppings to use?
Some typical toppings include jam, honey, or eggs but nearly anything tastes good on these muffins! Here are some alternatives:
Margarine or butter with slices of cheese
Eggs and vegetables
Mashed avocado or guacamole
Hummus
Another way to eat them is the American classic eggs Benedict that uses English muffins as a base.
Can you freeze them?
If you have made an extra amount and you wish to eat them during the following days, feel free to store them in the refrigerator for up to 5 days. Remember to place them in an airtight container in order to preserve their freshness and taste.
You can even freeze the extra muffins that you made and save them up. They can be stored in the freezer for up to three months.

As they are a bread product, they will thaw more easily than other foods. You can place them in the fridge overnight and consume them the morning after. Alternatively, you can use faster methods, such as heating them up in the microwave for 25-40 seconds. After, you can place them in a toaster.
Online, you will find suggestions on how to freeze muffins after filling them. Personally, we recommend you use fresh ingredients when making them.
---
Have you made your best English muffins but are you looking for an alternative for a sweet breakfast? Check out our Banana and strawberry Belgian waffles: they are so delicious! In summer, alternatively, you can also prepare a Nordic Brita cake and save a piece for the morning.
If you liked this recipe to make the best English muffins, please follow us on: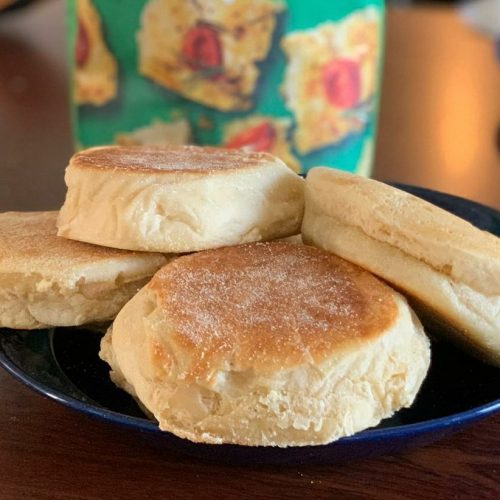 English muffins
English muffins are a classic breakfast bread in North America that can be enjoyed with either sweet or savory toppings, so here you have the perfect recipe for the best English muffins, to make them home.
Ingredients  
4

deciliters

Lukewarm milk

45

grams

Softened butter

1.5

teaspoons

Salt

2

tablespoons

Sugar

1

Lightly beaten egg

540

grams

Flour

2.5

teaspoons

Dry yeast

Semolina

for sprinkling the pan
Instructions 
Combine all the ingredients (except the semolina) in a mixing bowl. The dough that forms is very soft.

Work the dough until very stretchy. This will be slightly trickier than with most doughs as this one is very soft.

When the dough is stretchy enough, scrape it into a rough ball. Cover the bowl and let rise for 1 to 2 hours until puffy.

When the dough is nice and puffy, spread just a bit of oil on a pan (preferably two to save time) and sprinkle a lot of semolina on it.

Deflate the dough and divide it into 14-16 pieces. Shape each piece into a smooth ball and flatten the balls until the diameter of each of them is about 7-7.5 cm.

Place as many of the muffins as you can on the pan sprinkled with semolina without the muffins touching each other. Lay the rest on a baking sheet that you have sprinkled with semolina. Sprinkle some more semolina on top of all the muffins. Cover the muffins and let rest for 20 minutes.

Cook the muffins over a low heat for 7-15 minutes per side until golden brown and cooked through.

Let the muffins cool completely and serve.
Notes
When you cook them, do not let touch each other on the pan.
English muffins can be eaten with either sweet or savory fillings.
They are perfect for breakfast or as a snack. 
Nutrition
Calories:
198
kcal
Carbohydrates:
34
g
Protein:
6
g
Fat:
4
g
Saturated Fat:
2
g
Polyunsaturated Fat:
1
g
Monounsaturated Fat:
1
g
Trans Fat:
1
g
Cholesterol:
21
mg
Sodium:
292
mg
Potassium:
108
mg
Fiber:
2
g
Sugar:
3
g
Vitamin A:
126
IU
Vitamin C:
1
mg
Calcium:
44
mg
Iron:
2
mg
Caution
Nutritional information shall not be used for medical reasons.