[the_ad id="615″]
Who doesn't like this Mexican sauce made from avocados? It is perfect as a dip or to fill other dishes, such as tacos. Let's see how to make guacamole.
Its origin and authentic ingredients
Guacamole comes from Mexico and history has it that its origin dates back to the Aztec period. The word comes from Mexican Spanish thanks to a loan word from Nahuatl, spoken by the Aztecs: AhuacaMolli (da Ahuacatl = "avocado" + molli = "sauce").
In addition to avocado, you need lime, onion (we used red onions), tomato, salt, cilantro, and chili. The authentic original guacamole recipe includes Serrano pepper chili, which is originally from Mexico. We could not find it here in Finland, so we opted for a different chili. When it comes to chili, use the one you prefer. That way you will regulate the spiciness based on what you want. We can guarantee you that the taste is just as incredible.
Originally the recipe contained tomatillo, also known as the Mexican husk tomato, which is a plant of the nightshade family. The fruits of the plant originated in Mexico and were cultivated in the pre-Columbian era. In most of the recipes, you can find tomato, instead of tomatillo, probably because of a translation mistake or because of the availability of the fruit elsewhere. Tomato is a nice addition, although originally not essential. With these simple ingredients, you can easily learn how to make guacamole the authentic way.
How to make guacamole – Dont's
As we all know, as time passes and more and more people follow a certain recipe, they start modifying it for some reason. Certain variations might then take over, at least in some areas. We decided to write this paragraph to tell you what you don't have to do when following a recipe on how to make guacamole. There are a lot of variations and some ingredients we find quite unnecessary for guacamole. Often simplicity makes recipes taste better! With these "don'ts", you will learn how to make guacamole that is just delicious:
Do not use garlic, because it does not bring anything more to the dish. On the contrary, the taste contrasts heavily with the rest of the ingredients and might be disturbing when eaten. Also, you will not find it in the original recipe, so no plus in using it.
Do not use mayonnaise or sour cream. They will take over the flavor and give your guacamole a taste that is not that of guacamole anymore. The creaminess of avocados is enough, and you don't want that nice taste covered by anything. These ingredients are common in American recipes and should be avoided if you want the best possible guacamole.
How to store guacamole
We all know you can just run to a supermarket, find and buy guacamole. At the same time, we all know that your homemade guacamole will have a better taste and will make your mood definitely better. Now, what if you make too much and want to store it in the refrigerator or freezer? Well, you can! The problem with storing it, however, is that it will lose its beautiful green color quite easily and start turning brown. Here are some tips that help to avoid it as much as possible.
An easy way to store your guacamole is to use extra lime juicy to avoid oxidation. You can use it while making the guacamole or add it after when storing it. Place the sauce in an airtight container and keep in the fridge for up to 24 hours.
A more efficient way to store your homemade guacamole is to place it an airtight container, spread it as flat as possibile and cover it with 1/2 inch of water. This will create a barrier that will avoid oxidation. This method shold keep your guacamole fresh up to 48 hours in the refrigerator.
If you prefer storing it in the freezer, place it in a freezer bag, squeeze air out and zip bag shut. Your guacamole can be stored in the freezer for up to three to four months. As always, we suggest you make fresh guacamole when needed instead of freezing it in order to preserve its fresh flavor as much as possible.
How to use guacamole
After learning how to make guacamole, the next step is how to use it. We can use it as a dip or as a filling, for instance. Our most common use for it is to fill Authentic Mexican tacos. You can find our recipe here.
---
Did you know how to make guacamole? Do you find this recipe easy? How do you usually use it?
If you liked this how to make guacamole recipe, please follow us on: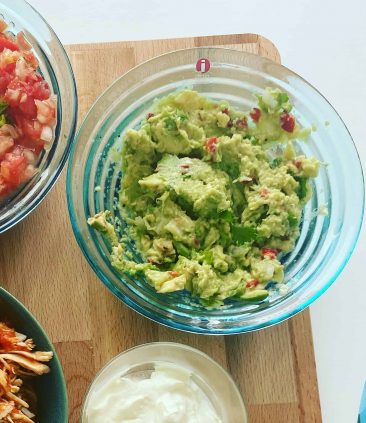 How to make guacamole
This easy recipe to make guacamole will take you only 10 minutes.
Ingredients  
3

ripe avocados

0.5

red onion

0.5 to

mato

medium to large

1

fresh chili

1

lime

salt

fresh cilantro

for authentic good taste, use a lot of cilantro!
Instructions 
Cut the avocados in half and remove the pit. Make some slices on the halves and then scoop into a mixing bowl.

Mash the avocados using a fork. Add the lime juice and some salt.

De-seed the tomato and then cut it into small cubes. you don't need the seeds nor the juice. Cut the chili, cilantro, and onion into small pieces as well.

Add all the ingredients to the avocado mash and mix well. Taste and add more lime juice or salt if needed.

Serve as a dip, on toast, or as a filling.
Notes
De-seed the chili if you don't want it so spicy. The same goes with choosing the chili, use the one you like and regulate it based on your preferences.
Caution
Nutritional information shall not be used for medical reasons.