Pashka is one of the most common Easter desserts in Finland, and it belongs to Orthodox Eastern traditions in general. This pashka recipe is quite simple to make and anyone can make it home! Whether you are Orthodox or you want to try out a new Easter recipe, this will do.
For this Easter, we made this homemade pasha for the first time, as last year we decided to opt for an Italian dessert and an American cheesecake. As we love to innovate and experiment with new recipes, we gave this Slavic dish a try, a dessert that is very common in Finland.
The religious meaning of Pashka
Pashka is the English name of the dish, while in Finnish it's called Pasha. Although they differ by a letter, the pronunciation is the same and it is pɑːʃə
As said, pashka belongs to the Orthodox tradition and it is one of the Slavic festive dishes. This type of food is forbidden during the fast of Great Lent, which is the 40-day period that precedes Easter, celebrated in the Orthodox, Lutheran, and Catholic Churches, where Christians fast.
Traditionally, Pashka is prepared during the Holy week and would be brought to Church on the Saturday before Easter, in order for it to be blessed. It is then eaten on Sunday.
The cheese used to make this dessert is quark, which symbolizes the purity of Christ, while the classical mold is quite characteristic as you can see from the pic below. The shape resembles a pyramid, which seems to represent the Tomb of Jesus.
The XB written in Cyrillic means Christ is risen. The second sign is a cross.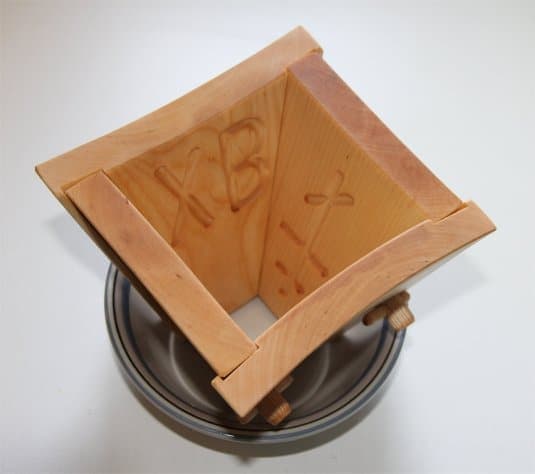 Pasha is very common in Finland, even though only 1% of the Finnish population belongs to the Finnish Orthodox Church. Regardless of numbers, the influence of the Orthodox Church has left its mark in the country because of the Russian rule over Finland in the past.
Ingredients for a perfect pashka recipe
Making your own homemade pasha will be extremely easy and fast with this very simple recipe. You need few ingredients and just a bit of time. Making the batter will take only a maximum of 20 minutes and the rest will be just waiting overnight for it to cool down in the fridge. The ideal is to make it the day before Easter, so as to be ready for the Easter lunch.
The main ingredient, as said, is quark. In Finland, it's very easy to find in grocery stores but it may be challenging to find in some other countries. We recommend you look in stores that are familiar with products from other countries and that have more international varieties.
The ingredients can vary, and in this pashka recipe we included chopped almonds and dried fruits. Some recipes include candied fruits but we are not personally huge fans. For this reason, we used dried fruits to make our own homemade pasha. Other people may include sour cream or chocolate, for instance. As we always say, it's important to experiment in the kitchen, so feel free to add some more ingredients or to swap them if you prefer a different taste.
How to shape pashka
We did not have a mold to use for this pashka recipe, so we tried to use coffee filter bags. We could not use the coffee machine part where the filter bag is positioned, so we needed to be creative and use our fantasy. This led to using cups with filter bags in them. Because of this, our homemade pasha does not have a very goodmold or a filter bag shape, but rather a rectangular shape.
We served it with mini chocolate eggs. A combination that we strongly recommend: the taste of chocolate with the quark fits quite well and won't disappoint.
Regardless of the shape that did not match the traditional one, the taste was extremely good and surely we will make it again in the following years.
If you wish, you can store your homemade pasha in the fridge for 2-3 days before serving.
---
Did you know this pashka recipe? What do you usually make for your Easter celebration as dessert? Let us know by leaving a comment. We would love to hear from you!
If you liked this pashka recipe, please follow us on: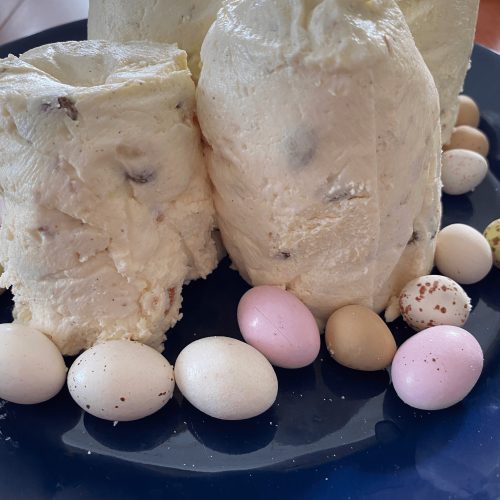 Pashka
Pashka is one of the most common Easter desserts in Finland, and it belongs to Orthodox Eastern traditions in general. This pashka recipe is quite simple to make and anyone can make it home!
Ingredients  
100

grams

butter

1

deciliter

sugar

2

deciliters

double cream

500

grams

quark

1

egg

0.5

lemon juice

2

teaspoons

vanilla sugar

0.5

deciliter

chopped almonds

1

deciliter

dried fruit
Instructions 
In a bowl, whip the double cream.

In a separate bowl, whisk sugar and softened butter together.

Once they are properly whisked, add quark, the egg, dried fruit, almonds and vanilla sugar. Mix well. Add whipped cream and fold it in gently.

Place the batter into a pasha mold lined with a cheesecloth or into a removable coffee machine filter holder, lined with a coffee filter bag.

Place it in the fridge overnight to release excess liquids and serve at the end of your meal.
Nutrition
Calories:
348
kcal
Carbohydrates:
26
g
Protein:
12
g
Fat:
23
g
Saturated Fat:
13
g
Polyunsaturated Fat:
2
g
Monounsaturated Fat:
7
g
Trans Fat:
1
g
Cholesterol:
76
mg
Sodium:
174
mg
Potassium:
167
mg
Fiber:
2
g
Sugar:
22
g
Vitamin A:
711
IU
Vitamin C:
1
mg
Calcium:
60
mg
Iron:
1
mg
Caution
Nutritional information shall not be used for medical reasons.