Onigiri is a Japanese food made with white rice and wrapped in nori alga. The shape is triangular or cylindrical and it is usually filled with one ingredient, mainly fish. How to make onigiri might be scary but it's not that difficult and you will be proud of what you have achieved.
History of onigiri
A mention of onigiri dates back to the 11th century, wherein The Diary of Lady Murasaki by Murasaki Shikibu, a Japanese novelist, and poet, wrote about people eating rice balls.
More recent mentions were found in the 17th century, but the origin of this dish is to be found in the Nara period (710-794 AD), where rice was usually rolled into a small ball so that it was easy to be picked up and eaten. During the following period, the Heian one, tonijiki (rice balls) were prepared and they had rectangular shapes.
The use of nori to wrap onigiris became widespread only in the 17th century, so before that period, onigiri were exclusively rice balls without any wrapping.
How to make onigiri
Making onigiri is not difficult. We would say it has an intermediate level of difficulty but most of the time with patience and dedication, the result will be perfect.
Read this article on how to wash and cook the rice. It is extremely important to follow these instructions to give the rice the right level of stickiness, otherwise, your onigiris will fall apart, and this is clearly what we want to avoid.
Once your rice has cooked and has cooled down enough time, you can wet your hands and sprinkle a pinch of salt to your palm. Do not let the rice cool down completely, though. Take the amount of rice for one onigiri to your palm, place the filling in the center, and close, forming a ball. Shape the corners to make a triangle. Make sure the filling, if present, stays at the center and does not comes out of the rice ball.
In the end, place the nori alga on one edge and fold it to the other side, trying to be as precise as possible. And this is all that is included in how to make onigiri!
What are the best onigiri fillings
If you have learned how to make onigiri, you are one step further in cooking this Japanese dish. Maybe you won't need anything else. The name for plain onigiri (with salt only) is called shio-musubi. However, it is very common to fill onigiri with different fillings.
Alternatively, if you want to add some flavor to them and start wondering what the best fillings for onigiri are, here we have some ideas for you! Check them out! We also included two recipes for filling ideas. In the instructions for this recipe, you will find the steps for making a salmon filling and a tuna filling for your onigiri. Remember to make the filling beforehand so that you will have it ready when shaping the onigiri!
If you do not want to fill your onigiri but wish to have some more flavor to them, you can make the yaki onigiri by cooking the onigiri on both sides in oil until brown. Then, brush one side with soy sauce and cook until the sauce is browned. Repeat for the other side. You may add the nori sheet before eating if you wish. All the steps before cooking in oil are the same as for normal onigiri.
Umeboshi
Umeboshi, literally dried ume, are pickled brined ume fruits and they are very common in Japan. Usual English translations are "salted Japanese plums" or "Japanese plums". They are sour and salty and are the most characteristic filling for this Japanese dish.
Salmon
When it comes to fish, salmon is definitely our choice of how to make onigiri when filling them. Finland, like the rest of Nordic countries, is well known for the amount of salmon so we could not make onigiri without salmon filling!
Salmon onigiri can be filled simply with salted salmon or a mix of salted salmon and some greens. Following our recipe, you will cook an average-sized salted salmon fillet with some sautéed spinach or turnip greens. Finally, sesame seeds are added for some great sesame taste. Remember that this takes a bit of time because you need to let the salmon marinate for at least 2 hours in salt before cooking.
Tuna
Tuna is a second great choice for a fish filling for Japanese onigiri. In addition to salmon, it's among our favorite fillings and we go always for it when making them. That is because it is very simple and fast to make while bringing some great flavor for onigiri. To make tuna onigiri, following our instructions below, we used canned tuna, mayonnaise, and soy sauce. The best mayo to use would be Japanese mayonnaise due to it having a slightly more savory taste.
More fillings
Umeboshi, salmon, and tuna are not the only possible choices when it comes to fillings for onigiri. Here are some more possibilities on how to make onigiri with fillings:
Katsuobushi, bonito flakes.
Konbu, dried kelp.
Mentaiko,  fish eggs from Pollock.
So far, you have learned how to make onigiri and what to fill it with. But maybe you still have a question.
Is onigiri sushi?
No, no, and still no. What you might be thinking of is nigiri and does not have anything to do with onigiri. The latter was invented to have an easier way to pick up rice and eat it, while sushi originated as a way to preserve fish.
Onigiri has fillings inside, while the nigiri is a rice ball, shaping forming a longer form, and with a small slice of raw fish. Temaki is instead sushi served in a nori cone.
---
Did you know how to make onigiri or have you now learned? What are your favorite fillings? We love Japanese food and onigiri are definitely amongst our Top 5!
If you liked this how to make onigiri recipe, please follow us on: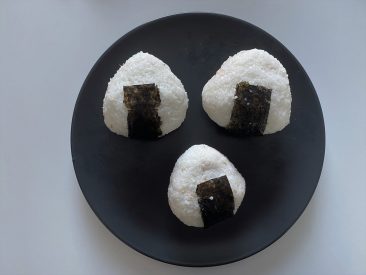 Onigiri
Onigiri is a delicious Japanese food made with white rice and wrapped in nori alga. You can fill it with salmon, tuna, and or eat it plain.
Ingredients  
300

grams

Japanese white rice

or Jasmine rice

430

milliliters

water

salt

1

nori sheet
Salted salmon filling
1

salmon file

1

teaspoon

coarse salt

turnip greens or spinach

1

teaspoon

sesame oil

1

tablespoon

toasted sesame seeds
Tuna filling
125

grams

canned tuna

4

tablespoons

mayonnaise

use Japanese mayonnaise if able

1

tablespoon

soy sauce
Instructions 
How to make onigiri
Prepare the filling if using (instructions for a few suggestions below). Cook the rice, carefully following the instructions here. This recipe, by default, makes about 8 onigiri. (It is important to cook the rice correctly because the rice needs to stick together very well to form the onigiri).

After cooking the rice, let it cool to a temperature where you are able to shape the rice with your hands.

To shape the onigiri, wet your hands and add a pinch of salt to your palm. Take the amount of rice for one onigiri in one hand. (Hands need to be wet, otherwise, the rice will stick to your hands and make it impossible to shape.)

Add an optional filling in the center of the rice. Shape the rice into a ball. If using a filling, make sure it stays in the center of the rice ball.

Form into a triangle by shaping the corners. (Apply the right amount of pressure, do not squeeze too hard.)

Add a slice of the nori sheet (see picture of the recipe) by placing it at the edge of one side, and folding it to the other side.

Make the other onigiri, following the same method. Serve.
Salted salmon filling
Rub both sides of the salmon fillet with salt. Wrap it in plastic wrap and let marinate in the fridge from 2 hours to overnight.

Preheat oven to 200°C. Unwrap and wipe the fillet dry. Place the salmon in a baking dish and bake for 10 minutes.

Wash and chop the greens. Sauté the greens in a pan with the oil.

Add the salt and remove from heat.

Combine all the ingredients. Fill the onigiri according to the recipe above.
Tuna filling
Mix all the ingredients in a bowl. Fill the onigiri according to the instructions above.
Caution
Nutritional information shall not be used for medical reasons.