The translation service is offered by Google translate. By using it, you accept Google's Privacy Policy and their Terms of Service. Google will install a cookie when you click on a flag to store your preference.

AR
BG
ZH-CN
CS
EN
FI
FR
DE
HI
HU
IT
PT
RU
ES
Mussels au gratin is a simple yet delicious dish that you can serve as a side dish or after the main dish in your meal. Mussels are cooked in the oven and gratinated with parsley, breadcrumbs, salt, garlic, black pepper, and extra-virgin olive oil.
In the South of Italy, seafood, including mussels, forms a big part of culinary traditions. When growing up, my mum used to cook mussels in several ways. In addition to spaghetti alle cozze, a very common pasta dish with mussels, a second common way was mussels au gratin.
Origin of mussels au gratin
As said, this dish is very common in the South of Italy, and specifically in Apulia. Why? Well, quite simply because it originates from there. This dish comes from where I come from, one of the most important Italian regions in terms of food and traditions.
In Apulia, gratinated mussels are called cozze arraganate. In the region, it's not uncommon to find mussel farms, which explains the fact that it is one of the most commonly consumed kinds of seafood in the region.
Specifically, extremely famous are the mussels from Taranto, a province of the region, where many mussels are cultivated in the Mar Piccolo lagoon.
When to eat mussels au gratin
This dish is extremely easy to make because it will only take 15 minutes to bake in the oven, in addition to the preparation time. In less than 30 minutes you will have your gratinated mussels, ready to be served.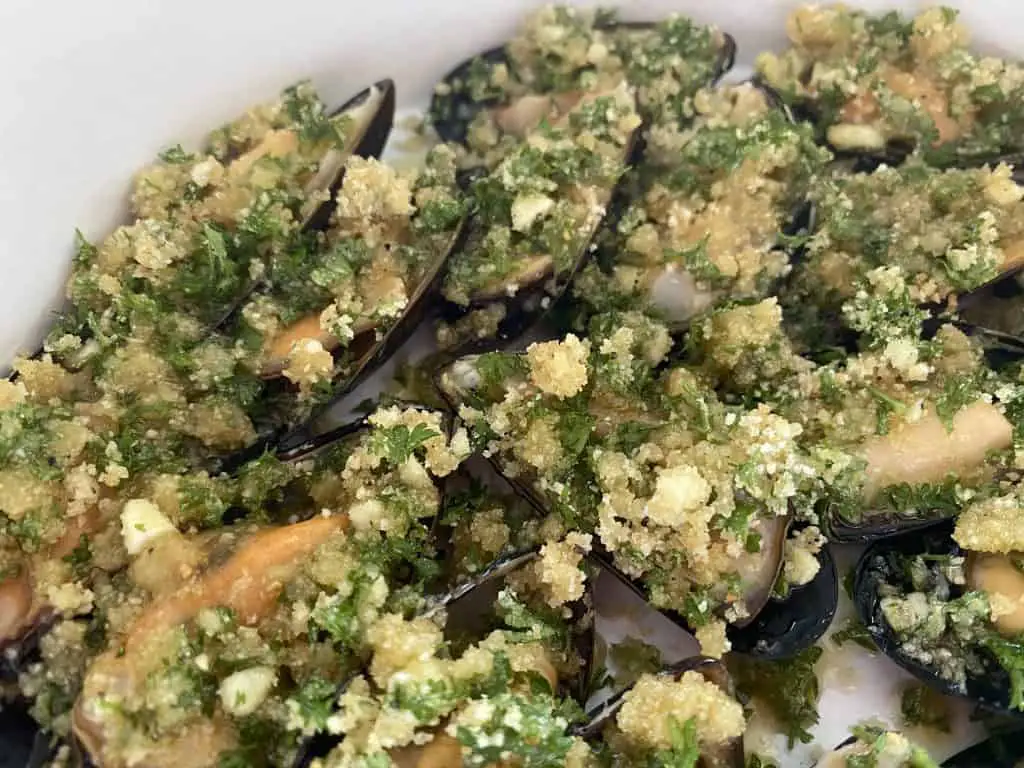 Traditionally, this dish is considered a starter and it is served among other starters, commonly of the same kind. For instance, you can make shrimps in a cocktail sauce or puff pastry rolls with prawns, or any other seafood starter. In Apulia, where you usually serve many starters before the meal (for instance on Sunday when eating with family and friends), you would also serve different kinds of starters, such as dairy products or cured meats.
As this dish is so simple, easy to make, and light, you can freely make it for a lunch or for a dinner, preferably serving fish dishes, to combine them.
Frozen or fresh mussels?
In Finland, It is more common to find frozen mussels. Fresh ones do exist but are not always readily available. If you are in Italy or in any other place where you can have fresh mussels, favour them.
Especially with fresh mussels, make sure you clean the mussels well and discard any that do not seem fresh.
---
Do you like gratinated mussels? Do you eat them often? What is your favorite dish with this seafood?
If you liked this mussels au gratin recipe, please follow us on: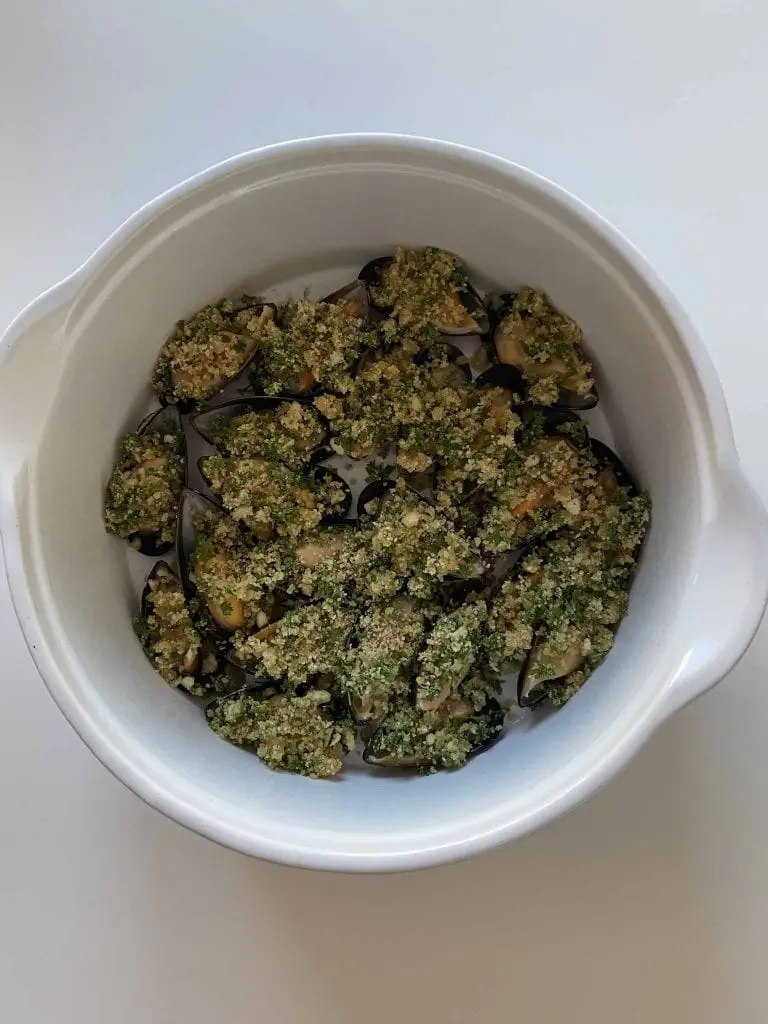 Mussels au gratin
Instructions
Preheat oven to 200°C. Follow the instructions about cleaning the mussels. If using frozen ones, follow instructions on how to thaw them.

Remove the top part (the one where the edible part is not attached to) of the shell. After removing the top part of the shell, place the bottom parts (with the edible part) onto a baking tray.

In a bowl, mix parsley, breadcrumbs, mashed garlic clove, oil, and pepper.

Use a spoon to spread the mix onto each mussel.

Drizzle some additional oil on them and cook for 15 minutes at 200°C.

You can switch to grill for the last 3-4 minutes.

Serve. You can even wait to serve them at room temperature.
mussels au gratin, best mussels au gratin, gratinated mussels, italian gratinated mussels
Did you make this recipe?