The translation service is offered by Google translate. By using it, you accept Google's Privacy Policy and their Terms of Service. Google will install a cookie when you click on a flag to store your preference.

AR
BG
ZH-CN
CS
EN
FI
FR
DE
HI
HU
IT
PT
RU
ES
For those who are looking for a great alternative to bacon, tofu vegan bacon is the answer. With this incredibly easy and fast recipe, you will achieve an extraordinary result.
This recipe will give you a marinated tofu vegan bacon that you can eat with several dishes. We used it for instance to make an amatriciana-style pasta dish and believe us: it was worth it!
As last year we started reducing the amount of meat consumption at home, we began wondering how to replace different kinds of meat products. Honestly, bacon is one of these. As an Italian, two of the most amazing dish I can suggest to you are the Carbonara pasta and Amatriciana pasta. Both these dishes come from Lazio, precisely from Rome and Amatrice (that gives the name to Amatriciana).
A great tofu vegan bacon recipe
In order to fix the problem that I have just mentioned, we needed to come up with a solution. We could not give up some of our favorite dishes.
With this recipe, you won't either. It's a very simple, easy-to-make, delicious, and tasty recipe that will solve your problems when you do not want to buy or eat bacon. You will just need tofu. Here we have used smoke marinated tofu strips, which will make things easier, as you won't need to drain it nor worry about the smoky taste.
When it comes to the taste, it does not resemble bacon completely and you have to be aware of this. If you are expecting a 100% identical taste, this won't do. The texture is very similar to the kind of bacon you use in cooking but the flavor tends to be a bit more overwhelming. The amatriciana or carbonara dishes will not taste completely similar because of this, but it's worth it, being completely meatless! With this in mind, the dishes won't disappoint you at all.
In addition to the marinated tofu, you will need soy sauce and some spices to add more taste to it. In case you do not have smoke marinated tofu, do not worry! You can just buy a small bottle of liquid smoke and that'll do. In some dishes you might not even want to have a strong smoky flavor and you can experiment by tleaving the smoke out completely.
How to use tofu vegan bacon
As said at the beginning of this article, we used this recipe to make vegetarian bacon for our Amatriciana-style pasta. It was one of the most successful dishes with a product to replace meat.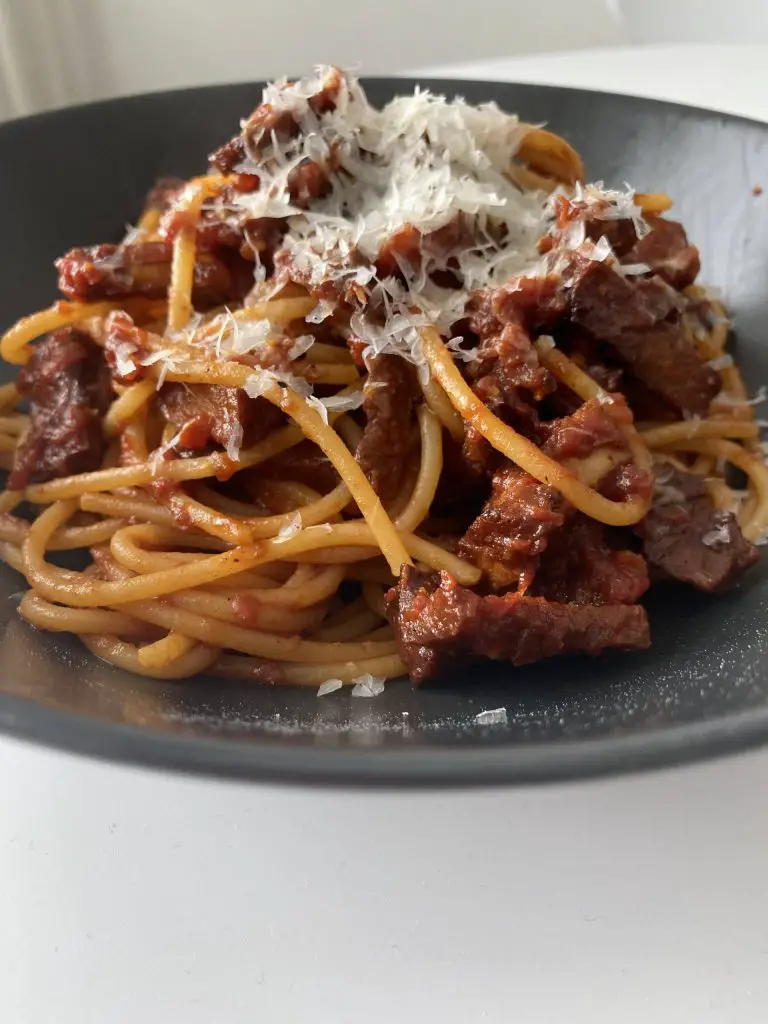 If you are not going to use this vegan bacon to make an Italian-style pasta dish, just use it whenever you would use bacon to flavor a dish. Or put it in a sandwich or a burger, for example.
Can I store tofu vegan bacon?
Yes, it can be stored for around three days in the refrigerator if you can't finish it in one go.
Additionally, you can freeze it and use it later on when needed.
---
If you liked this tofu vegan bacon recipe, please follow us on our social networks:




Tofu vegan bacon
Instructions
If using a block of tofu, drain it well. Preheat oven to 200°C. Cut the tofu into thin strips. The size of the strips can vary, depending on how you need them.

Mix the rest of the ingredients together to create a marinade. Dip the pieces of tofu in the marinade.

Place the pieces onto baking paper and bake for approx. 10 minutes. Depending on the size of the strips, you may want to flip them and cook them for a bit longer. Just watch out for the tofu as the marinade can burn easily.

When the pieces are smaller, they will cook faster and become crispier.

Let cool slightly and use in your preferred recipe.
how to make vegan tofu, vegan bacon recipe, plant-based bacon, bacon with tofu,
Did you make this recipe?