Apple cake is a very popular apple dessert that is popular accross Italy. This Italian apple cake recipe is pretty simple to follow and will allow you to make a perfect apple cake in the Italian style.
Apple cake vs apple pie: what is the difference?
Apple pie originates in England, is made using pastry above and below the filling, and it is usually served in the UK with whipped cream, ice cream, or cheddar cheeses.
Many countries have developed their own versions of apple pie. One of the most characteristics is the French Tarte Tatin, made with caramelized apple, different fruits, or even tomatoes.
Apple cake instead does not have a crusty pie base nor pastry on top of the cake. The cake base is a plain sponge cake. Thus, the Italian version falls under the category of cake, and not pie.
Our Italian apple cake recipe
We classified this cake as easy in our recipe card because it really is! Anyone can make a tasty and yummy cake by following this Italian apple cake recipe!
After whisking all the ingredients, you will need to pour the batter into a cake tray. Ours is 24-inch but you can use a slightly larger one. The cake will turn out a bit thinner which is completely fine!
The most annoying part (let's be honest!) is cutting the apples into slices and placing them on the batter but, after doing that, what is left is mixing cinnamon and sugar and sprinkling them on the apples. In the end, we sprinkled some vanilla sugar on top (just a little little bit).
If you wish to have a less sweet version, you can skip this step and slightly reduce the amount of sugar in the cake, as you will have vanilla sugar.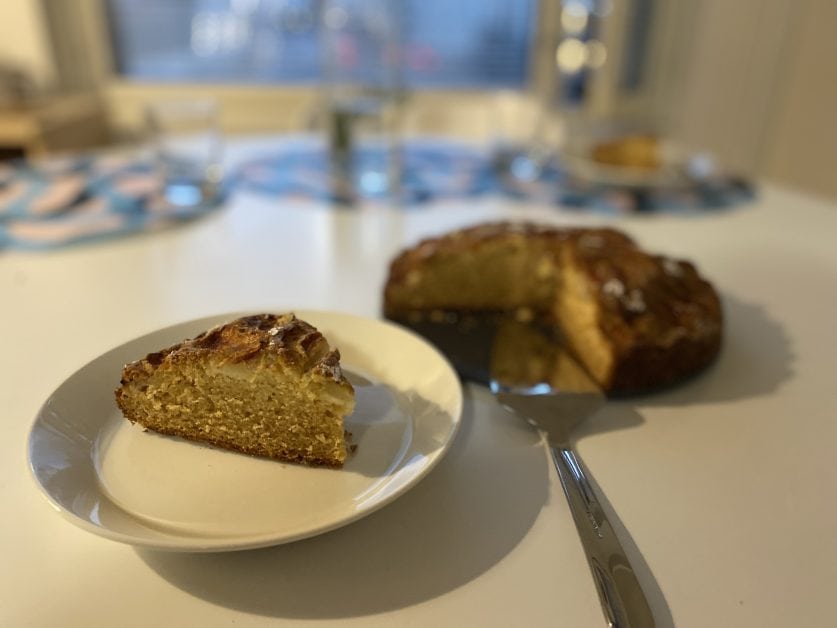 Which apple to use?
For this Italian apple cake recipe, we have used different apple varieties grown on trees located in our family's yard in Finland, but the secret for a great apple cake is to use a variety of apples. In this way, you will have an extraordinary variety of textures and flavors. You are also free to choose apples that tend to be sweeter or more bitter. Your taste can play a role in this.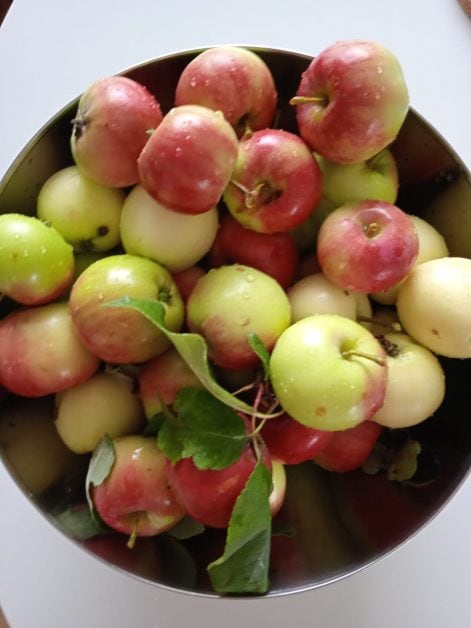 Our nordic touch
Nordic countries have their own version of apple pie, made with a pie crust, but like Brits, they serve it with an additional touch. In Finland, this is definitely not cheddar cheese. Instead, Finns love serving it with vanilla custard. The same applies to their blueberry pie! Vanilla ice cream is also popular. Here we have our Italian apple cake with (vegan, made with oat) vanilla custard.
We have tried the cake with both and without vanilla. Both ways of eating it are great and highly recommended. It's up to your taste, really!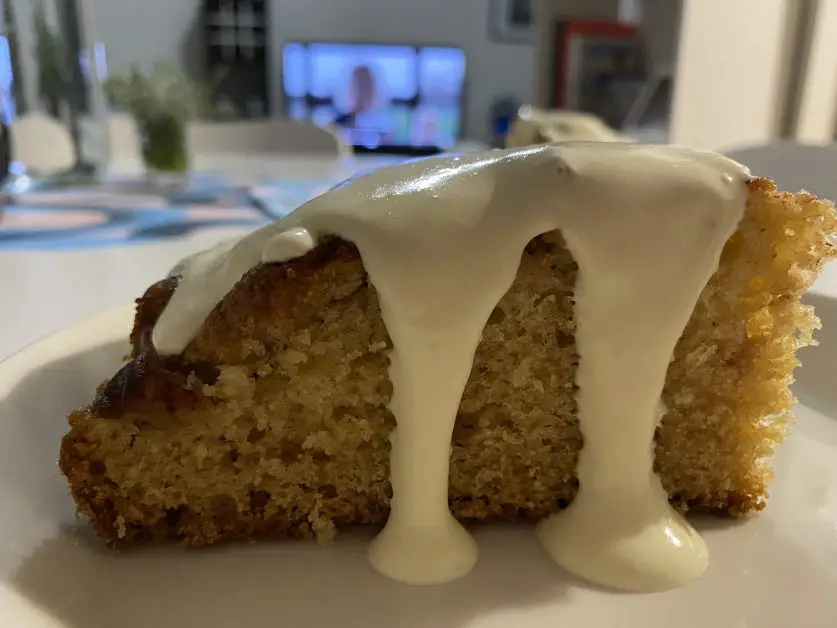 Can I store it?
Let's say you have followed this Italian apple cake recipe and you have made too much of it, and therefore you want to store it. Well, no problem! You can place the cake into an airtight container and keep it well closed outside the refrigerator for 2-3 days. You can also store it in the refrigerator. Keep in mind that without a container, the cake will likely lose its proper consistency.
Feel free also to store the cake in the freezer. Use always a container before placing it there.
More Italian sweet recipes
If you like this Italian apple cake recipe, feel free to check more recipes out:
---
What do you prefer: an Apple cake or an Apple pie? It's hard to decide, but we would go for an Italian apple cake with vanilla sauce to give it a Nordic vibe! Let us know what you think; we would love to hear your opinions on this!
If you liked this Italian apple cake recipe, please follow us on: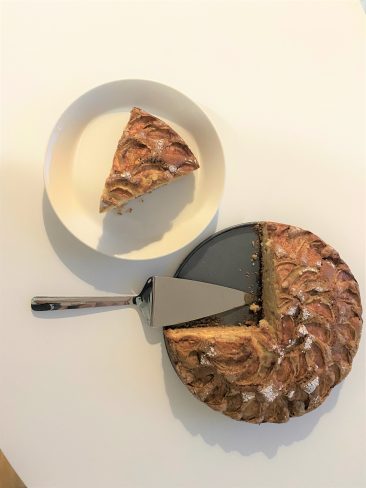 Italian apple cake
Apple cake is a very popular apple dessert that is popular accross Italy. This Italian apple cake recipe is pretty simple to follow and will allow you to make a perfect apple cake in the Italian style.
Ingredients  
350

grams

apples

200

grams

flour

150

grams

sugar

2

eggs

120

milliliters

milk

50

grams

butter

1

teaspoon

vanilla sugar

16

grams

baking powder

cinnamon

sugar

powdered sugar

vanilla custard
Instructions 
Whisk eggs with sugar, vanilla sugar for 2-3 minutes. In the meantime, melt the butter in the microwave for some seconds.

Once the butter is melted and cold, add it into the batter and keep whisking.

Mix the baking soda into the flour. Spoon the well-mixed content into the batter add some of the milk as well.

Keep whisking while adding flour and milk little by little at medium speed.

The batter will look thick but not too much. You will need to flour and butter your cake tray and pour the batter into it.

Wash the apples and cut them into slices. Place them on the batter creating 2-3 circles, filling the entire batter top.

Mix the powdered sugar and the cinnamon, and sprinkle on the cake. Sprinkle some vanilla sugar and put it in the oven for 40 minutes.

Use a toothpick to check whether the batter is fully cooked in the center before turning off the oven and taking the cake out.

Let it cool down before serving. Pour vanilla custard on it if you wish. (Whip the vanilla custard before using.)
Caution
Nutritional information shall not be used for medical reasons.