The translation service is offered by Google translate. By using it, you accept Google's Privacy Policy and their Terms of Service. Google will install a cookie when you click on a flag to store your preference.

AR
BG
ZH-CN
CS
EN
FI
FR
DE
HI
HU
IT
PT
RU
ES
Mini focaccia is a round piece of bread dough. It is a perfect food for any occasion and represents a classic example of finger food. It has the same name as focaccia as it resembles the consistency, but this recipe contains milk, which we do not use in our focaccia recipe. The rest of the ingredients are quite basic as well: flour, water, yeast, a bit of sugar and oil. We use dry yeast in this recipe but you can of course opt for fresh yeast. In order to adjust the measures, for 4 grams of dry yeast that this recipe needs, use 12 grams of fresh yeast. The ratio is usually 1:3.
Toppings and when to make it
We made this delicious mini focaccia for the first time for a celebration last year (as you can easily understand from the wine bottle in the pic…) and we were quite satisfied with the result. They were soft to perfection and very tasty. We added cherry tomatoes on some of them, and, slices of olives on the rest. Both combinations fit very well, as you can imagine.
If you don't like these toppings or you wish to try different ones, some ideas are tiny slices of zucchini or coarse salt. You can also avoid adding toppings and enjoy their softness without additional tastes.

As it is a very simple dish, you can make it for several occasions or events. It is great for a lunch or for a dinner. For instance, we ate it along with prawns en croute, filled avocado, and a homemade pasta dish. Alternatively, mini focaccia can be a very easy snack when your children have friends over. You won't disappoint them!
Also, it is a great idea for birthdays because they are relatively fast to make (most of the time is taken by waiting for them to raise). A perfect combination would be making our homemade air-fried panzerotti alongside these mini focaccia breads.
Can I store mini focaccia?
If you have extra amounts of mini focaccia, you can keep it in the open, without the need for refrigerating it, but place it in an well closed container, so it won't get air. It will be okay to eat for a couple of days. After this period of time, it will start hardening.
Alternatively, if you don't plan on eating it during the following days, you can store it in the freezer. Here as well, you will need to place it in an airtight container.
---
Let us know how this simple mini focaccia turned out and for what occasion you have made it!
If you liked this mini focaccia recipe, please follow us on: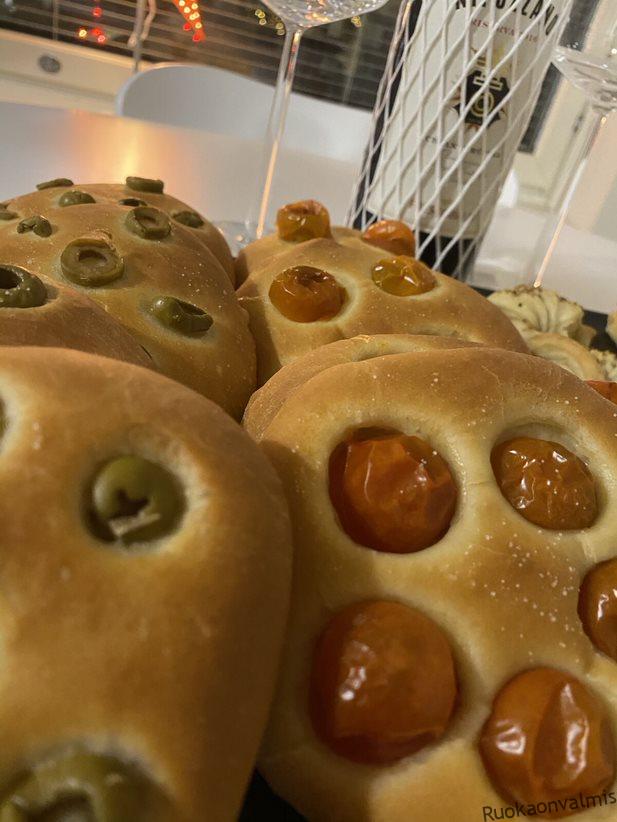 Mini focaccia
Instructions
Mix together lukewarm milk and water in a mixing bowl. Add yeast and sugar. Mix well.

Add olive oil and start mixing in flour. When half of the flour has been added, add salt. Then mix the rest of the flour.

When it becomes difficult to handle the dough in the bowl, move it to a floured surface and knead until all the flour has been added. Knead until the dough is smooth and elastic.

Form the dough into a ball, cover it and let it rest for an hour.

Roll out the dough until 0,5 cm thick.

Cut out 12cm circles from the rolled-out dough with a dough cutter or a glass for example.  

You can make bigger or smaller ones depending on what you can use to cut the dough. Alternatively, instead of rolling out the entire dough, cut it into 10-12 pieces first and then roll them out into circles. The circles won't be as perfect as with using a dough cutter but will taste just as good.

Cover the circles and let rest until doubled in size. This takes about an hour or hour and a half.

Preheat the oven to 180°C.

When the circles have doubled in size, use a finger to push down on top of the dough to create five or six deep dents. If you want to add some flavor to your focaccine, place a piece of your selected topping on each dent. We used chopped cherry tomatoes and olives on ours. Sprinkle with some salt.

Bake for 20-25 minutes until they turn golden brown.

Take them out of the oven and before letting them cool down, brush the focaccine with water. This keeps them nice and soft for a long time.
focaccia, homemade focaccia, bread, snack, finger food, focaccina
Did you make this recipe?