Noodles with peanut sauce
Noodles with peanut sauce is one of my favorite recipes when it comes to Asian cuisine. Some years ago I would have never thought that a noodles dish with a peanut sauce would exist, and this is the beauty of broadening our horizons to new cultures and cuisines.
What noodles to use
First question first: what noodles should you buy to make this dish? The answer is very simple: the ones we recommend are rice noodles, made with rice flour and water. Many types and actually many varieties of them exist.
If you can't find rice noodles in supermarkets where you live, feel free to opt for any other kind of noodles, as suggested in the recipe instructions below.
Ingredients for a perfect "noodles with peanut sauce" dish
This dish is a very simple version of noodles with peanut sauce for when you need something delicious to eat in a short time with very few ingredients. Is very easy to prepare, and also super fast to make. In fact, you will be able to make this recipe in only 20 minutes.

What are the ingredients? As said, you will need noodles, peanut hoisin sauce (check the next paragraph), pulled textured fava beans (to make your dish vegan), broccoli, lime, and oil for cooking. Clearly, you are free to replace broccoli with other vegetables. We highly recommend you use crunchy vegetables to keep the consistency of the dish intact.
Pulled textured vegetarian products are very common in Finland nowadays. The most common ones are pulled oats and pulled textured fava beans. They are high in protein and their texture and taste is great. If finding these products is difficult, find a similar type of textured vegetarian product.
How to make peanut hoisin sauce
If you think that making this dish will turn difficult because you have to prepare your own peanut hoisin sauce, fear not!
Following our recipe, you will make your own sauce in less than 5 minutes and you will be able to use it for your dishes as soon as you finish making it! No cooking is required, and with only a handful of ingredients, you will have a super tasty sauce.
---
What do you think of this simple but delicious dish? Have you ever made noodles with peanut sauce? What vegetables do you usually like in this dish?
If you liked this noodles with peanut sauce recipe, please follow us on our social networks: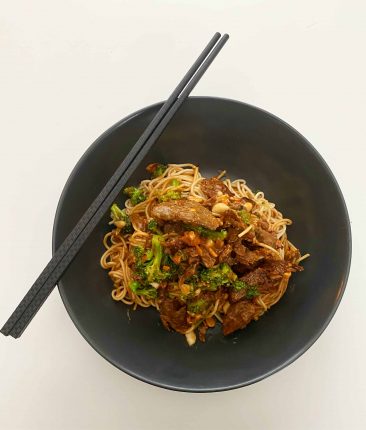 Noodles with peanut sauce
Noodles with peanut sauce is one of our favorite recipes when it comes to Asian cuisine. The peanut sauce adds so much flavor to the dish.
Ingredients  
200

grams

pulled textured fava beans or a similar product

150

grams

noodles of your choice

0.5

broccoli

add any other vegetables according to your preferences

1

lime

240

milliliters

peanut hoisin sauce

oil for cooking
Instructions 
Prepare the peanut hoisin sauce according to the recipe.

Cook the noodles according to package instructions.

Heat a wok or a regular pan over high heat and add some oil. Cook the vegetables for 2-3 minutes.

Add some more oil and the pulled fava beans to the pan with the vegetables. Cook for a minute or so. Remove from heat.

Add the juice from a lime and the peanut hoisin sauce to the pan, mix well and serve with the noodles.
Caution
Nutritional information shall not be used for medical reasons.