The translation service is offered by Google translate. By using it, you accept Google's Privacy Policy and their Terms of Service. Google will install a cookie when you click on a flag to store your preference.

AR
BG
ZH-CN
CS
EN
FI
FR
DE
HI
HU
IT
PT
RU
ES
Oven-roasted pumpkin slices are an excellent way to cook pumpkin. It does not take a long time, the taste is amazing and they are the perfect side dish for any meal you are going to make.
The truth is that when we first made this we were not really planning on doing it. We had planned on making a pumpkin risotto as it is one of the best risotto dishes my mum makes and I really miss it! I was super ready to start cooking when we realized we did not have any vegetable stock cubes and it really isn't worth making risotto without a proper stock.
We started thinking about how to use pumpkin and so we decided to cut it into slices and roast it in the oven. A very low-effort choice and the result was great. It was fast (only 20 minutes of cooking and almost no preparation needed) and the taste was so yummy! Also, pumpkins are so healthy!
How to prepare oven-roasted pumpkin slices
The process of preparing this delicious side dish is super simple. For our recipe, we used a butternut squash.
What you need to do is cut the pumpkin, peel it (a normal potato peeler should work), remove its seeds and cut it into slices (1 cm of thickness). The rest is simple, add some oil, salt, pepper, garlic, and rosemary. Bake in the oven for 20 minutes, and done!

Benefits of oven-roasted pumpkin slices
In addition to being easy and fast to make, as just said, pumpkin is extremely healthy. Highly nutritious, low in calories (with 94% of water), and rich in vitamin A. Let's see why:
Vitamin A helps your immune system, and also vitamin C contributes to helping immune cells to work better.
Vitamin A, C, and E contribute to your eyesight and reduce the risk of other eye problems.
Antioxidants are really good for your heart.
For more information, you can have a look at this article where medical sources are available.
Also, take into account that pumpkins are extremely versatile. Oven-roasted pumpkin slices are only one way of cooking them.
Have you ever made this recipe? Do you like then cut into slices and cooked in the oven? What is your favourite recipe with pimpkin? Let us know with a comment!
If you liked this oven-roasted pumpkin slices recipe, please follow us on: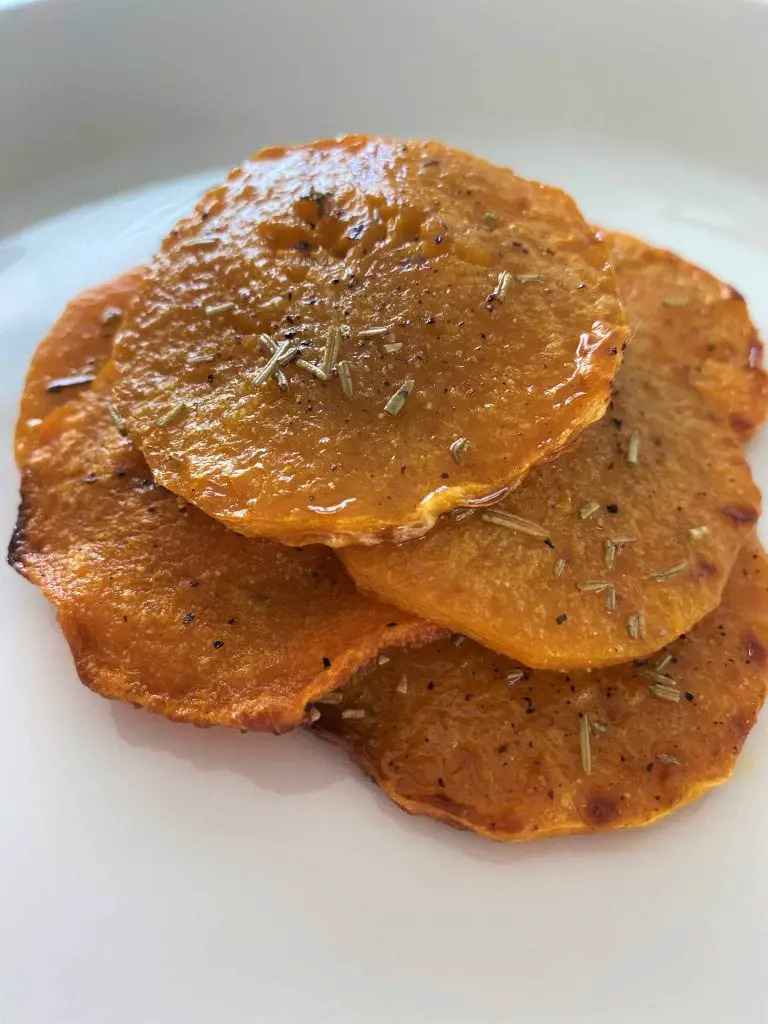 Oven-roasted pumpkin slices
Instructions
Preheat oven to 220°C. Peel the pumpkin, de-seed it, and cut it into slices of 1 cm of thickness. 

Line a baking tray with baking paper and drizzle some oil on it.

Add the slices onto the baking paper and sprinkle with all the spices and drizzle some more olive oil on the slices.

Bake in the oven for 15 minutes, then turn on grill mode and bake for 5 more minutes.

Serve as a side dish.
Oven roasted pumpkin slices, pumpkin roasted, how to cook pumpkin, baked pumpkin
Did you make this recipe?