The peanut hoisin sauce is definitely one of our favorite sauces. It's just too delicious to resist. This delicious sauce brings out the great taste of peanuts that we just love. It only takes a few minutes to prepare it and it will surprise you with its great taste.
The perfect sauce
The ingredients for this sauce are extremely simple and easy to find: hoisin sauce, peanut butter, water, rice wine vinegar, and chopped peanuts. Mixing all the ingredients will be enough to have a great sauce. No cooking is required. You can add some chopped peanuts on top to add some crunchiness and more flavor.
What to use it for
This delicious peanut sauce is the perfect dipping sauce for rice paper rolls, like the Vietnamese spring rolls, for example. (again, one of the best things you can eat: we just love them!)
Alternatively, we have found that you can use it as a delicious sauce for several dishes. We made this yummy vegetarian noodle dish with it (check it out!). It works wonderfully as a sauce for a fast stir-fry dish but alternatively, you can use it as a salad dressing or in wraps. If you use it for a stir-fry or any dish that requires cooking: Remember that you don't need to cook the peanut hoisin sauce so add it only at the end, mix well, and serve!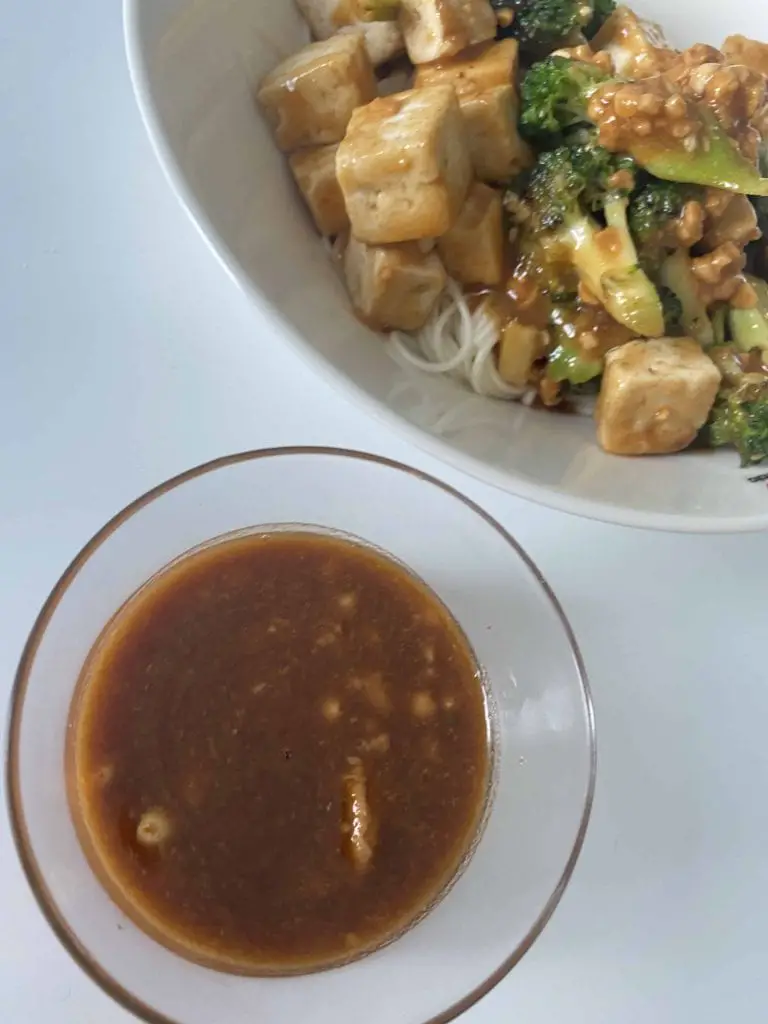 How to store it
The peanut hoisin sauce can be store in the refrigerator for around ten days. Keep it in an airtight container and check, before using it, that does not smell.
---
Do you like this peanut sauce? Have you ever made it?
Leave us a comment and let us know!
If you liked this recipe, please follow us on our social networks: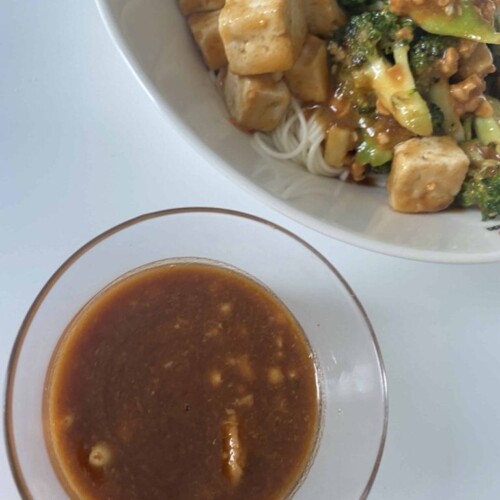 Peanut hoisin sauce
Ingredients  
120

milliliters

hoisin sauce

60

milliliters

peanut butter

prefer a crunchy, chunky peanut butter over a smooth one

60

milliliters

water

1

tablespoon

rice wine vinegar

chopped peanuts
Instructions 
Add all the ingredients, except the chopped peanuts, to a mixing bowl. Mix well until you have a smooth sauce.

If using it for a dipping sauce, pour the sauce in a serving dish and sprinkle some chopped peanuts on top. If using it as a sauce, mix in some of the chopped peanuts, then add the sauce to the dish, mix well, and sprinkle some more chopped peanuts on the dish.
Caution
Nutritional information shall not be used for medical reasons.