The translation service is offered by Google translate. By using it, you accept Google's Privacy Policy and their Terms of Service. Google will install a cookie when you click on a flag to store your preference.

AR
BG
ZH-CN
CS
EN
FI
FR
DE
HI
HU
IT
PT
RU
ES
With this recipe you will transform your crepes into a tasty and simple savory dish that is very easy to make. Mozzarella and tomato crepes are just one of the many ways to use crepes and here we will give a simple recipe for just that.
In order to follow and make this mozzarella and tomato crepes recipe, you will need to take a look at our original homemade crepes recipe, where you find the instructions on how to prepare the batter, in addition to interesting information about the origin of crepes and the etymology of the word itself.
Ingredients
This recipe is extremely simple and really requires just a few ingredients. For your batter, you will just need flour, egg, and milk (in addition to a pinch of salt if you wish), and mozzarella, tomatoes, and basil for your filling. Clearly, if you live in Italy or you happen to visit the country, we highly recommend you use fresh mozzarella for this recipe. Fresh basil is also warmly suggested, as it will positively impact the taste.
Some people like adding butter or oil when making the batter, but we really believe there is no need for that.

When to serve mozzarella and tomato crepes
Mozzarella and tomato crepes are a perfect lunch or dinner for any occasion. They are very easy to prepare, which means you won't need a lot of time, and their ingredients are so simple that you can most probably find them in your fridge without the need for dropping by the supermarket to buy them.
Also, when making crepes, you can keep some of them aside for dessert. In this way, after eating some crepes with mozzarella and tomato, you can just take your Nutella jar out of the pantry and spread it on your amazing and yummy crepes.
How to store them
If you wish, you can store your mozzarella and tomato crepes for a couple of days in the fridge. You can also freeze your homemade crepes in case you want to make an abundant amount of them and have them ready for occasions later on. We do recommend you make them when you need them as they contain fresh ingredients and they do not require much time.
---
If you liked this homemade crepes recipe, please follow us on our social networks: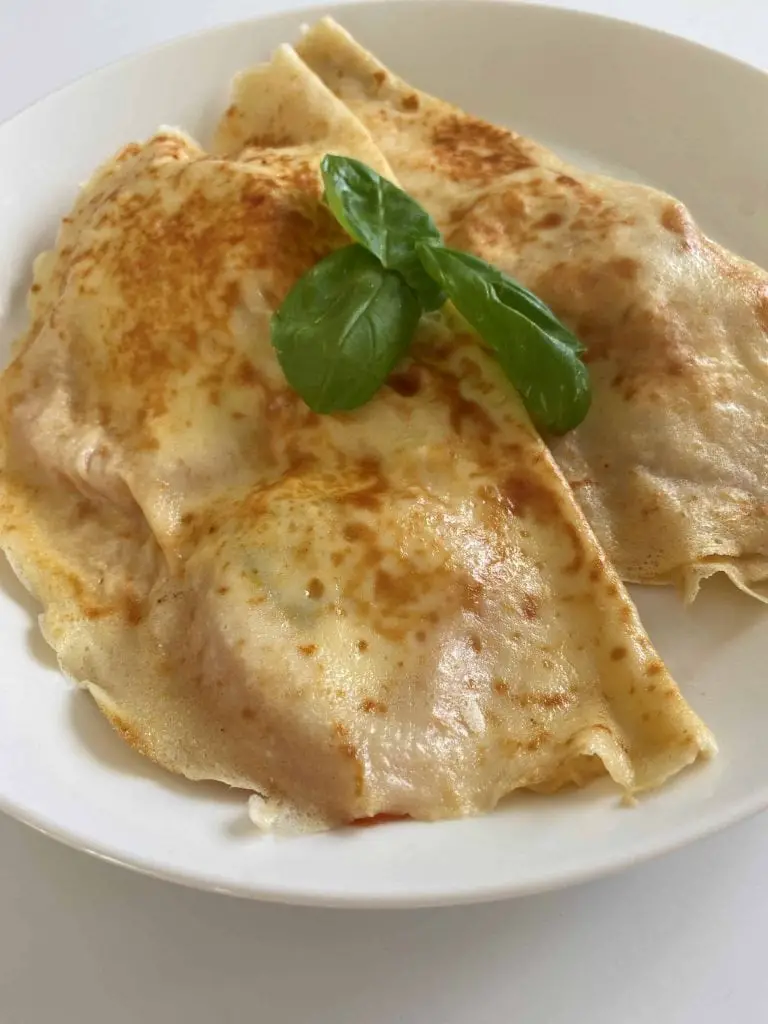 Mozzarella and tomato crepes
Instructions
Make the batter for crepes following our recipe. Cut the mozzarella in slices and let rest in the fridge to release excess liquid.

Cut tomatoes in slices. Wash and dry the basil leaves and tear them into smaller pieces if too big. Grate parmesan, if using.

Heat a flat non-stick pan over medium-high heat (or a crepe maker if you own one). Add a fourth of the batter into the pan. Tilt the pan or use a batter spreader to spread the batter evenly onto the pan.  

Cook until golden brown and flip. Add a fourth of the ingredients on the crepe and fold it. Cook until one side is brown and then flip on the other folded side and cook until just as brown. Take from heat and repeat for all the crepes.

Plate and serve immediately.
mozzarella and tomato crepes, homemade crepes, perfect mozzarella crepes
Did you make this recipe?