[the_ad id="615″]
Smoked salmon risotto is, without any doubt, one of our favorite dishes. It is a classic recipe made with Arborio rice, cold smoked salmon and ingredients to season.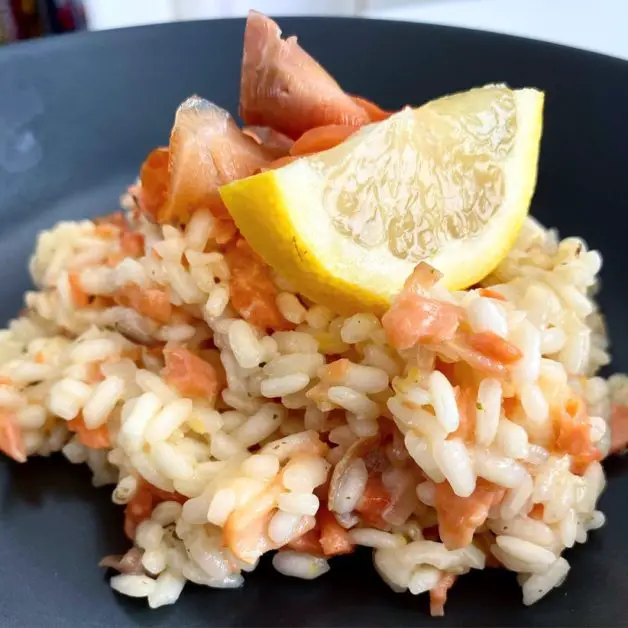 It is quite easy and fast to make; the taste is great and makes you feel in Italy. Really, no negative sides. You just need some patience and attention while cooking.
Here in Finland it is one of the main gourmet meals. It comes usually at a very high price in restaurants. It's most often a specialty that chefs make and customers pay the right amount (or sometimes more) for it.

The good news is that risotto is simple to make, so believe us when we tell you that there is no good reason not to make it. You won't regret it!
Salmon benefits
As you may well know, salmon is one of the best foods you can get. Why? It has a long list of impressive health benefits. We will list some here:
Salmon is rich in Omega-3 Fatty Acids, which are considered essential for your body. They are linked to improving your brain functions and improve serum cholesterol.
It is an extremely good source of protein, which would make your salmon risotto the only food you need for a meal, in addition to vegetables.
It contains an incredible amount of vitamins and potassium.
It is considered good for your bones and has anti-inflammatory effects.
We can then say that making smoked salmon risotto is definitely a great choice!
Ingredients
Talking of ingredients, it is important to choose the best ingredients.
Rice – choose a type of rice meant for risotto. We won't use arborio rice to cook Asian dishes. For the same reason, we cannot use jasmine or basmati rice to cook an Italian risotto. We usually buy Arborio rice by Pasini, a company founded back in 1948. IIt's quite a good choice and we suggest it if you have it in your country

Cold smoked salmon – Fortunately, in Finland, we are spoiled by choices when it comes to this fish but smoked salmon is also highly available elsewhere. You can replace slices of salmon with a salmon steak. The freshness is a crucial requirement

Wine – any cooking wine will do

Onions – chop them in very tiny pieces

Broth cube – we normally use a vegetarian stock cube but you can replace with a fish cube if it comes handy

Salt & pepper – to spice it

Oil or butter – to make it creamy and tastier. We personally use butter but oil would be healthier
Tips
The choice of rice – you can replace Arborio with Carnaroli. Alternatives can be Roma and Ribe. Avoid long grain rice because they will easily break.
Salt – do not exceed with it. The broth is already salty so you will want to see if it is needed.
Stir constantly – you don't want the rice to stick.
Broth temperature – be sure that the broth is always hot when you add it to the rice because a cold broth can make the cooking process longer
Test regularly – risotto is one of those recipes that you will have to taste regularly to check both if it is cooked and to make sure that it won't become too salty when adding the broth. If this is the case, add slightly more water.
Rcipe FAQs
What rice do I need to use?
Carnaroli or Arborio have great choices. Avoid long grain rice.
Can I freeze it?
We do not recommend storing smoked salmon risotto in the freezer. You can though keep it for up to two days in the refrigerator. Store it in an airtight container to preserve the freshness and avoid catching other flavors.
More Italian recipes
If you liked this smoked salmon risotto recipe, take a look at some other Italian recipes, such as:
Spaghetti cacio e pepe, a cornerstone of Roman cuisine.
Orecchiette with arugula and tomatoes, a classic dish from Apulia, South Italy.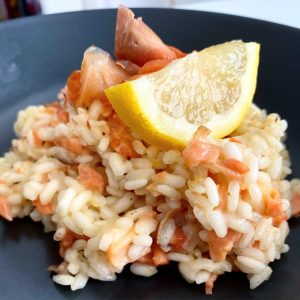 Smoked salmon risotto
Smoked salmon risotto is usually a gourmet dish in restaurants, but you can make it at home in around 30 minutes and the taste will be amazing!
Ingredients  
320

grams

Rice

360

grams

Cold smoked salmon

200

milliliters

White wine

30

grams

Chopped onions

500

milliliters

Water

0.5

Veg. cube

Salt

Pepper

Oil / Butter
Instructions 
Chop the onion into small pieces

On medium heat, pour some oil into a pan, and add the chopped onions. Let it cook for a couple of minutes

Meanwhile, prepare the broth, by adding half cube into 500ml of water, and heating it up in the microwave or on a stove

Add the rice and start toasting it. After a few minutes, add the wine, increase the heat and cook until reduced/evaporated

Once the wine is evaporated, reduce the heat and pour the broth little by little. Cook for 9-10 minutes

Cut the salmon into small pieces and add it to the rice

Pour some broth and let it evaporate

Add some oil/butter and whisk. This will give an extra creaminess to the dish

Serve the salmon risotto immediately
Notes
Use Arborio or Carnaroli rice
Cut the salmon into small pieces before adding it to the pan
Make sure the broth remains hot the whole time while cooking
Add some butter or oil before turning off the heat and whisk
Serve soon after 
Nutrition
Calories:
481
kcal
Carbohydrates:
67
g
Protein:
22
g
Fat:
9
g
Saturated Fat:
4
g
Polyunsaturated Fat:
1
g
Monounsaturated Fat:
3
g
Trans Fat:
1
g
Cholesterol:
31
mg
Sodium:
1130
mg
Potassium:
307
mg
Fiber:
1
g
Sugar:
1
g
Vitamin A:
208
IU
Vitamin C:
1
mg
Calcium:
47
mg
Iron:
2
mg
Caution
Nutritional information shall not be used for medical reasons.