The translation service is offered by Google translate. By using it, you accept Google's Privacy Policy and their Terms of Service. Google will install a cookie when you click on a flag to store your preference.

AR
BG
ZH-CN
CS
EN
FI
FR
DE
HI
HU
IT
PT
RU
ES
Smoked salmon risotto is, without any doubt, one of our favorite dishes. It is super easy and fast to make; the taste is great and makes you feel in Italy. Really, no negative sides. You just need some patience and attention while cooking.
One of the main gourmet meals in Finland is risotto. It comes usually at a very high price in restaurants. It's most often a specialty that chefs make and customers pay the right amount (or sometimes more) for it.

The good news, as we said, is that risotto is relatively simple to make, so believe us when we tell you that there is no good reason not to make it. You won't regret it!

If you live in the Nordics, salmon is an easily available fish in every supermarket. In Finland, we are spoiled by choices when it comes to this fish.
Fortunately, smoked salmon is also highly available elsewhere. The rest of the ingredients are pretty easy to find in every country. So no excuses are accepted for not trying out this cold-smoked salmon risotto recipe.
The correct ingredients for an authentic Italian risotto recipe
Talking of ingredients, it is important to choose rice meant for risotto. We won't use arborio rice to cook Asian dishes. For the same reason, we cannot use jasmine or basmati rice to cook an Italian risotto.
In Finnish supermarkets, we have some options to choose from. When we made this recipe, we decided to buy Arborio rice by Pasini, a company founded back in 1948. I believe it's quite a good choice and we suggest it if you have it in your country.

Regarding the rest of the ingredients, there are no particular indication as the list is quite short. The salmon needs to be as fresh as possible. This is extremely important in case you use a salmon steak, for instance. Anyway, even when you buy cold smoked salmon, choose a product that is not about to expire, as you may taste it less.

For a matter of time, we prepared the broth using a vegetable broth cube dissolved in hot water and heated it up in the microwave. If you are not short on time, you can look up how to make a fish broth, even though it's becoming more and more common to use vegetable or fish cubes for the broth.
The benefits of smoked salmon risotto
As you may well know, salmon is one of the best foods you can get. Why? It has a long list of impressive health benefits. We will list some here:
Salmon is rich in Omega-3 Fatty Acids, which are considered essential for your body. They are linked to improving your brain functions and improve serum cholesterol.
It is an extremely good source of protein, which would make your salmon risotto the only food you need for a meal, in addition to vegetables.
It contains an incredible amount of vitamins and potassium.
It is considered good for your bones and has anti-inflammatory effects.
Can I store salmon risotto?
We strongly recommend you eat smoked salmon risotto when cooked so that you can fully enjoy the taste.
If you wish to store it in the refrigerator, it can stay up to two days. Remember to place it in an airtight container so that it won't get any air.
Placing the smoked salmon risotto in the freezer is not recommended and should really not be done.
Salmon risotto can be eaten as a main dish for lunch or for dinner, as it's not particularly heavy to digest.
If you want to find out more Italian recipes, take a look at our Easy cream cheese and zucchini pasta or Spaghetti cacio e pepe.
If you liked this smoked salmon risotto recipe, please follow us on: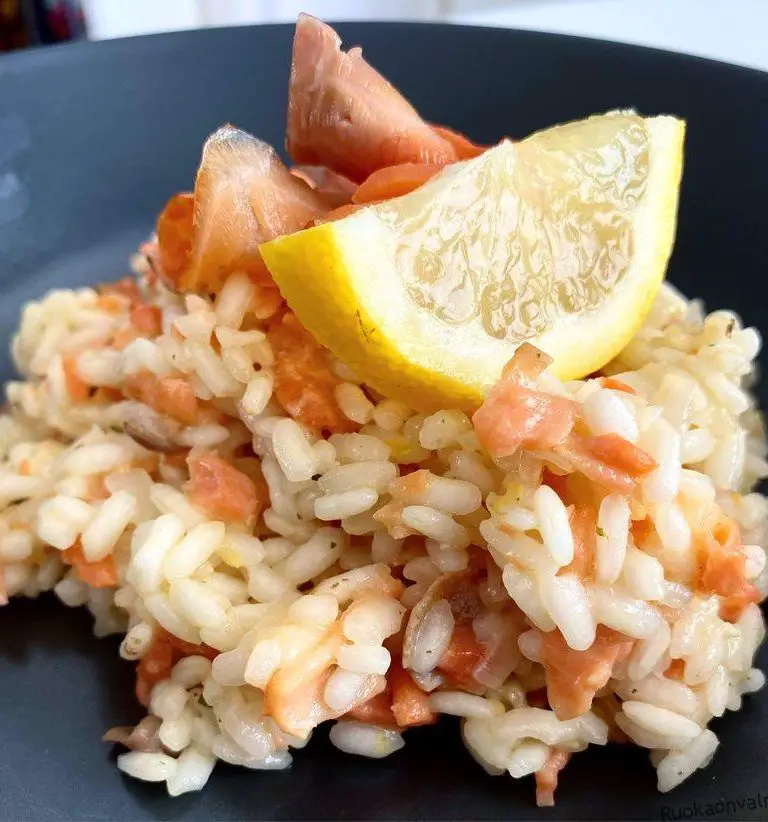 Smoked salmon risotto
Instructions
Chop the onion into small pieces

On medium heat, pour some oil into a pan, and add the chopped onions. Let it cook for a couple of minutes

In the meanwhile, prepare the broth, adding half cube into 500ml of water, and heating it up in the microwave or on a stove

Add the rice and start toasting it. After a few minutes, add the wine, increase the heat and cook until reduced/evaporated

Once the wine is evaporated, reduce the heat and pour the broth little by little. Cook for 9-10 minutes

Cut the salmon into small pieces and add it to the rice

Pour some broth and let it evaporate

Add some oil/butter and whisk. This will give an extra creaminess to the dish

Serve the salmon risotto immediately
best salmon risotto recipe, salmon risotto, salmon risotto recipe, authentic italian risotto recipes
Did you make this recipe?