A räksmörgås or räkmacka is one of the most typical foods that most likely originates from Sweden. It is very popular in the coastal regions of Sweden and definitely in Finland as well. Swedish prawn toast is a great idea for an authentic Nordic snack, appetizer, or light lunch. It consists of a slice of toast or dark bread, with lettuce, eggs mayo, prawns, lemon, and dill on top. The last one is one of those ingredients that you can't really skip if you want a full Nordic culinary experience!
If you happen to visit one of the two countries, you need to stop by a café and fully enjoy at least one Swedish prawn toast. Otherwise, you will be missing one of the most authentic dishes. When enjoyed with a view to the beautiful archipelago of Finland and Sweden, the experience will be the best.
This dish can be considered Swedish but it's very popular in Finland as well.
How to make a Swedish prawn toast home
If you can't go to a Nordic country at this exact moment, do not worry! This recipe will guide you through the very simple steps to have a perfect toast homemade. This recipe includes small prawns. We use frozen cooked prawns because they are easily available and don't need to be warmed up after they have been thawed for this dish. You can use raw prawns, cook, cool, and clean them if you prefer.
The rest of the ingredients are quite simple. In fact, you will only need bread, lettuce, eggs, mayonnaise, lemon, and dill. As said, the latter is a very commonly used herb in the Nordics, above all to season fish and, in summer, new potatoes.
Which bread to use?
For the bread, you can use a basic white toast bread or a darker bread, such as the Finnish Archipelago bread, literally translated from Saaristolaisleipä. The archipelago bread is a type of dark bread, often enjoyed with fish (like cold smoked salmon, gravlax, or herring) or just with butter, that has a very distinct and strong flavor. The recipe for it is quite complicated as it contains many ingredients, mainly rye, wheat, malt, and syrup. It is slightly sweet and really worth a try with its distinct flavor.
Which bread to use is up to you. With toast bread, you will highlight the flavor of the toppings of your Swedish prawn toast and with the archipelago bread, you will focus a bit more on the flavor of the bread as well.
Is this a Skagen?
Along with räksmörgås, another common toast usually eaten in Sweden and Finland is the more-known Skagen. The main difference between the two is that shrimps/prawns are mixed with mayonnaise in the latter, while in the first they form two different layers of the toast that contains other toppings as well.
---
Have you ever eaten a Swedish prawn toast? Do you usually make it home or do you prefer eating it in restaurants and cafés?
If you liked this Swedish prawn toast recipe, please follow us on: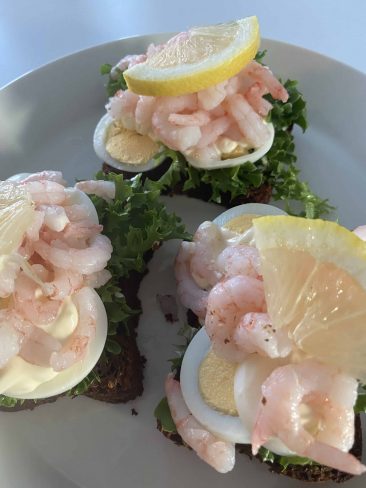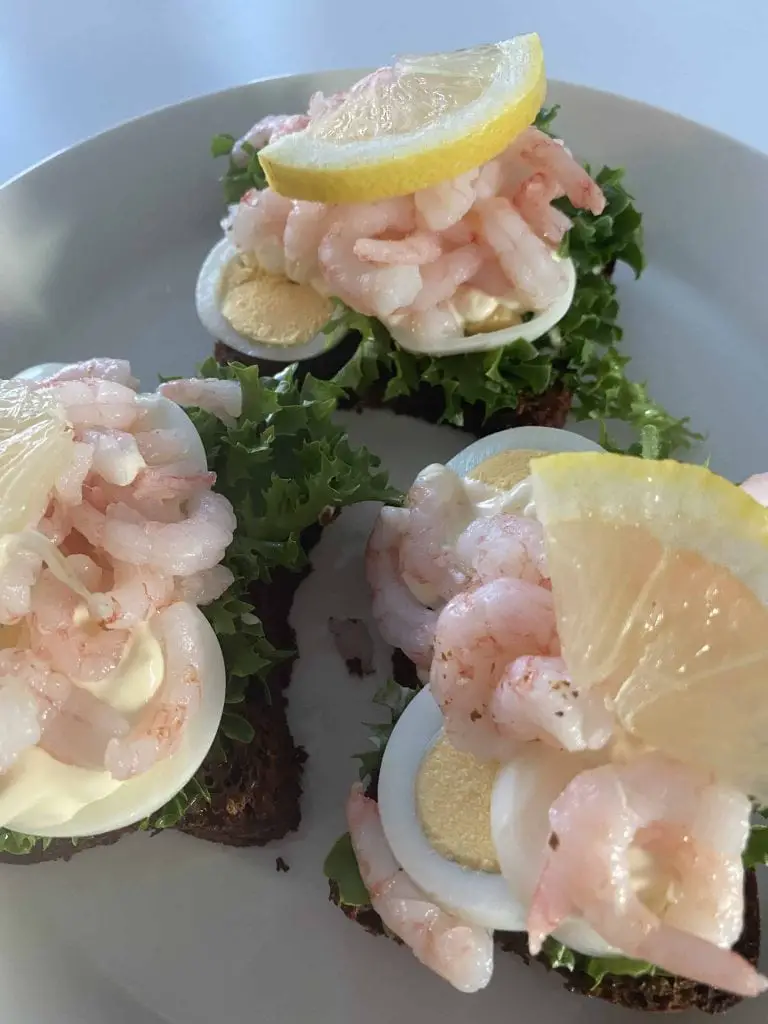 Swedish prawn toast
A räksmörgås or räkmacka is one of the most typical foods that most likely originates from Sweden. It is very popular in the coastal regions of Sweden and definitely in Finland as well.
Ingredients  
4

slices

of toast bread

300

grams

prawns

we use cooked frozen prawns

3

eggs

lettuce

mayonnaise

1

lemon

fresh dill
Instructions 
Boil the eggs. Prepare the prawns based on which you are using. (We use frozen cooked ones, and you just need to let them thaw and use them cold. If cooking fresh ones, cook and let cool.)

Spread a little mayonnaise on each bread slice. Cover with some lettuce.

Slice the boiled eggs and add the slices on top of the salad. Add a generous amount of mayonnaise.

Top with all the prawns, add a generous amount of lemon juice to the prawns. Save half a slice of lemon to garnish each piece of bread.

Garnish with some fresh dill and half of the lemon slice. Serve.
Caution
Nutritional information shall not be used for medical reasons.