Teriyaki is one of the most famous and used cooking techniques and it comes from Japan. With this teriyaki tofu recipe, you will have a classic Japanese dish delivered straight to your table, ready to eat with Japanese white rice (For great tips on how to wash and cook rice, follow this guide), onigiri, or green beans with sesame dressing.
What is teriyaki and what does it mean?
As anticipated at the beginning, it is a cooking technique, originating in Japan, where food is broiled or grilled with a glaze of soy sauce and mirin. Sake and sugar are also used often. This teriyaki tofu recipe uses mirin, sake (optional), and soy sauce.
The word consists of two different words: teri and yaki. The latter is pretty simple and refers to the cooking technique itself, while teri refers to a shine given by the sugar. The origin of teriyaki traces back to the 18th century, and so it has already been part of Japanese history for centuries now.
What is usually cooked (teriyaki)?
In Japan fish is cooked using this technique. For instance, teriyaki salmon is quite common. In Finland, you would easily find it in a Japanese restaurant. Additionally, in many countries in the West, meat, both red and white, is more commonly used. Outside Japan, (especially the US) it is important to note, however, that teriyaki might often refer to a sauce that uses similar ingredients to the cooking method. When using the traditional cooking method, very little actual sauce remains to be eaten with the dish.
Even though we are deeply in love with teriyaki salmon, we decided to make this vegan teriyaki tofu recipe. It is perfect for a meatless Monday or as part of your vegetarian or vegan diet. It is extremely simple and still makes the tofu taste extremely tasty. Using tofu as a true ingredient in its own right (like in many Asian cuisines), and not just as a substitute for meat, makes you realize the potential tofu really has.
How to prepare this easy teriyaki tofu recipe
This recipe is pretty easy and quick to make. Most of the time will be taken by draining the tofu, so we highly recommend taking this into account before cooking if you do not have plenty of time. Once the tofu is drained, you will be ready in 30 minutes (15 minutes to prepare plus 15 minutes to cook)! If you are cooking rice with this dish, more time will be needed (mostly, for washing the rice properly).
The secret to this teriyaki tofu recipe is cooking the tofu the right way. The easiest way is to use medium-firm tofu and drain it well. The method to cook is cooking tofu, coated in cornstarch, on a hot pan with enough oil to make it crispy from the outside. No additional seasoning is required. This allows for the tofu to have only the great teriyaki flavor.
The main steps for this recipe are two: cooking the tofu in extra hot oil and then cooking it in the teriyaki sauce, whose ingredients you will mix beforehand. No additional steps are required for this.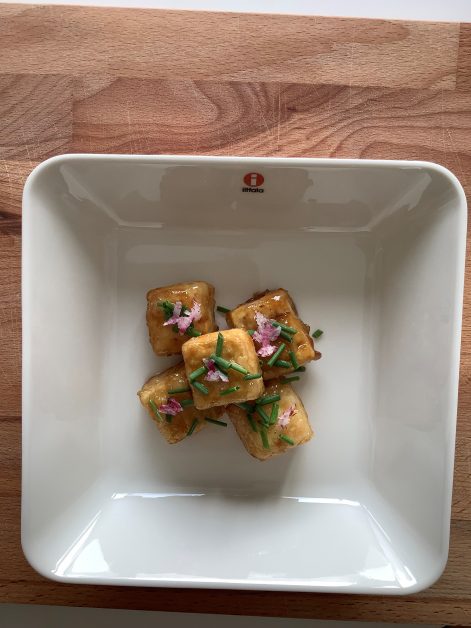 Can I store it?
Once prepared, you can store this dish in your refrigerator for a couple of days. We highly recommend though eating soon after cooking it. This is because the tofu will lose its great texture after storing it in the fridge. This teriyaki tofu recipe is so easy to make, that it is best to enjoy it immediately after cooking!
---
Have you ever made teriyaki tofu or any other recipes using teriyaki as a cooking method? Let us know by leaving a comment!
If you liked this Teriyaki tofu recipe, please follow us on: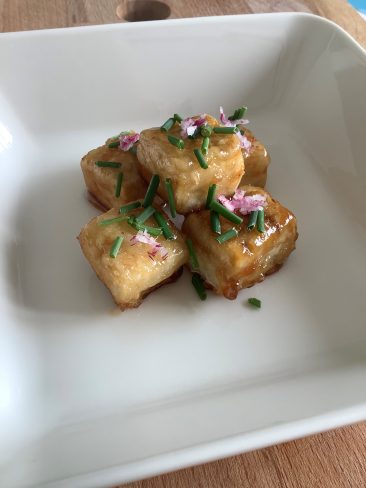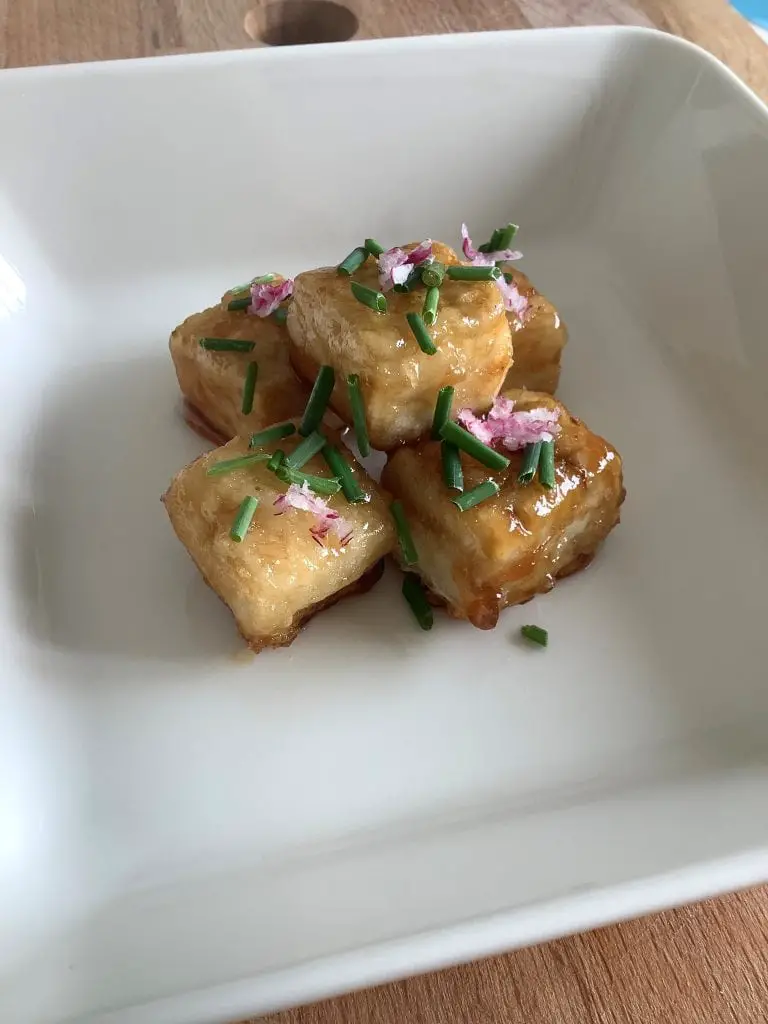 Teriyaki tofu
Teriyaki is one of the most famous and used cooking techniques and it comes from Japan. With this teriyaki tofu recipe, you will have a classic Japanese dish delivered straight to your table, ready to eat with Japanese white rice.
Ingredients  
300

grams

medium tofu

cornstarch

or potato starch

2

tablespoons

vegetable oil

1

green onion

2

radish
Teriyaki sauce
2

tablespoons

soy sauce

4

tablespoons

mirin

if you have sake, you can use ½ sake and ½ mirin
Instructions 
Drain excess water from the tofu by wrapping it in a paper towel and placing something heavy on it. Wait for 30 minutes.

Mix the ingredients of the teriyaki sauce in a small bowl and set aside.

Cut tofu into squares, about 1,5cm thick. Place some cornstarch on a plate and coat the pieces of tofu with it.

Heat oil in a pan over medium-high heat. When the oil is hot, place the tofu in the pan and cook until golden brown, then flip and cook the other side.

In the meanwhile, chop the green onion. Then, grate the radishes over a paper towel. When grated, squeeze the grated radishes with the towel over a plate or the sink to drain the excess liquid.

When both the sides of the tofu are golden brown, add the teriyaki sauce by trying to pour it over each slice. Try to coat each slice with the sauce and flip them if needed, to coat everything.

When the teriyaki sauce thickens, after only a few moments in the hot pan, turn off the heat and plate the tofu, pouring in the remaining sauce as well.

Top with green onions and grated radish. If you eat fish, you may also add dried bonito flakes on top (katsuobushi) if you wish.

Serve immediately.
Caution
Nutritional information shall not be used for medical reasons.