Green beans in sesame sauce are one of the most common side dishes in Japan. They are cooked with sesame seeds, soy sauce, sugar, and salt. As a side dish, they usually accompany rice and other foods.
What does Gomaae mean?
Gomaaae, also spelled Goma-ae or Gomae, is a Japanese word that means sesame (Goma) and sauce (ae). The term refers actually to all dishes where vegetables are cooked with sesame dressing. Often soy sauce and sugar are also added.
One of the most commonly used vegetables for this side dish is spinach. Green beans are also very common.
How to make green beans in sesame sauce
Almost nothing is easier than making this Japanese side dish. Once you have toasted your sesame seeds and then made a paste out of them with soy sauce and sugar, you will only need to boil and cook the green beans. After that, mix the sesame paste with the beans and that's it! Your authentic Japanese side dish is ready to be served. What with? Keep reading!
What can I serve with gomaae?
This side dish is so simple that you won't have any issues with finding something to serve it with. Green beans in sesame sauce are a perfect match for most dishes. Here are our favorites:
Rice. Japanese rice is a great food to combine it with. Speaking of this, do you know how to properly wash and cook rice? If the answer is not, take a look here (+ cooking tips). This rice recipe is perfect for making onigiri, another perfect match with gomaae!
To keep your meal vegetarian or vegan, tofu is an excellent source of protein to fit in a meal with rice and green beans. You can try Agedashi tofu, which is basically tofu in a broth made of dashi, soy sauce, and mirin.
Another way of eating tofu is to make Teriyaki tofu. Teriyaki is a cooking method used in Japan. Alternatively, if you want to opt for a pescatarian version, you can make teriyaki salmon.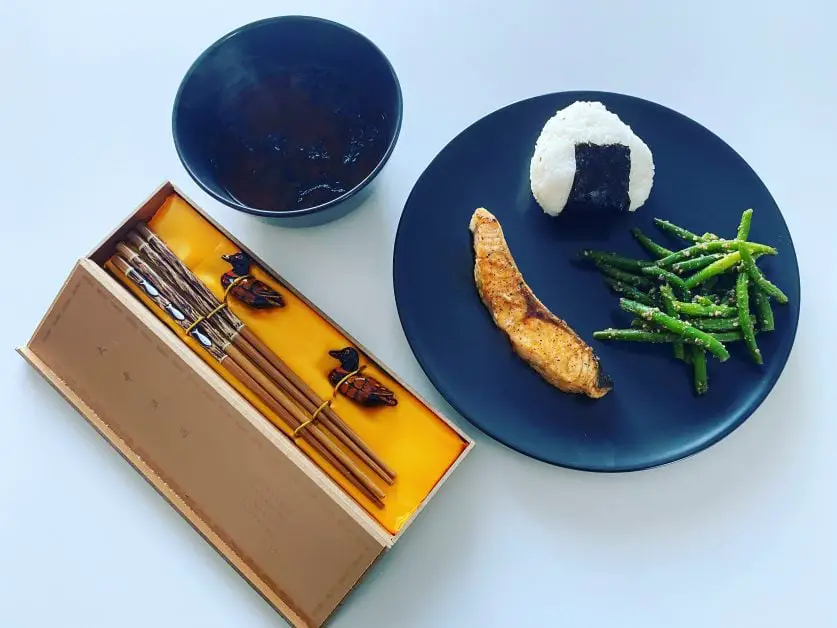 ---
Green beans in sesame sauce are a super simple Japanese side dish. Have you ever made them? What do you think of combining rice and tofu with it? Do you have different suggestions? Let us know in the comments!
If you liked this green beans in sesame sauce recipe, please follow us on:




Green beans in sesame sauce (Gomaae)
Instructions
Toast the sesame seeds in a pan without burning them.

In the meanwhile bring water to a boil. When the sesame seeds are ready, grind the seeds.

We use a pestle and a mortar for grinding.

In a bowl, mix together the sesame seeds, soy sauce, and sugar. The result will be a thick paste. Set it aside.

Prepare the beans. We used frozen ones, boiling them in salted water for a few minutes. For fresh ones, boil for 4-5 minutes.

Place them in a strainer and rinse with cold water to cool the beans slightly, not completely. Dry. If the beans are big, cut them in half.

Add the beans to the bowl with the paste and mix well. Serve.
how to cook green beans in sesame sauce, gomaee recipe, goma-ae recipe, gomae recipe, how to cook gomaae
Did you make this recipe?