Ricotta and spinach crepes
When it comes to crepes, ricotta and spinach crepes are among my favorite ones. These filled crepes require slightly more time because they are baked, but waiting some more time is definitely worth it. With parmesan added on top, they have a crunchy extra layer, that will also result in a more tasteful dish.
Ingredients
Making crepes is usually very easy and they require really few ingredients. For your batter, please see our dedicated recipe article. With only flour, egg, and milk (in addition to a pinch of salt if you wish), you have your batter ready to be used. We let it rest for 30 minutes in the fridge but if you are in a hurry, you can skip this step.
For the filling, we used ricotta and spinach in this recipe. This combination of filling is very common in Italy, above all for Sunday lunches, and I could not wait to make it myself after having eaten it so many times when I was a child. Ricotta can be bought or, if you have some more time, you can make it yourself following our super easy recipe. Making your ricotta and spinach crepes with your own ricotta will taste different.
When to serve ricotta and spinach crepes
These crepes are not the lightest on earth, and we usually eat them for lunch. Clearly, if you want to eat them for dinner, they are completely suitable.
If you need to make a complete meal when making crepes, a nice addition to this dish is to make sweet crepes with ricotta and Nutella, or with strawberries and whipped cream. Both combinations are extremely yummy. Some recipes for the batter contain additional sugar when making sweet crepes, but we really do not understand why to add sugar when already your filling is so sweet. Skipping the sugar will also allow you to use the same batter for everything.
How to store them
If you want to store your ricotta and spinach crepes, please them in an airtight container and keep in the refrigerator for a couple of days. You can also freeze your homemade crepes in case you want to make an abundant amount of them and have them ready for occasions later on.
---
If you liked this ricotta and spinach crepes recipe, please follow us on our social networks: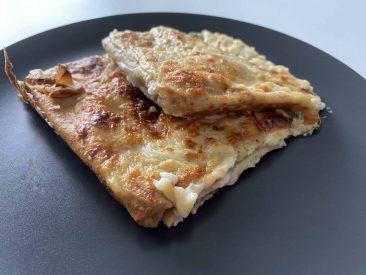 Ricotta and spinach crepes
A great way to eat crepes is to bake them, filled with spinach and ricotta. This is a vegetarian recipe and you can make your own ricotta cheese home in only ten minutes with only two ingredients.
Ingredients  
8

crepes

check our recipe in the instructions

500

milliliters

bechamel sauce

check our recipe in the instructions

500

grams

fresh spinach

200

grams

ricotta

check our recipe in the instructions

grated cheese

salt
Instructions 
Wash and drain the spinach. Cook them for 6-7 minutes in oil and let them cool down.

In a small bowl, mix spinach, ricotta, and grated cheese. You can make your own ricotta or use a store-bought one.

Fill each crepe with the filling. Put the filling only on one-quarter of the crepe, then fold the crepe in half. Fold the half once more to create a shape that is one-quarter of a circle.

Place some bechamel sauce on a baking dish and then the crepes, that you have previously folded. Cover in abundant bechamel sauce and add grated cheese on top.

Cook for 20 minutes and switch to grill and cook for 5 more minutes.

Serve while warm.
Notes
You can make your own crepes, bechamel, and ricotta or you can buy all of them from a store.
Caution
Nutritional information shall not be used for medical reasons.