Archipelago bread (Saaristolaisleipä)
The archipelago bread is one of the most classic Finnish foods, particularly loved during Christmas time with fish toppings, but also eaten throughout the year. And we too really believe you can make this delicious Finnish bread all year round. It is a slightly sweet bread because it contains syrup. This dark bread has a very characteristic flavour to it thanks to the delicious mix of wheat, rye, malt, and the sweeteness of syrup.
History and name
The Finnish name of this bread is Saaristolaisleipä, which is the literal translation of Archipelago bread. In fact, saaristo is archipelago while saari is island. The bread comes from the vast Finnish archipelago off the south-west coast of Finland.
In Swedish, the bread is called svartbröd, literally black bread because of its dark colour given by the rye flour and the malt in the recipe.
Ingredients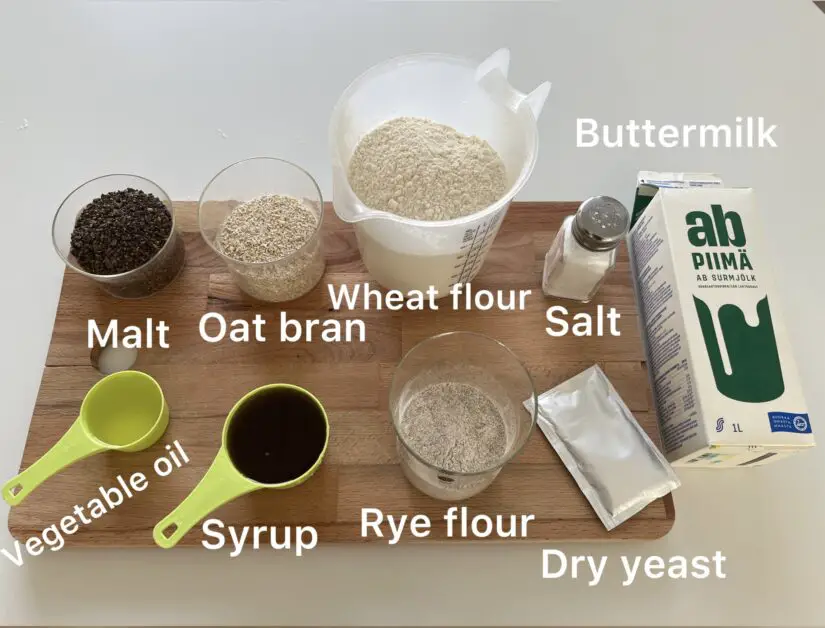 This recipe includes ingredients that are extremely common in Finland, but some of them might be less available in other countries. This said, you won't have any issues finding mosy of these ingredients. Below, we explain how you can even replace a few ingredients with others if having trouble finding them:
Malt
Oat bran
Wheat flour
Buttermilk – in Finland piimä is a common drink available at any supermarket. It can be replaced with apple juice to have a vegan variant.
Vegetable oil – use any neutral oil that doesn't have a strong taste. For instance, sunflower oil.
Syrup – dark syrup is often recommended for this recipe, but you can replace it with light syrup or even maple syrup. A lighter syrup will of course lighten the loaf colour.
Rye flour
Dry yeast – if you have fresh yeast, feel free to use it. To replace 14 grams of yeast in this recipe, use around 40 grams of fresh yeast.
Salt
What to eat it with
Archipelago bread is so delicious and nutritious that you can just eat it as it is. Who doesn't eat a plain slice of bread once in a while? Because it is a slightly sweet bread, it fits in your morning meal as well as in your lunches or dinners.
As mentioned, it is commonly eaten during Christmas times with fish. For instance, you will find it on Finnish tables topped with lettuce and prawn or shrimp. Alternatively, you can top it with smoked salmon or other types of cured fish.
If you do not fancy fish, easier alternatives are butter or cheese slices. Also, we have not tried it yet but avocado slices can be quite a nice touch to it! After all, what doesn't go great with bread?
FAQs
Can I eat it after baking?
Sure, but it's best after a couple of days.
How long can I store it for and where?
Archipelago bread can be kept in the open well wrapped in plastic foil. If it gets too much air, it will get harder. You can keep it for over a week.
Can I make it vegan?
Yes! Replace the buttermilk with apple juice. Use the same amounts.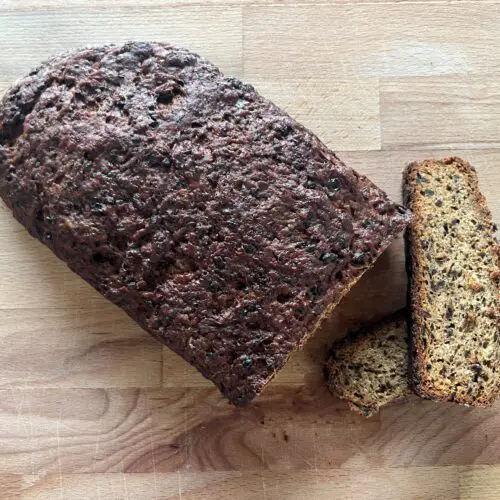 Archipelago bread (Saaristolaisleipä)
Authentic Finnish food: this archipelago bread (Saaristolaisleipä) is highly nutritious and delicious. Perfect with just butter or with cured fish or shrimp.
Ingredients  
Bread
400

gr

flour

80

gr

rye flour

100

gr

oat bran

120

gr

malt

500

ml

sour milk

100

ml

maple syrup

50

ml

vegetable oil

neutral, like sunflower oil, for example

15

gr

dry yeast

1

tsp

salt
Brushing
1

tbsp

maple syrup

1

tbsp

lukewarm water
Instructions 
Heat the buttermilk to 36°C (96,8°F) and pour it into a bowl.

Add the yeast into the bowl, mix, and add syrup, malt, oat bran and salt. Mix.

Add the rye flour and start working the dough, mixing with a wooden spoon or rubber spatula.

Slowly add the wheat flour, little by little, while working the dough.

Add the vegetable oil when almost all the flour has been mixed in, and keep working the dough.

When the dough is mixed well, divide the dough into two parts.

Grease two 21x10cm (8×4 inch) bread pans and place the previously divided dough in both of them. You can gently pierce the dough with a fork.

Cover the bread pans well and let them rest for at least 60 minutes. When ready, preheat the oven at 175°C (or 350°F).

Place the pans on the lowest part of the oven and bake for an hour.

Remove pans from the oven. Mix 1 teaspoon of syrup with 1 teaspoon of lukewarm water and brush atop the loaf to add flavor and color. Reduce the oven temperature to 150°C (300°F).

Cover the loaves with baking paper or aluminum foil so that the top does not darken too much.

Bake for around 30 minutes more.

Once finally out of the oven, brush again with the syrup mix.

Flip the bread away from the tray to a plain surface after the bread has cooled down slightly.

Cover the loaves in plastic wrap.

Eat it whenever you want but best after two days!
Video
Notes
Dark syrup is usually used for this recipe, but you can replace it with light syrup or maple syrup. This will affect the colour of the bread, but the amount you use will be the same.
If you have fresh yeast, you can use 40 grams to replace the dry yeast (15g).
Remember that the dough must be sticky after you have worked the dough. Use flour in moderation.
You can eat archipelago bread with butter or make a delicious Swedish prawn toast. 
Nutrition
Calories:
3510
kcal
Carbohydrates:
609
g
Protein:
101
g
Fat:
90
g
Saturated Fat:
22
g
Polyunsaturated Fat:
9
g
Monounsaturated Fat:
51
g
Cholesterol:
89
mg
Sodium:
699
mg
Potassium:
3180
mg
Fiber:
36
g
Sugar:
145
g
Vitamin A:
1079
IU
Vitamin C:
3
mg
Calcium:
1220
mg
Iron:
27
mg
Caution
Nutritional information shall not be used for medical reasons.