Roman Pinsa, Pinsa Romana in Italian, is a traditional Italian flatbread that's crispy on the outside and soft on the inside. It's a healthier alternative to pizza, with a lighter texture and a slightly nutty flavor. While pizza comes from Naples, the Roman pinsa recipe comes from Rome, hence the name.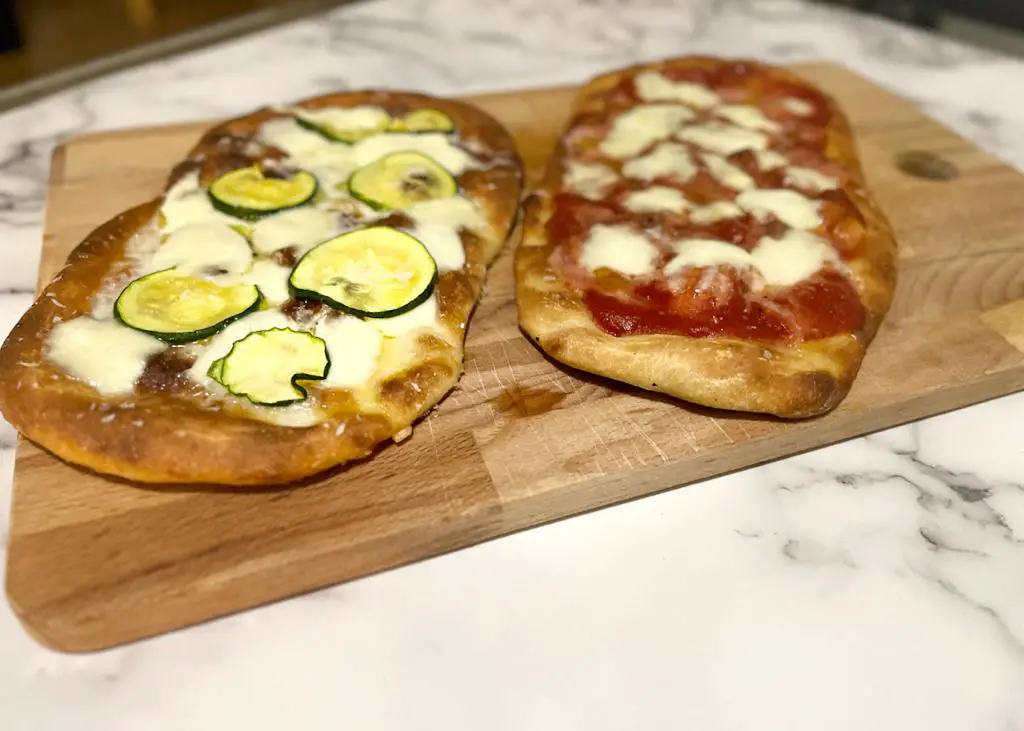 Why you'll love this recipe
If you're a pizza lover, you'll definitely want to try and make your own pinsa! It's a Roman specialty that's similar to pizza but with a lighter, crispier crust. It will be easier to eat and digest than a pizza.
You can either cook your toppings or place them after. This leaves you more freedom (and time) to choose what you'd like to opt for.
Ingredients
The most peculiar aspect of a Roman pinsa recipe is that it requires three different types of flour.
To make Roman pinsa, you'll need the following ingredients:
All-purpose flour
Rice flour
Soy flour
Dry yeast – you can use fresh yeast too
Water
Olive oil – if available, prefer extra virgin
The combination of different flours gives the pinsa its unique texture and flavor. All-purpose flour provides the structure, while rice and soy flours add crispiness and nuttiness to the crust.
Roman pinsa recipe step by step
In order to explain how to make a Roman pinsa, we will focus on two areas: firstly, the dough, and then what it's done after the dough is ready.
Pinsa dough
As for pizza, it all comes down to how to make a perfect pinsa dough.
Start by mixing the three types of flour and the yeast in a bowl. Gradually add water to the bowl, saving about 50ml for later. Knead the dough by hand and add oil and salt.

Continue working the dough for 15-20 minutes. The dough should be elastic and relatively dry. Cover the bowl and place it in the fridge for at least 24 hours.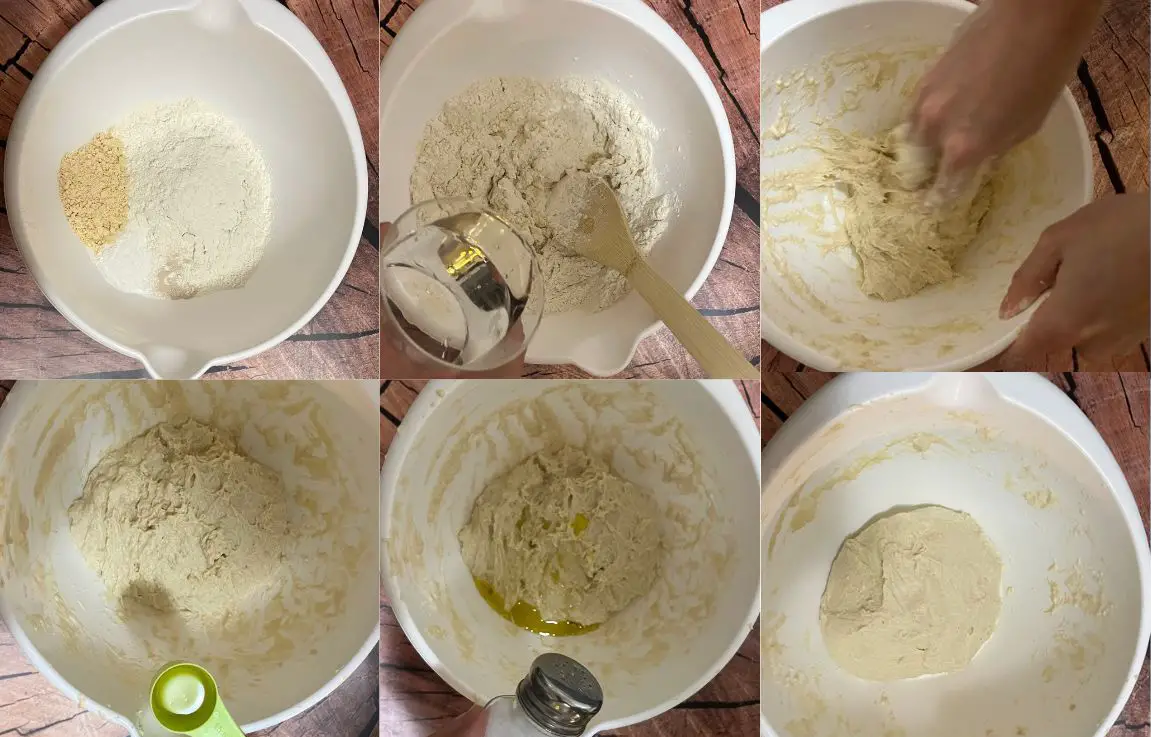 After the dough is ready
After 24 hours, divide the dough into two smaller portions and let it rest for four more hours in the fridge. Then spread each ball of dough on a tray. Mix the 50 ml of water remaining with some oil and coarse salt, and spread it on the two pinsas.
Preheat the oven to 250°C and cook for ten minutes. Remove the pinsa from the oven and, for a classic choice of toppings, add tomato sauce, mozzarella, oil, and salt. Cook at 200°C for ten more minutes.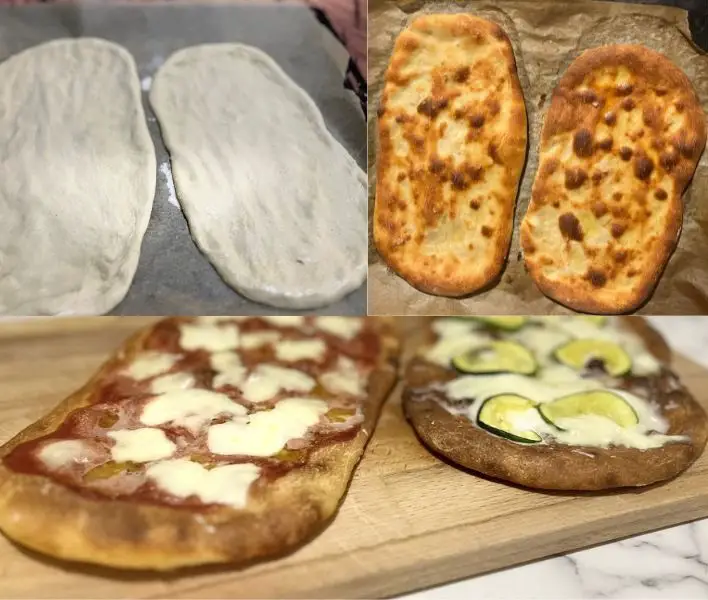 Toppings
We took the safe road and prepared two pinsas with classic toppings: one with tomato sauce and mozzarella (a classic Margherita if you please) and the second with mozzarella and zucchini.
In our cases, we preferred to cook the ingredients but, as mentioned, feel free to add them fresh if you like. Here are a few more suggestions for your toppings:
Make a Margherita but add fresh basil on top. We did not have it but next time we'll make sure to add it.
A must-try topping is mushrooms, truffle oil, and ricotta cheese. The earthy flavor of the mushrooms pairs perfectly with the truffle oil, and the creamy ricotta cheese adds richness to the dish.
If you have a sweet tooth, there are plenty of sweet pinsa you can try out. For example:
A sweet pinsa with fig jam, gorgonzola cheese, and walnuts, is the number one suggestion.
A more classic version is making a Roman pinsa topped with Nutella, or pistachio cream and chocolate (pizza with pistachio and chocolate here).
Tips
Making pinsa may not be easy, so it's important to follow the instructions carefully. To help you succeed, take these tips into account:
When working the dough, make sure it's elastic and slightly wet. You don't want a completely dry dough when you let it rest.
Don't overload your pinsa with many toppings or it may become soggy. Choose a combination of a few.
If you have, use a pizza stone. Whether you have one or don't, use an oven that goes over 250°C.
Origin
Pinsa is the result of over a century of baking creativity and experience that has been developed in Rome. The word "pinsa" comes from the Latin verb "pinsere," which means "to push the dough by hand."
While modern pinsas are relatively recent, we can trace this dish back to the Roman Empire, where it was so highly regarded that the priests offered it to the gods.
The Roman pinsa recipe has evolved over time and the first pinsa was not how we know it today. The first pinsa restaurants opened in Rome around 20 years ago, but now the Roman pinsa is well known in all Italy and abroad as well.
Difference between Pinsa and Pizza
When it comes to Pinsa and Pizza, the main difference lies in the dough. While pizza dough is made with wheat flour, the dough of the pinsa is made with a combination of wheat, rice, and soy flours, which gives it a unique texture and flavor.
Pinsa dough is also left to rest for up to 48 hours, while pizza dough can also rest for a shorter time.
Pinsa is also typically lighter and crispier than pizza, making it a healthier option for those looking to indulge in some Italian cuisine.
Overall, while both pinsa and pizza are delicious options, pinsa offers a unique and healthier alternative that's worth exploring.
FAQs
Can I replace one or more types of flour?
Our recommendation is to use all three flours. While the original Roman pinsa recipe uses unknown amounts of the three, replacing one or more can severely affect how the dough turns out.
Can I use a ready-made flour mix?
If available in your country, feel free to use a mix. Nevertheless, do not worry. Making the dough is simpler than you think.
Can I freeze the dough?
Yes, you can freeze the dough if you want to prepare it in advance.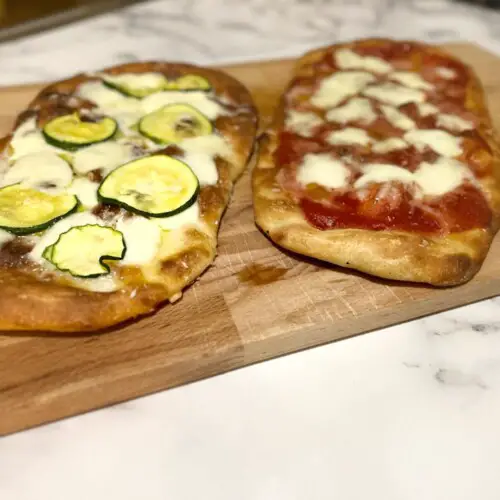 Roman pinsa
Roman pinsa is the sister of the Neapolitan Pizza, but it comes from Rome and it's crispier and lighter.
Ingredients  
Pinsa
700

gr

all purpose flour

40

gr

rice flour

30

gr

soy flour

600

ml

lukewarm water

1

gr

dry yeast

20

gr

salt

20

ml

extra virgin olive oil
Toppings
350

gr

tomato sauce

250

gr

mozzarella

½

zucchini
Instructions 
First, combine the three flours and the yeast in a large bowl and mix well.

Next, gradually pour in the water, reserving approximately 50ml for later use.

Begin kneading the dough by hand and add the oil and salt when the dough is better formed.

Continue to knead the dough for an additional 15-20 minutes, or until it becomes elastic and relatively dry.

Cover the bowl with plastic wrap and place it in the refrigerator for at least 24 hours.

After the dough has chilled, divide it into two equal portions and allow it to rest in the refrigerator for an additional 4 hours.

Next, spread each portion of dough out onto a baking tray.

Mix together the remaining 50ml of water with some oil and coarse salt and spread the mixture over the two pinsas.

Bake the pinsas for 10 minutes at 250°C (480˚F).

Remove the pinsas from the oven and add your desired toppings, such as tomato sauce, mozzarella cheese, oil, and salt.

Return the pinsas to the oven and cook at 200°C (390˚F) for an additional 10 minutes or until the cheese is melted and bubbly

Enjoy your delicious homemade pinsas!
Video
Notes
When working the dough, make sure it's elastic and slightly wet. You don't want dry dough when you let it rest for the first two hours.

Don't overload your pinsa with many toppings or it may become soggy. Choose a combination of a few.

If you have, use a pizza stone. If not, use an oven that goes over 250°C.
Nutrition
Calories:
648
kcal
Carbohydrates:
101
g
Protein:
24
g
Fat:
15
g
Saturated Fat:
6
g
Polyunsaturated Fat:
2
g
Monounsaturated Fat:
5
g
Cholesterol:
33
mg
Sodium:
1679
mg
Potassium:
430
mg
Fiber:
5
g
Sugar:
4
g
Vitamin A:
505
IU
Vitamin C:
4
mg
Calcium:
255
mg
Iron:
6
mg
Caution
Nutritional information shall not be used for medical reasons.