[the_ad id="615″]
Gnocchi alla sorrentina is one of the (best) ways you can make your own gnocchi dish.
The term Sorrentina comes from Sorrento, a beautiful city in Campania, in the south of Italy. If you happen to be visiting the area, you should not miss out on an opportunity to visit the city. On the internet, you will find thousands of websites where to book any activity you wish.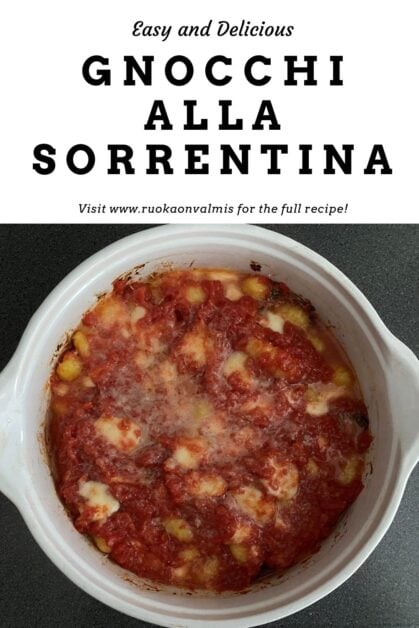 The legend and story of gnocchi
When it comes to traditional dishes, there are always many stories that we bring with us, generation after generation. In fact, an ancient legend has it that the history of gnocchi is linked to a very greedy abbot who one day, in the 18th century, went to a tavern to have a meal, and the innkeeper cooked for him gnocchi with herbs. He ate so many of them that he almost choked himself to death.

This is the reason why in Campania simple gnocchi are sometimes called strangulaprievite, which stands for strangled priests. This name comes from a transposition of the Greek words strongulos and preptos, terms that indicate a round and spherical body, typical of the shape of the gnocchi that we all know and appreciate.

Strangolapreti is used with the same connotation in other southern Italian regions, such as Calabria and some parts of Apulia, eg. Salento.
The fun fact is that in other regions, such as in Lazio or Emilia-Romagna, strozzapreti mean a long type of pasta, usually made of water and flour.
This dish has spread first across Campania, then to the entire country, and finally abroad. Italian cuisine represents one of the most well-known and appreciated cuisines in the world. Gnocchi alla sorrentina are a classic example of these delicious Italian dishes.
A closer look at traditions…
Gnocchi alla sorrentina are a baked pasta dish, that is usually cooked in the so-called pignatiello, a terracotta pan, typical in Campanian cuisine. Its peculiarity is to have two handles and to be cheap. It seems that in ancient times, it was extremely utilized among poor families.

Of course, feel free to use any oven-proof tray that suits you the best. We used a rectangular oven-proof tray and the result was excellent. For an authentic experience, we suggest you buy a terracotta pan!

In Italy, at least in the South, we are used to making baked pasta dishes mainly on Sunday, for lunch, where we meet up with the rest of the family for a long (very long) day. In spite of this, I would say that gnocchi alla sorrentina are worth making any day, and almost every day!
You can use store-bought gnocchi if you don't have time to make your own but we strongly recommend you use our recipe to make your own homemade gnocchi for this dish! Just start by preparing them as it takes a bit of time. You will be extremely proud of the result and the taste will be better.
The ingredients used for gnocchi alla sorrentina are very simple, easy to find, and at the same time extremely yummy.
Ingredients
The ingredients are super simple, everyday staples, but there are some key tips to bear in mind.
Gnocchi – we have a detailed article on how to make Homemade gnocchi. If you have time to do it, you will be amazed by easy it is and how great the result will be. If you do not have time, you can buy them from the supermarket. In Finland we usually buy Rummo.
Tomato sauce (passata) – We used passata to make the dish. Alternatively, you can use canned tomatoes. Do not buy a flavored passata, but favor cooking a plain one with basil, garlic, oil and salt. We highly recommend making a San Marzano Tomato sauce that will fit perfectly with this dish!
Garlic – Use fresh garlic. You will need only one clove.
Mozzarella – do not use grated mozzarella. Buy two whole mozzarella for the standard recipe we propose here (125 grams each – 9 ounces)
Parmigiano Reggiano – The Parmigiano will give extra flavor to the dish. We recommend using 80 grams but you can increase or reduce the amount based on your preferences.
Basil – fresh basil is a key element of this recipe. To maximize the taste experience, do not use dried basil.
How to store them?
We recommend you eat your gnocchi alla sorrentina the same day or the day after.

If you wish to store them in the fridge, cover the tray or plate with cling film and eat within a maximum of two days. It's not recommended to store them for a longer time.

You can store them in the freezer as well, either raw (before boiling them) or after cooking them. Let them thaw before heating them up in the oven.
If you like this recipe…
…don't miss out on our delicious Four cheese gnocchi. We will admit that it is not the most healthy recipe out there, but we cannot be on a strict diet every day! Are we right?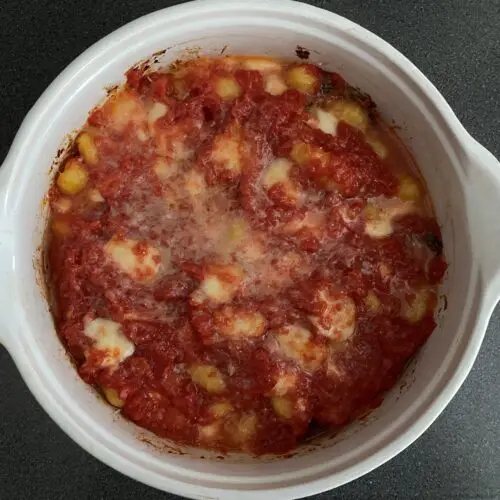 Gnocchi alla sorrentina
Gnocchi alla sorrentina is one of the (best) ways you can make your own gnocchi dish.The term Sorrentina comes from Sorrento, a beautiful city in Campania, in the south of Italy.
Ingredients  
600

grams

tomato passata

1

clove

garlic

salt

basil

250

grams

mozzarella

80

grams

Parmigiano-Reggiano

grated
Instructions 
Place oil, garlic and passata in a saucepan over a medium-low heat. Add some basil leaves and salt. Cook for 30 minutes.

Once the sauce is ready, take away the clove of garlic and place almost all of the sauce in a big bowl. Preheat the oven to 250°C (480°F) on grill mode.

Pass the gnocchi briefly in boiling salted water until they float and carefully place them in the bowl with the sauce. Mix to cover all of the gnocchi in sauce.

Add the remaining sauce to an oven-proof dish with some oil. Create layers by adding gnocchi, pieces of mozzarella and parmigiano to create each layer. Create two or three of such layers, leaving the rest of the mozzarella and parmigiano on the top.

Cook the gnocchi in the oven for about 5 minutes. Serve immediately.
Notes
You can make your own gnocchi or buy them from the store if you are in a hurry.
Remember to p

ass the gnocchi briefly in boiling salted water before boiling.

Add the basil to give a boost in flavor. 
Nutrition
Calories:
527
kcal
Carbohydrates:
60
g
Protein:
28
g
Fat:
20
g
Saturated Fat:
12
g
Polyunsaturated Fat:
1
g
Monounsaturated Fat:
6
g
Cholesterol:
63
mg
Sodium:
1663
mg
Potassium:
730
mg
Fiber:
6
g
Sugar:
8
g
Vitamin A:
1386
IU
Vitamin C:
16
mg
Calcium:
607
mg
Iron:
8
mg
Caution
Nutritional information shall not be used for medical reasons.