The translation service is offered by Google translate. By using it, you accept Google's Privacy Policy and their Terms of Service. Google will install a cookie when you click on a flag to store your preference.

AR
BG
ZH-CN
CS
EN
FI
FR
DE
HI
HU
IT
PT
RU
ES
The Easter egg cheesecake is one of our favourite cheesecakes and it's a perfect solution for Easter as the name suggests because it has Easter chocolate eggs both on top and in the batter.
Last year we were invited by part of our family to spend Easter together and we were in charge of making the dessert (A task we truly love as we can experiment always with new recipes and surprise everyone!). We decided to make two desserts: Scarcelle, a very typical Easter dessert from Apulia, Italy, and a superb no-bake Easter egg cheesecake! We were looking for inspiration and we came across this delicious recipe. The result was absolutely amazing and everyone appreciated it! You will as well, believe us!
A concern that arises when making this Easter egg cheesecake is which chocolate eggs to use. As you can see from the picture, they are of a particular kind. In Finland, we found and used these Cloetta eggs (page available only in Finnish, sorry!). Use whichever similar one is available. The important thing is that they have a sugary, colorful crunchy exterior and chocolate inside. For example, check this out from Cadbury UK.

Tips for a perfect Easter egg cheesecake
This recipe might not seem the easiest but with some patience, you will be rewarded. Hurrying up in the kitchen won't help us.
In order to help you, we have listed a few tips that we consider essential for the best possible result:
Do not replace the full-fat versions of cream and cream cheese.
Sift the powdered sugar to have a smoother cake.
Be careful when chopping the eggs. They are very hard so you need to have a sharp knife and pay attention.
If the cheesecake is still runny and you need to serve it soon, put it in the freezer for an hour or two before serving.
Use a warm knife to remove the cake from the pan. Heat the knife under hot water and pass it between the cake and the pan. This will avoid the cake from breaking down.
How to store the Easter Egg cheesecake
If you are going to serve it the following day, you can keep it overnight in the refrigerator or in your freezer if you want to keep it hard. Otherwise, if you have some left after lunch or if for any reason you need to serve it later, note that this cheesecake can be stored in the fridge for up to five days. Wrap it carefully in plastic wrap before storing it.
If you wish, you can freeze this cheesecake for up to one month. Also in this case wrap it in the plastic wrap, paying attention. For up to one month, the flavor will be kept. We do not recommend you store it for a longer time.
---
Even though this is an Easter egg cheesecake, no one forbids us from eating it later on during the year, either remaking it or thawing it from the refrigerator. Why wait for next Easter if we need a boost of sugars?
Looking for a different kind of dessert? Try out our Brita cake, a fresh summery berry-based cake with meringue, our Belgian waffles, perfect with berries, maple syrup, and powdered sugar on top, or also our Chocolate chip cookies, which are a must (Did you know they are eaten every day by a million people in America? That's not a surprise!).
---
If you liked this Easter egg cheesecake recipe, please follow us on: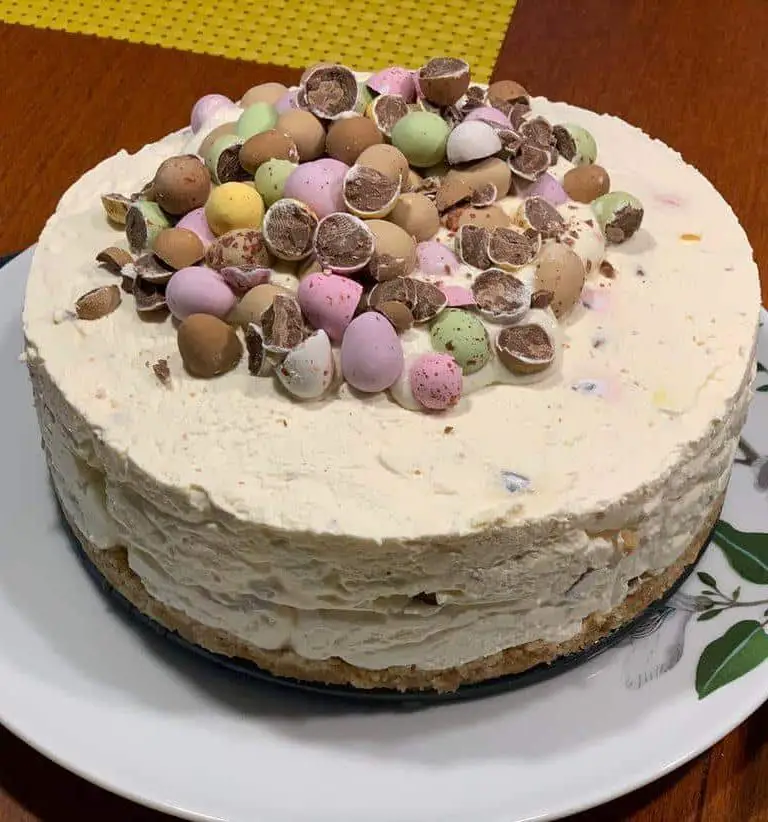 Easter egg cheesecake
Instructions
Crush the biscuits into very small crumbs and mix in the melted butter. 

Pour the mixture into a 20cm  springform pan and press firmly. Set aside.

Chop the 350g of the chocolate eggs in half.

Whip the cream. You will need 550ml of cream to whip for this step. The rest you will need when decorating.

Combine the whipped cream, powdered sugar, cream cheese, lemon juice and chopped eggs. Fold in all the ingredients gently until well combined.

Pour into the tray on top of the biscuit base. Flatten the top. 

Refrigerate until firm. Two to three hours minimum but preferably overnight.

Use a knife to remove the cheesecake from the pan.

Chop the remaining 250g of chocolate eggs. Crush some into small pieces and chop the rest in half.

Add the whipped cream in a pile on top of the cheesecake and cover the pile with the chopped chocolate eggs. 
easter cheesecake, no bake easter egg cheesecake, easy cheesecake for easter
Did you make this recipe?