[the_ad id="615″]
Arepas, the plural of arepa, is a type of food made of maize dough, that is extremely common in Latin America, particularly in its countries of origin, Colombia, and Venezuela. Here you can find an authentic arepas recipe.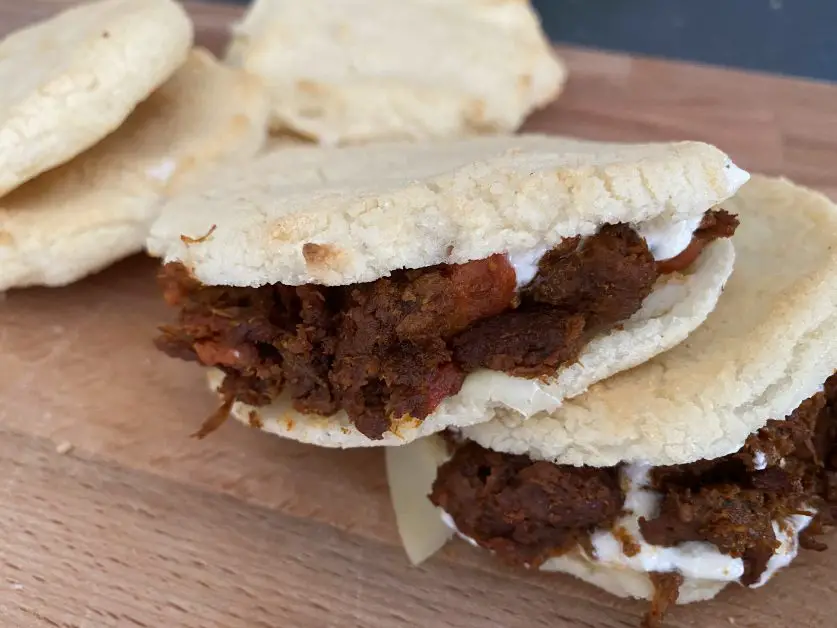 Origins and diffusion
As said in the introduction, arepas are extremely popular in Colombia and Venezuela. Their origin traces back to one of these two countries, even though it's unclear where the first arepa was made. What we know is that it is a pre-Columbian dish, so popular even before forming modern country borders in the area. Nowadays, an authentic arepas recipe is easy to follow because these simple ingredients are available across the globe.
Apart from Colombia and Venezuela, arepas are spread in other parts of Latin America and in other parts of the world, mostly because of being introduced there by Venezuelans and Colombians. When we lived in Madrid, we found a very nice place, called Arepas and Go, in the "Cuarto Caminos" neighborhood, in the district of Tetúan, where we tasted their great arepas. The place makes food (very good, we would say!) from Venezuela. In Madrid, you can find many arepas places, but the dish is not hugely diffused or commonly available in Spanish restaurants.
Ingredients and fillings
Authentic Latin American arepas are super simple to make. You need only three ingredients: water, fine cornmeal, and salt. Nothing more to follow than this authentic arepas recipe, ready to be filled with what you prefer.
In Finland, cornmeal for arepas is not available in most supermarkets. Instead, we can find it in most, if not all, stores that specialize in food from countries in the Middle East. So, if you can't find cornmeal in a supermarket, pay a visit to any store that specializes in cuisines that regularly use cornmeal in their dishes! We use the P.A.N. cornmeal as it is the easiest to find and definitely originally meant for making arepas. Once you have bought a bag, you can even use the rest of your cornmeal to make tortillas and other delicious foods!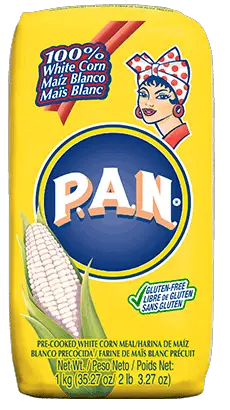 Here you can find some suggestions for your arepas:
If you want to follow this authentic arepas recipe to make breakfast, a simple and super easy solution is to spread butter or margarine, according to your taste, and then cheese. The last one can be vegan if you want to have a vegan breakfast (as you know, alternatives are many)
The filling that you can see in our pictures is highly suggested: we used pulled oats (an amazing Finnish vegan invention that they have started to export around the globe recently. Have a look here), creme fraiche, and cherry tomato sauce.
A crazy suggestion, if you are a Nutella lover, is to spread in the arepas. We all love Nutella fits anywhere, so you can't make a mistake with that.
How to store arepas
Let's say you have followed our authentic arepas recipes and now you have too many. Well, no need to worry. You can store arepas for 2-3 days in an airtight container at room temperature, or up to 5 days in the fridge.
If you wish, you can place them in the freezer to store them for a longer time. Put parchment paper between layers so that they won't stick to each other.
To thaw frozen arepas, you can use a microwave for a couple of minutes (use the defrost function if you have it), and then you can cook them in the oven or the pan until they become crispy.
---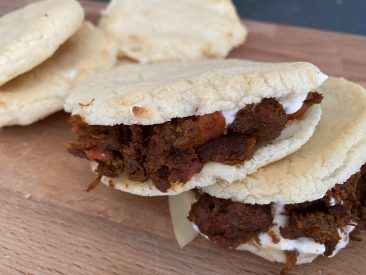 Authentic arepas recipe
Arepas, the plural of arepa, is a type of food made of maize dough, that is extremely common in Latin America, particularly in its countries of origin, Colombia, and Venezuela.
Ingredients  
600

milliliters

lukewarm water

480

milliliters

fine cornmeal

1

tablespoon

salt
Instructions 
In a bowl, mix water and salt.

Start adding flour little by little, while mixing with a spoon or spatula.

When everything is mixed. Wait for a few minutes before starting to knead.

Knead the dough until you form a smooth ball of dough that doesn't stick to the sides of the bowl.

Divide the dough into 8-10 balls and then flatten the balls with your palm. The diameter of an arepa should be around 10 cm when making 8-10 arepas.

Heat a frying pan (or two, to be faster) over medium-high heat. Cook for about 5 minutes per side, until golden brown.

Let the arepas cool for a bit. Serve. You can cut them open and fill them with fillings of your choice.
Notes
Regulate the size of your arepas based on your preferences. There is no right answer.
The best way to cook is to use a lid over the pan when cooking. Otherwise, you might need to cook for a minute or two longer.
Caution
Nutritional information shall not be used for medical reasons.