The translation service is offered by Google translate. By using it, you accept Google's Privacy Policy and their Terms of Service. Google will install a cookie when you click on a flag to store your preference.

AR
BG
ZH-CN
CS
EN
FI
FR
DE
HI
HU
IT
PT
RU
ES
The bechamel sauce, commonly known as besciamella in Italian and simply as white sauce in English, is one of the most common sauces in some cuisines, such as, for instance, the Italian and French ones. This recipe contains nutmeg and salt, which are typical of the just mentioned countries. In some other countries these ingredients may be left out.
It's considered a mother or leading sauce because it is used to make more complicated sauces, the so-called daughter sauces. It acts as a base for them. An example of these is the Soubise sauce of French cuisine, which is an onion sauce thickened by bechamel sauce.
This fast-to-make recipe will take only around 15 minutes of your time, and you will have a bechamel sauce ready for many dishes. The ingredients are very simple: butter and flour, to create the classic roux, hot milk, salt, and nutmeg. The only thing to pay attention to is avoiding lumps, which may ruin the consistency of your sauce and make it less thick than it should.

The history of bechamel sauce
As we like to add some pieces of information about the history of the dishes, or sauces in this case, here you have it. It always gives us some context and helps us understand more of what we are eating.
There are different stories about the origin of bechamel sauce, as it happens with many dishes. One of these is that the sauce was named after Louis de Bechamel, a financier who, in the 17th century, was appointed chief steward to King Louis XIV of France. A second story has it that bechamel sauce originated in Italy, under the same of Belsamella, and was then was adapted into the French cuisine.
What we know for sure is that, regardless of the origin, we all love and use this sauce in many of our dishes. Speaking of this, let's what we can make with this sauce.
What to cook with bechamel sauce
In Italy, my family uses bechamel sauce quite often. It is a very easy-to-find product in supermarkets and the price is generally affordable but, whenever possible, they also make their homemade version, which always increases the satisfaction in how a dish turns out!

Two very common recipes that I personally truly love and that require bechamel sauce are baked crepes filled with homemade ricotta and spinach, and lasagne. In the first case the sauce is used on the bottom of the tray and to cover the crepes, before adding the shredded parmesan on top. The same for lasagne, generally their version without tomato sauce, where the sauce is used on each layer, to give a boost in taste.
Outside Italy, a very good example of bechamel used in a recipe is Moussaka in Greece. In Finland, it is quite common to have bechamel sauce to accompany meat, fish, and vegetables. For instance, with fish, they might add white wine and dill into the sauce, and for meat and vegetables, they would add onion to it. As said, bechamel sauce can be very versatile and each country has its own uses.
How to store bechamel sauce
Once you have made your own sauce, if you have extra left, you can store it in the refrigerator for two or three days. Pay attention: it needs to be properly stored.
If you prefer to freeze it, it can be kept in the freezer for up to two months. When it's time to use it, thaw it leaving it in the fridge overnight for it to unfreeze slowly.
---
If you liked this bechamel sauce recipe, please follow us on: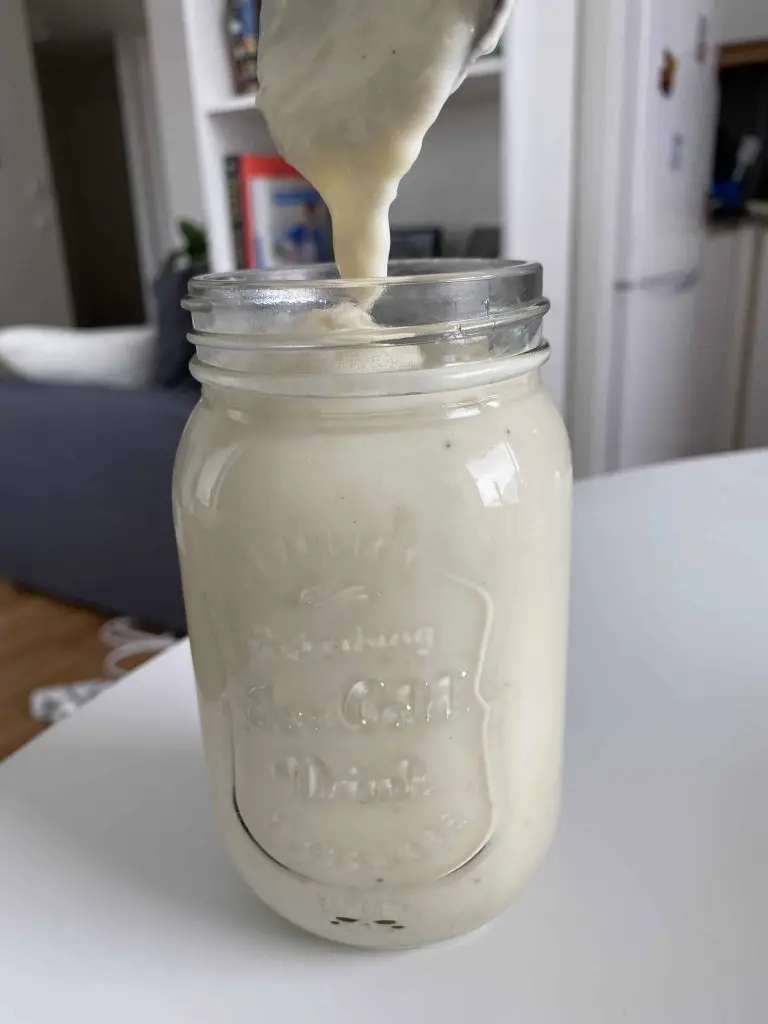 Bechamel sauce
The recipe makes 500 ml of sauce
Instructions
Melt the butter in a saucepan. 

Stir in the flour and mix until well-combined. Cook for 1-2 minutes.

Add the hot milk gradually while constantly stirring to remove the lumps. When all the milk has been added, keep stirring and season with salt and some nutmeg.

Bring to a boil and then reduce the heat. Keep cooking for 3-5 minutes until you have reached the desired thickness, a thicker sauce for fillings and slightly runnier for sauces, lasagna etc. 
bechamel sauce, white sauce, bechamel white sauce
Did you make this recipe?