History of gnocchi
(Homemade) Gnocchi, the plural of gnocco, are very widespread in Italy and all over the world. They are among the most appreciated types of pasta, with their unique combination of soft dough and shape. As they are present in many different Italian regions, many are also the names used. For instance, in Tuscany and Lombardy, they are called malfatti and are usually made with herbs, ricotta, flour, and spinach.
Apulia has instead a variant called cavatelli, which are usually eaten with seafood.
The origin of the word may derive from nocchio or nocca, respectively a knot in wood and a knuckle. The recipe containing potatoes is actually a relatively recent invention because people started using them after they were introduced in Europe in the 16th century. Before that time, gnocchi were made using a semolina porridge-like type of dough.
Gnocchi are sold basically in every supermarket and almost all Italian companies making pasta have their own versions that distribute to Italian supermarkets and abroad. Non-fresh and fresh options are very common. When you don't have a lot of time and you need to buy and cook something really fast, it's a great choice!
This said, maybe you have time to cook and you would like to challenge yourself in the kitchen and make your own homemade gnocchi. Why not? Let's give it a shot!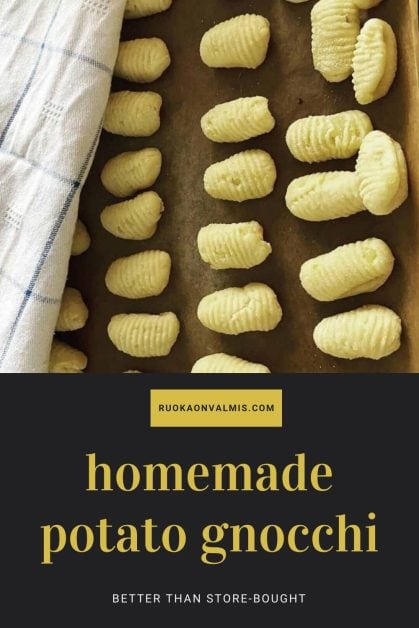 How easy is it to make homemade gnocchi?
In Italian we use two typical expressions that would fit like a glove in this paragraph. The first, devi avere la mano, literally translated would be you must have the hand. By this, we mean that being able to work any dough is an innate craft. Either you have it or not. Is it really true?
We believe that anyone can start cooking and a learning by doing process is most of the times successful. Here the second expression comes in handy, stai prendendo la mano, literally translated as you are taking your hand, so you are learning what and how to do it little by little. There we go.

We don't believe that making homemade gnocchi is difficult but keep in mind three tips:
The first important one to follow is not to work the dough too much because the gnocchi may become chewy.
Additionally, you may want to use older potatoes because the lack of moisture is an important aspect.
Also, do not overcook them because they will absorb the water and become chewy.
What to cook with homemade gnocchi?
If you are looking for a suggestion on what to cook them with, please check out our Gnocchi alla sorrentina recipe (Check out also our IG post about them!) Another option is to cook them with butter and sage, or with a very simple sauce, either homemade or bought. Gnocchi with cheeses are also extremely delicious and we really recommend that!
Also, you will be surprised to know that gnocchi are eaten as a dessert. For instance, in the Veneto region, gnocchi are eaten in a sweet version, with sugar and cinnamon. They are properly called Gnocchi polesani.
Can I store homemade gnocchi?
Yes, you can store your gnocchi in the freezer. This process is divided into two parts:
Place the homemade gnocchi on a tray keeping each of them distant from the others. Store the tray in the freezer for 30-40 minutes. In this way, you avoid for them to stick to each other.
After that, you can put them into a freezer bag and store them.
When you want to cook them, do not unfreeze them. You will only need to cook them normally, just waiting some minutes more for them to properly cook.
---
If you liked this homemade gnocchi recipe, please follow us on: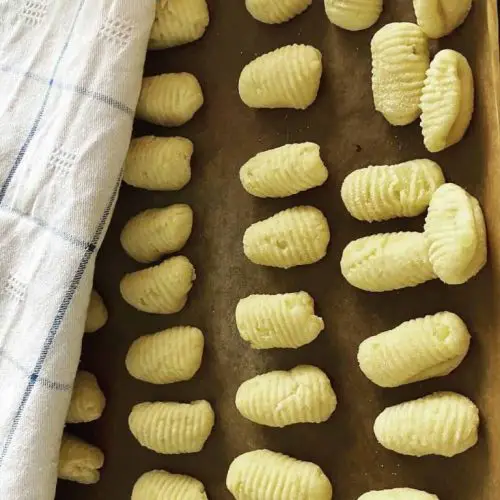 Homemade gnocchi
Gnocchi, the plural of gnocco, are very widespread in Italy and all over the world. They are among the most appreciated types of pasta, with their unique combination of soft dough and shape
Ingredients  
1

kilogram

potatoes

300

grams

flour

1

egg

salt
Instructions 
Boil the potatoes until tender in a big pot (around 30-40 minutes depending on their size). Let cool for a while and then peel them.

Mix flour and salt on a surface that you will be using for preparing the gnocchi on. Mash the potatoes over the flour preferably with a potato ricer.

Add the egg and begin mixing to form a soft dough that doesn't stick to your fingers. Avoid overworking the dough to keep it as soft as possible. Cover and set aside.

On a lightly floured surface (use semolina flour to reduce the amount of flour to a minimum), take a piece of the dough, form it into a long rope and cut it into 2-3cm pieces. To form the ridged shape of the gnocchi, use a designated gnocchi board by lightly sliding each piece over the board. Alternatively, use a fork in a similar way, pressing and sliding every piece very lightly over the fork.

Cook the gnocchi according to the recipe of the gnocchi dish you are preparing, or in salted boiling water until they float to the top.
Notes
The cooking time of potatoes will depend on their size. 
Do not overwork the dough. It has to be as soft as possible.
Eat gnocchi with a sauce or bake them. 
Nutrition
Calories:
481
kcal
Carbohydrates:
101
g
Protein:
14
g
Fat:
2
g
Saturated Fat:
1
g
Polyunsaturated Fat:
1
g
Monounsaturated Fat:
1
g
Trans Fat:
1
g
Cholesterol:
41
mg
Sodium:
32
mg
Potassium:
1148
mg
Fiber:
8
g
Sugar:
2
g
Vitamin A:
64
IU
Vitamin C:
49
mg
Calcium:
47
mg
Iron:
6
mg
Caution
Nutritional information shall not be used for medical reasons.