Neapolitan Margherita pizza
[the_ad id="615″]
The making of a perfect Neapolitan Margherita pizza starts with knowing how to make a pizza dough. How many times have you wondered if you can be able to make a pizza like a real pizzaiolo (pizza maker)? If you have, follow this incredible Margherita pizza recipe and you will have your own Margherita pizza ready to be eaten!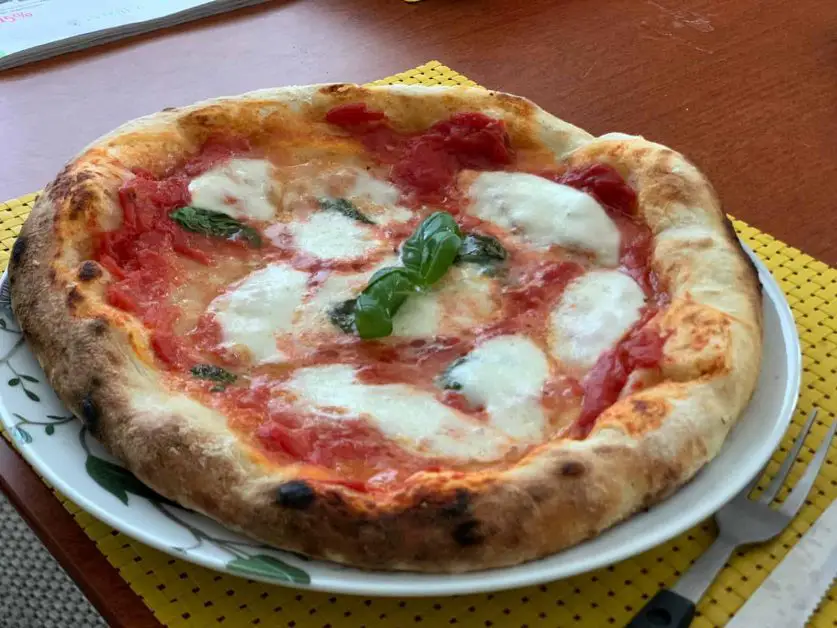 I know that at first, you think you do not need to know how to make a pizza. It is true, you can buy pizza anywhere, really. You can go to a fancy restaurant with a view of the sea, or to the pizzeria of your best friend, or even just buy a frozen pizza from a grocery store. There are so many brands that sell pizza. It is even difficult to choose.
I feel you: even if I was born in Italy, where I lived most of my life so far, buying a pizza from a pizzeria or going to eat one is super easy. With the spread of Italian food places around the globe, it is basically impossible to miss a pizzeria when you walk along the street during an evening walk or when trying to spot a place for a fast but delicious lunch.
The truth is that nothing tastes like food you make with your own hands: the passion, the love, the dedication to your homemade food cannot be compared to anything, above all not to a frozen pizza. That's why your Margherita pizza will surely taste different. Not only that, but with this Margherita pizza recipe you can make a real Neapolitan pizza, thin and with a thick crust that is crunchy and so very soft at the same time.
Googling around, I found some food blogs with some recipes for pizzas. Among the ingredients, I saw a frozen pizza base. Okay, no, that is not a recipe, c'mon! Too easy. I mean, yes, it is a good solution if you want something fresher than a frozen pizza. But wouldn't you want to enjoy a 100% Neapolitan pizza right at home?
With this simple recipe, you will be able to make a perfect dough ready for any topping: sweet or savory, does not matter. You are the chef, you choose! The recipe for the toppings we are going to use is for the classic of classics – the Neapolitan Margherita pizza.
The history
Craving pizza is quite common and if you want to skip to the recipe, feel free, but as usual we want to add some historical information about the most important and well-known dish in the world.

Do you know how pizza was invented? Well, the answer is not very easy as some kind of pizzas, in the form of a flatbread cooked in the oven, already existed before the Italian Neapolitan pizza would be a thing. Also, pizza with toppings was already served before the invention of how we imagine a pizza today.

The first pizza with tomato sauce, mozzarella, and additional toppings comes from Naples and we need to thank Raffaele Esposito, who is known the be the first person to make a Margherita pizza. He made his first-ever pizza for King Umberto I and Queen Margherita when they visited Naples in 1889. He used fresh tomatoes, mozzarella, and fresh basil. The Neapolitan Margherita Pizza, Pizza Margherita in Italian, was named after the Queen.
After the blessing of Queen Margherita, pizza did not gain global popularity overnight. First, emigrants started to export it to America, and then little by little pizzerias started to open. The first chain to open in America was Pizza Hut in 1958, that then expanded their stores in many other countries, and that nowadays is everywhere in Europe, with the exception of Italy, where no Pizza hut store has ever opened.
Around the same years, frozen pizzas become very popular, and nowadays many brands have their own versions on the market: some of them are more classical and some others more extravagant, which you would never find on a menu in an Italian pizzeria or in a restaurant.
Types of pizza
This Neapolitan Margherita pizza recipe and most of the recipes you find on the web will tell you how to make a round pizza, which is also the most common pizza we all eat. A round Margherita pizza is the classic pizza we are all used to eating. The shape is made using a rolling pin. It is cooked without the need for a tray.

In addition to round pizza, common is, at least in America and in Italy, the pizza by the meter. The characteristic of this kind of pizza is that it is cooked in long wood-fired ovens and has a rectangular shape. Usually, there are several toppings on the pizza and people eat it one square per time.
The third type of pizza is the Pizza al taglio, translated as sliced pizza, which is commonly sold in pizzerias but also in bakery stores. The dough might slightly differ because it is often reheated during the day so it can't dry.
Tips for a perfect Neapolitan Margherita pizza recipe
The recipe we offer here is for a very classical Neapolitan pizza that will make you appreciate the original authentic pizzas of Naples. These pizzas are often sold only in pizzerias that specifically focus on Neapolitan pizzas and you can't find these in the freezer because the dough of these pizzas doesn't react well to freezing. Here is some information on what to consider when making this pizza.
Making this pizza dough requires that the dough rests in the fridge overnight and afterward, grows at room temperature for 6-8 hours. So remember to plan when deciding when to eat pizza! Such a long growing time makes the pizza extremely fluffy from the crust and is truly worth it!
You will not need to knead the dough at any point because this would make the dough lose its fluffiness. Instead, you will be "folding" the dough and letting it rest a bit between working it. This means that the dough has to be made authentically without a stand mixer.
Shaping the round pizza shape is very simple: just place a ball of dough (with some flour sprinkled on it) on baking paper and press with your fingers from the center towards the edges of the paper until you reach the desired thickness of the pizza. This way, you can really make sure you get a nice round pizza.
Use only canned peeled tomatoes and salt for the sauce. Don't go overboard with the amount of mozzarella and don't use grated mozzarella. The great taste of this authentic pizza comes from its simple but good-quality ingredients.
Prefer higher temperatures when baking the pizza. Ovens can't reach the astounding 500 degrees Celsius that Neapolitan pizza ovens do. In those ovens, pizzas cook in one minute or so. When cooking in an oven, turn the heat to 250-275 ℃ (480-530°F). You might want to pre-cook the flattened dough with the tomato sauce for a few minutes before adding mozzarella. This way your mozzarella doesn't turn brown, because of the longer bake time in a lower-temperature oven, and your pizza dough will have time to cook through.
Alternatives to pizza
While the Neapolitan Margherita pizza is the most important and spread dish around the world, there are some alternatives that you might like to try and which are very common in the Italian region where I come from: mini focaccia and air-fried panzerotti.
---
Have you ever tried to make your own Margherita pizza? If the answer is no, maybe it's time to give it a try. Follow this great recipe and let us know what you think of it. We are open to any feedback from you!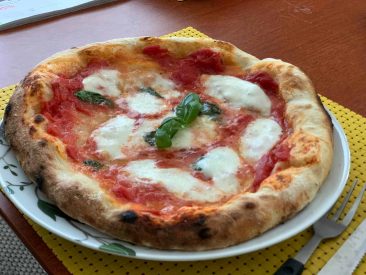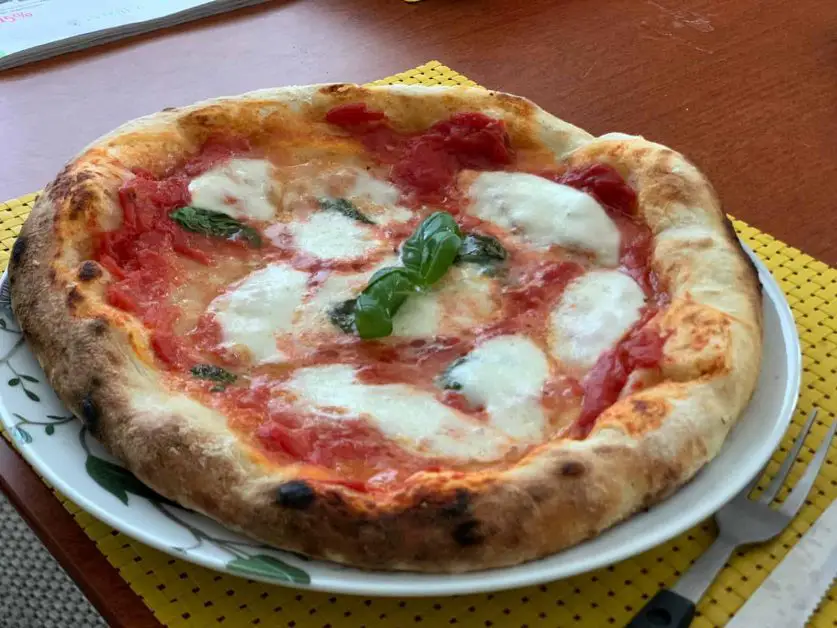 Margherita pizza
This is the Queen's pizza. The dough used requires 20 hours of leavening. The taste will amaze you, it's a promise.
Ingredients  
Neapolitan pizza dough
1

kilogram

flour

700

milliliters

lukewarm water

25

grams

extra virgin olive oil

30

grams

salt

5

grams

yeast

replace 5 grams of yeast with 2 grams of dry yeast if you prefer
for Pizza Margherita
1

can whole peeled tomatoes

1

teaspoon

salt

500

grams

mozzarella

fresh basil

extra virgin olive oil

grated Parmesan cheese
Instructions 
Neapolitan Pizza Dough
In a small bowl, mix a small amount of the 700ml (3cups) of water with yeast.

Set aside 100 grams (a bit less than 1 cup) of flour. Pour the rest of the water in a large bowl and start slowly adding the rest of the flour. Start by mixing with a (silicone)spatula and after the first batch of flour has been mix in the water, pour in the yeast water.

Keep adding flour and mixing. This should take about 4-5 minutes.

Once all of the 900 grams (7 cups) of flour has been added, start working the dough with your hand: lift a part of the dough from the side and place it in the center of the dough. Turn the bowl slightly and repeat the process. Keep lifting the dough and rotating the bowl for about 3-4 minutes.

Add salt and continue for 2 minutes. Then, add oil and continue for another 2 minutes. The dough should now be smooth and well mixed. Set it aside for 15-20 minutes, covered by a wet cloth.

Pour some of the leftover flour on a working surface. Then, pour the dough on it. The next step requires that you gently press the dough into a rough rectangular shape. Then fold the dough by folding one side on the center of the dough and then repeat with the other side as well. Press the dough again, turn 90 degrees and fold again. Repeat this process for 2 minutes. Cover the dough and let rest for another 20 minutes.

Repeat the previous step for 1 minute and let the dough rest for another 20 minutes.

After the dough has rested, cut it into six pieces of equal size. Shape them gently into balls and place each of them in a separate container with some olive oil to prevent sticking. Close the containers well.

Let the dough stay in room temperature for 2 hours, after which put them to rest in the fridge overnight. Take the dough back to room temperature 6-8 (preferably 8) hours before baking the pizza.

When the long resting time has passed, the dough should be very airy and have bubbles on it. Place some flour on plate, grab a ball of dough and dip both sides of it in flour. Place on a baking paper and gently press the dough with your fingers from the center towards the edges. Continue until the base is very thin but leave some thicker crust. Add your choice of topping and bake in the oven.
Pizza Margherita
Cut the mozzarella into slices the size of a finger. Then place them on a plate and let them release excess moisture in the fridge. Preheat the oven to 250-275°C (480-530°F).

Crush the contents of the can of peeled tomatoes. You can do this by hand, squeezing the tomatoes, or in a food processor for only a few seconds. Add salt and mix.

Spread some tomato sauce on a prepared pizza dough. Sprinkle with grated Parmesan. Add pieces of fresh basil leaves on the sauce.

Cook the pizza in the oven for a minute or two. When you see the pizza dough starting to cook, take it out.

Place some mozzarella slices evenly on the pizza. Sprinkle with some olive oil. Put the pizza back in the oven and cook for 4-6 minutes, until the pizza looks cooked from the crust.
Notes
Do not knead the dough. The method used here makes sure that the dough stays airy and soft.

When cutting the dough into six pieces, each piece should weigh around 250 grams.
Nutrition
Calories:
908
kcal
Carbohydrates:
132
g
Protein:
37
g
Fat:
25
g
Saturated Fat:
12
g
Polyunsaturated Fat:
2
g
Monounsaturated Fat:
9
g
Cholesterol:
66
mg
Sodium:
2956
mg
Potassium:
379
mg
Fiber:
5
g
Sugar:
3
g
Vitamin A:
643
IU
Vitamin C:
6
mg
Calcium:
472
mg
Iron:
9
mg
Caution
Nutritional information shall not be used for medical reasons.