This is gonna be fun (and shameful) to admit, but it's the truth: even though I am Italian, I had never heard of tigelle bread until moving to Spain. We used to go to have lunch on weekends in an Italian place close to where we lived as they always had good offers when booking online. That restaurant offered food from the Italian region of Emilia Romagna, and that's where I tried these delicious little flatbreads for the first time.
Tigelle are round breads made with very simple ingredients and typical of the Appennines in the Modena area in Emilia Romagna. This explains why in the South of Italy not many of us would know them. They are also called crescente e crescentine.
The Italian Ministry of Agriculture, Food and Forestry Policies has included them in the list of traditional regional food products, in accordance with the Italian regions. The same applies, for example, to the Italian chocolate salami.
History and real name of tigelle bread
History says that the original name of the tigelle bread was crescentine and that the tigelle actually were the tool used to cook them. Originally, this dish was made only in poor families and, as you can imagine, this was because of the simple and economic ingredients needed to prepare it. The term tigella comes from the Vulgar Latin tegella, which refers to a small lid. Originally the crescentine were cooked in between hot terracotta discs, which were referred to as tegella.
When time passed of time, the name of the disc became synonymous with the name of the dish. Not everyone is sincerely happy about this. In fact, many find it weird and fully support the only use of crescentine which, as said, was the original name.
What to fill tigelle bread with
Originally, tigelle were eaten with a spread made from pork lard and flavoured with garlic and rosemary. Alternatively, other meats were rabbits or hare.
As always, times evolve and nowadays you can have a lot of different variants for this delicious round bread. Here you can find some yummy ideas:
mozzarella, tomatoes, and arugula
cream cheese, tomatoes, and arugula
salmon, mascarpone and stracchino cheese
blue cheese, fig jam, and walnuts
Varieties are definitely unlimited and you can find many combinations that would give tigelle a great taste.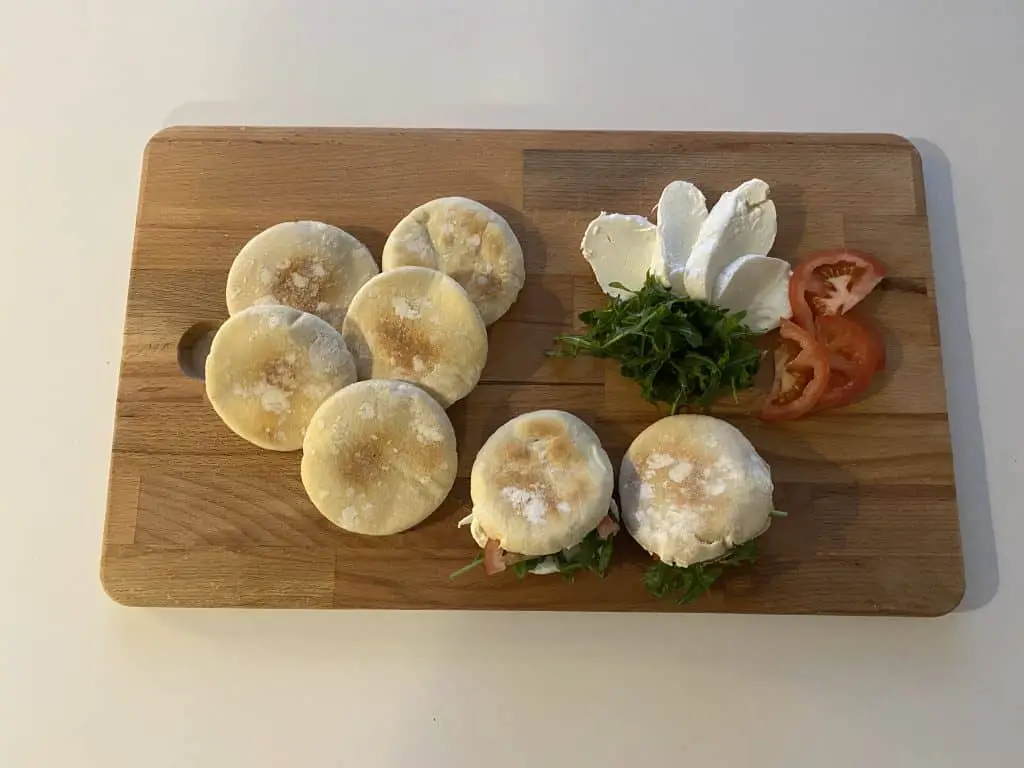 As they are simple round pieces of bread, you can use them for several occasions and parties. They are a great starter for a family lunch or dinner. If you wish, they can be used for a lovely snack in the afternoon or used as desserts. It is not uncommon to fill them with Nutella, for instance. As said above, blue cheese, fig jam, and walnuts are a great combination for this plate.
Which tool to use to cook tigelle bread
Due to their particular shape, it does not come as a surprise to wonder where is the best way to cook them. Here below, you will find an example of a tigelliera, commonly used nowadays to make perfect tigelle. With this tool, you will be a perfect Italian cook making crescentine. No one will resist them.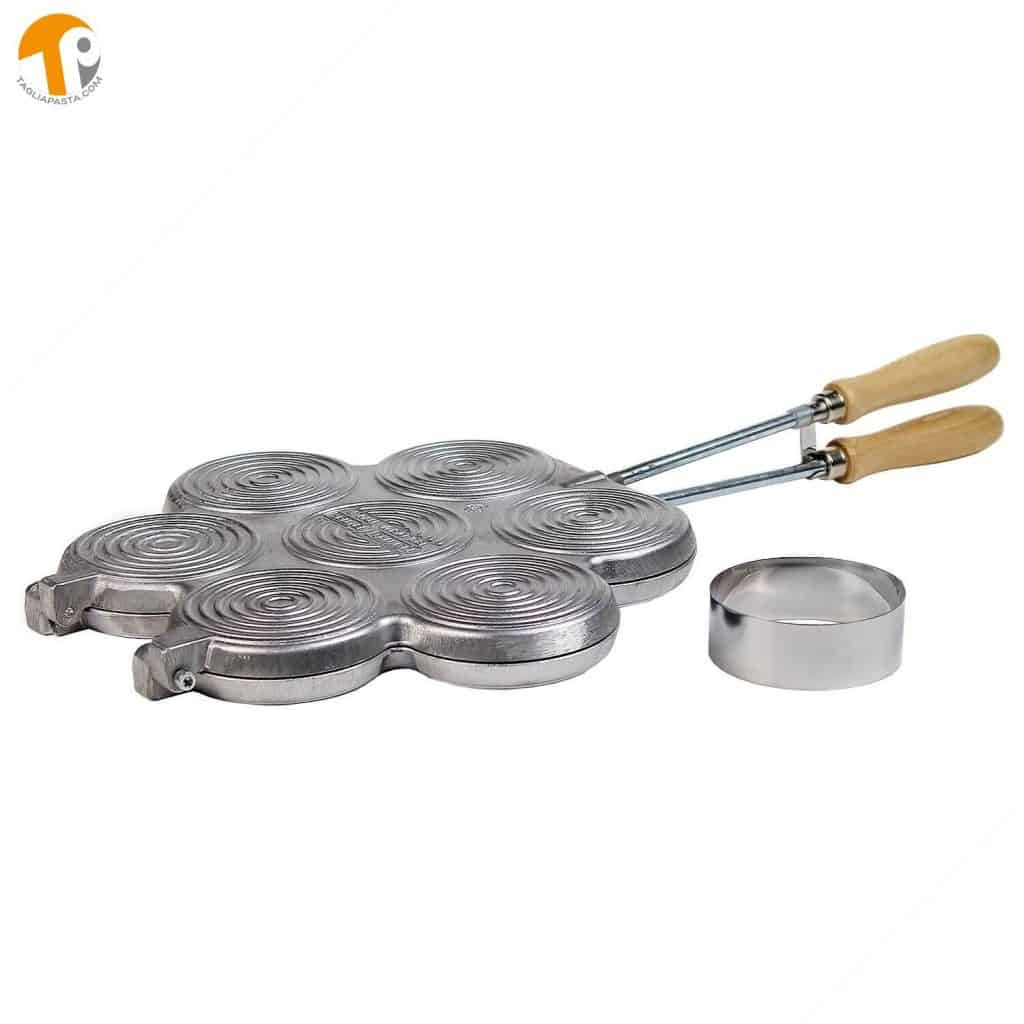 As said the most common tool to cook tigelle is the so-called Tigelliera (this is an affiliate link: if you place a purchase, we will get a small commission)
If you do not have this proper tool, you can use a pan or your oven. Your tigelle will turn out just fine. Experiment with different methods but in the end, we highly recommend you buy a tigelliera. It's an investment for life!
How to store tigelle
With this recipe, you will make around 25 tigelle, ready to be eaten. In case you can't finish them, do not worry. You can easily store them in the refrigerator for 3-4 days. Place them in a proper airtight container.
Alternatively, tigelle can be kept in the freezer, both cooked or ready to be cooked.
---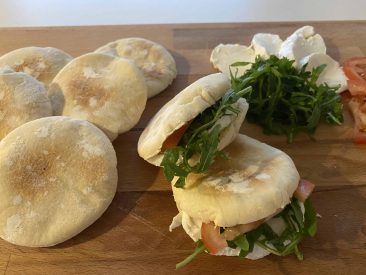 Tigelle bread
Tigelle are round breads made with very simple ingredients and typical of the Apennines in the Modena area in Emilia Romagna. You can fill them as you please!
Ingredients  
500

grams

flour

120

milliliters

water

120

milliliters

milk

7

grams

dry yeast

40

grams

butter

if you don't want to use butter, replace with 30-35 grams of extra virgin olive oil

10

grams

salt
Instructions 
First, dissolve the dry yeast into lukewarm water and milk.

In a bowl, add flour and create a hole in the center. Pour the liquid ingredients (with the yeast dissolved in them) into the hole.

Start working the dough with your hands and, after some minutes, add the softened butter and the salt.

Keep working until the dough is soft and elastic. This will take some time and the dough will feel rather dry in the process.

Cover well and let it rest and grow for a couple of hours.

Roll out the dough to a thickness of 5mm and start shaping your tigelle by using a biscuit cutter.

Place your tigelle on a floured surface, cover them, and let them rest for 30 minutes more.

Cook them in your tigelliera, over medium-low heat, and cook for 3-5 minutes on both sides. Alternatively, use a normal pan and cook them over medium heat for 3-5 minutes on both sides, or bake in the oven at 200°C for about 10 minutes.

Let the tigelle cool slightly, slice open, and stuff with your choice of ingredients.
Notes
The key for cooking is that the tigelle need to puff up and turn golden brown.
Nutrition
Calories:
88
kcal
Carbohydrates:
16
g
Protein:
2
g
Fat:
2
g
Saturated Fat:
1
g
Polyunsaturated Fat:
1
g
Monounsaturated Fat:
1
g
Trans Fat:
1
g
Cholesterol:
4
mg
Sodium:
168
mg
Potassium:
32
mg
Fiber:
1
g
Sugar:
1
g
Vitamin A:
48
IU
Vitamin C:
1
mg
Calcium:
10
mg
Iron:
1
mg
Caution
Nutritional information shall not be used for medical reasons.