Finnish spinach pancakes (Pinaattilettu)
Finnish spinach pancakes are savory pancakes with spinach among the ingredients and are very common in Finnish traditional cuisine. Children usually eat them in school, but many adults are also used to buying ready-made packages from supermarkets. The reason why is that everyone loves them!
We are personally huge fans of the ready-made ones. They come at a very good price and are extremely good. It's one of those foods that you really do not need to make at home. In spite of this, we all know that homemade food is healthier and tastes better even just because you make it. Also, having a food blog without experimenting with new dishes would be a shame, so here we are with the authentic recipe for Finnish spinach pancakes
Pinaattilettu – where does the name come from?
If you are not a Finnish speaker, you might be wondering what Pinaattilettu means. Well, easy as that: pinaatti means spinach, and lettu means crepe/pancake. In Finnish, the literal translation of pancake would be pannukakku but this term in Finland is used to indicate a different kind of product, specifically a kind of Finnish hotcake, cooked in the oven and much thicker. Pinaattilettu is instead cooked in a frying pan and is thin, in the style of regular pancakes or crepes. The ready-made ones are usually small and thicker but the term embraces both types, regardless of the thickness of the pancake.
Spinach – the special ingredient
The dough for these pancakes is very simple and does not require any special ingredient, in addition to spinach. In fact, the only difference is the addition of this vegetable.
This makes them perfect for all children, and adults as well, who are not huge fans of spinach. In this way, you can let them eat spinach in the best way possible, inside of a pancake!
What to serve with Finnish spinach pancakes
Finnish spinach pancakes are usually eaten as a light lunch dish. Traditionally, Finnish people eat them with lingonberry jam, whose taste is quite bitter and make it a perfect fit for a savory meal. Lingonberry jam is also used with other traditional Finnish savory dishes.
If you do not want to opt for a light lunch, you might take into consideration several options. For instance, you can think of them as classic pancakes or crepes, if they are thinner like our homemade ones, and eat them with cheese (eg. mozzarella or spread cheese) and cured meats (or vegan cured meats). Making a vegetarian lunch with Finnish spinach pancakes is very easy.
In some parts of Finland, even a type of minced meat sauce has been eaten with these pancakes. Another option is to eat them with smoked fish, another staple of Finnish cuisine. As spinach pancakes are quite simple, many ingredients can easily work with them.
Because of the ingredients, and in particular, because of the spinach, this dish does not fit with sweet toppings, so please do not imagine eating spinach pancakes with Nutella or any other sweet combination. They just won't do.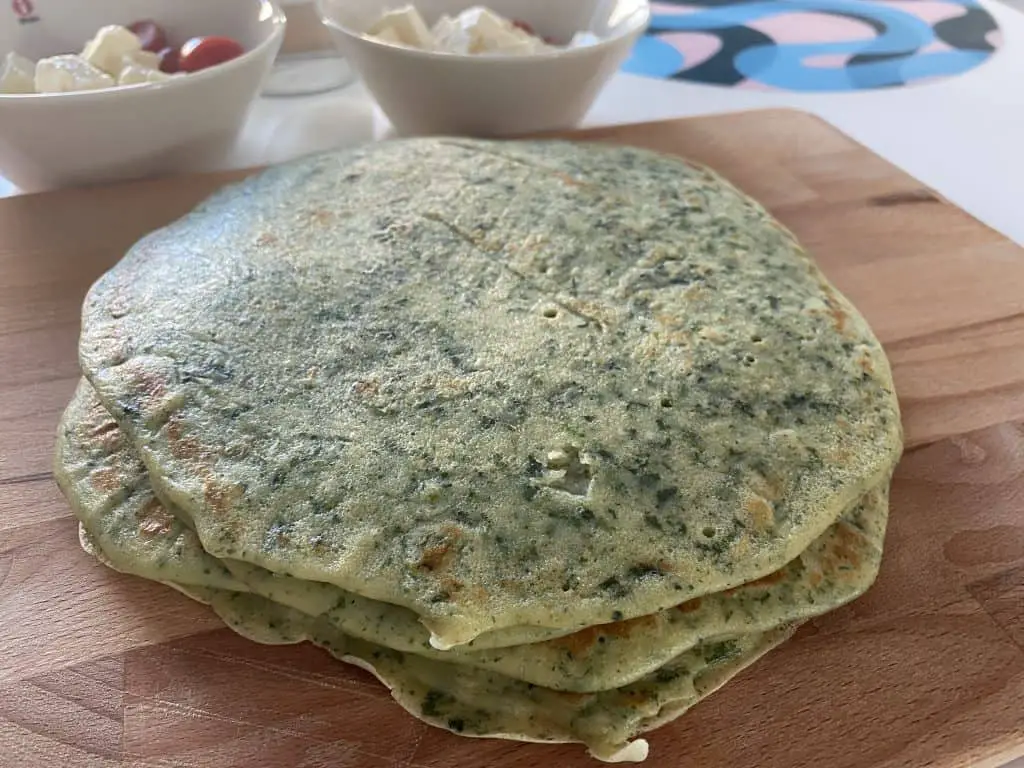 Finnish spinach pancakes are a school food
Children in Finland love this dish, and yes, we understand them. In Finland, free school lunch is offered to every single child by the school and these pancakes are amongst the most loved school foods in the country, along with fish fingers. As mentioned in the previous paragraph, in some parts of Finland, they are served with minced meat sauce.
---
Did you know this recipe? Have you ever made Finnish spinach pancakes? If not, are you now eager to try them out and see how they taste? As said, children love them (and adults too!), so let us know!
PS: if you are a fan of crepes and spinach but do not want to mix them, give a try at our homemade crepes with ricotta and spinach.
If you liked this Finnish spinach pancakes recipe, please follow us on: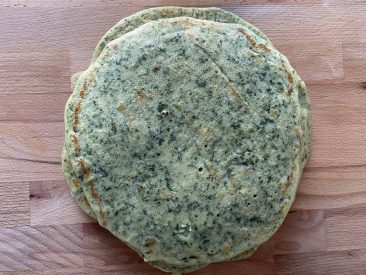 Finnish spinach pancakes (Pinaattilettu)
Finnish spinach pancakes are savory pancakes with spinach among the ingredients and are very common in Finnish traditional cuisine. 
Ingredients  
150

grams

spinach

frozen

500

milliliters

milk

200

grams

flour

2

eggs

2

teaspoons

salt

1

teaspoon

sugar

black pepper

25

milliliters

oil
Instructions 
Thaw the spinach and drain away excess water.

Beat eggs in a large mixing bowl. Add milk, sugar, salt, and pepper. Whisk in the flour. Whisk well to get rid of any lumps.

Add oil and the thawed spinach. Mix. Let the batter rest for some minutes. Preferably 30 minutes.

Heat up your crepe maker or your pan (over medium-high heat) and pour some batter on it. The recipe with default amounts makes about 6-8 big crepes. (Use a batter spreader to spread the batter evenly on the pan. Alternatively, tilt the pan. The crepes can be quite thin.)

When one side is getting brown, flip it and cook evenly on both sides.

Serve with your choice of toppings. (In Finland, the traditional topping is lingonberry jam.)
Nutrition
Calories:
238
kcal
Carbohydrates:
31
g
Protein:
9
g
Fat:
9
g
Saturated Fat:
2
g
Polyunsaturated Fat:
2
g
Monounsaturated Fat:
4
g
Trans Fat:
1
g
Cholesterol:
65
mg
Sodium:
848
mg
Potassium:
325
mg
Fiber:
2
g
Sugar:
5
g
Vitamin A:
2560
IU
Vitamin C:
7
mg
Calcium:
142
mg
Iron:
3
mg
Caution
Nutritional information shall not be used for medical reasons.