The Parmigiana di melanzane is an authentic Italian dish, made with sliced eggplant layered with cheese and tomato sauce, and then baked. It is one of the most characteristic dishes of South Italy, particularly of Sicily, Campania, and Apulia. Its origin might be traced back to Sicily, Naples, or even Parma (from the name of the dish but also from the Parmigiano-Reggiano cheese produced in the region and used in the dish).
When I lived in Italy, this one was one of the most common dishes that my mum used to make, and she still makes plenty of it. She usually adds ham to the dish, to give extra flavor. The original recipe does not contain ham and we have opted for a vegetarian option, so you won't find it in this recipe either.
History of the dish
As just said, the term Parmigiana might come from Parma, a city in Emilia Romagna, in the north of Italy. The cheese used comes from the same region and this would explain the origin of the name. Not everyone agrees with this hypothesis, because Parmigiano-Reggiano cheese was already available in many regions in the 14th century, which would mean that it could have easiyl been used elsewhere as well. Also, we would not consider it the main ingredient of this dish anyway.
A different current of thought would link this dish to Sicily because of the main ingredient, eggplant. The vegetable was first introduced in Sicily and in other Southern regions. As mentioned in the introduction, the dish is well-known in Sicily, Apulia, and Campania. It's not a typical dish in Parma, and this would strengthen the idea that it does not come from the North of Italy.
Even though Sicily is quite a good option, not everyone shares the same opinion. In fact, some people believe that this dish comes from Naples, the heart of many traditional Italian delicacies.
The supporters of this theory explain it with the mention of a similar dish in a cookbook written in the 18th century and with a modified, more recent, version of the parmigiana di melanzane in another cookbook written by a Neapolitan chef.
How to prepare a perfect parmigiana di melanzane
Making parmigiana is not extremely difficult. In fact, we would say the difficulty level is intermediate. It requires some time though and you need to follow each step with accuracy.
The ingredients for this dish are quite poor and easy to find. In addition to the main ingredient, eggplant, you will need mozzarella, tomato sauce, parmesan cheese, and spices.
The authentic parmigiana di melanzane contains fried eggplants, but in the instructions, we explain how to make a parmigiana both frying the eggplant and cooking it in the oven. Some of you might not be comfortable with frying or might just want to avoid that for other reasons. This is why you can make your eggplant dish and skip that step! The fried eggplant does add a crispier texture and fits well with the dish, which may explain the reason for traditionally frying them.
Two important steps to follow, that you will find in the instructions as well, are about the excess water of eggplants and mozzarella.
When it comes to removing excess water from the eggplants, a simple method of sprinkling the eggplants with coarse oil and letting them lose the excess water for a bit more than 30 minutes, is used. This makes the eggplants slightly more tender, which is preferred for the parmigiana di melanzane. This method was more important when eggplants (and other vegetables) used to have a more bitter taste. Modern-day eggplants aren't as bitter, so when cooking the eggplants in the oven, this step isn't strictly necessary.
However, this step is necessary when frying the eggplant! The excess water contained in the eggplant does not react well to frying. In addition to water and hot oil being a bad combination, the excess water also prevents the fried eggplant from becoming as crispy as it otherwise would.

You will also need to get rid of the water contained in the mozzarella. Mozzarella is a fresh cheese and other than being stored in a bag that contains a lot of water to preserve the freshness, the cheese itself contains quite a lot of liquid. Like when making pizza or other dishes that contain mozzarella, it is best to open the mozzarella bag, cut the mozzarella in a few slices, and let it release the excess water well before placing it in the dish.
Last but not least, we highly recommend you use basil both in the tomato sauce and to garnish your parmigiana di melanzane, as it will boost the flavor and give an extra touch to your plate!
What to serve parmigiana with
The parmigiana di melanzane is quite a heavy dish, above all if you fry the eggplants. This is why we would only suggest you eating some bread with it. In the South of Italy, fare la scarpetta (bread dipping) is quite common and kind of mandatory when you eat this dish, because of the amount of delicious tomato sauce that would be left. Also, leaving the tomato sauce on the plate would be considered almost bad manners, so pay attention if you happen to eat a parmigiana di melanzane in the south of Italy.
If you feel that eating parmigiana di melanzane alone is not enough, you can serve it with a platter of cold cuts and cheeses (if you are vegan, you can just use meat-like cold cuts and vegan cheeses – easy choices with this dish!).
---
Parmigiana di melanzane is a cornerstone of Southern Italian cuisine and the dish has been exported all over the world. In fact, it's not uncommon to find on the menu of Italian restaurants around the globe.
Do you like this dish? Have you ever made this eggplant dish? Do you add any ingredients to it? Let us know what are your preferences!
If you liked this parmigiana di melanzane recipe, please follow us on: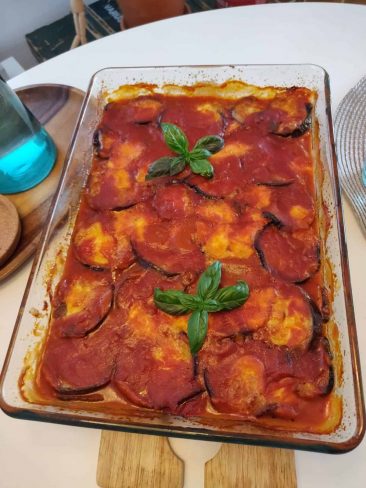 Parmigiana di melanzane
The Parmigiana di melanzane is an authentic Italian dish, made with sliced eggplant layered with cheese and tomato sauce, and then baked.
Ingredients  
1.5

kilograms

eggplant

coarse salt

(if frying the eggplant)

0.5

onion

olive oil

800

grams

tomato passata

fresh basil

black pepper

salt

flour

(optional, for frying)

500

grams

mozzarella

150

grams

Parmesan cheese
Instructions 
Start by slicing the eggplant lengthwise into thin (5mm) slices.

If deep-frying the eggplant: Place the slices onto a large plate or into a sieve, one next to another. Sprinkle with some coarse salt. Create another layer and sprinkle again with salt. Continue with layers and salt until all the slices have been placed. Then place another plate on the eggplant slices with sufficient weight to get rid of excess water from the slices. Wait for 30 minutes – 1 hour. Rinse away the salt and set aside.

In the meantime, in a saucepan, add some olive oil and finely diced onion. Cook for a few minutes. Add the tomato passata, a few spoonfuls of water, some pepper, and salt. Cook for 40 minutes over low heat. Add basil leaves when 5 minutes are left of cooking time. (Leave some basil for garnishing the dish.)

In the meanwhile, cut the mozzarella into cubes and let it lose its excess moisture in a sieve.

If deep-frying the eggplant: For crispier slices, coat them in flour first. Fry some slices per time for 2-3 minutes in hot oil (about 170°C/340°F). Dry with paper towels.

If baking: Brush each slice with some olive oil, and bake for 20-25 minutes in a preheated oven (220°C/430°F) until lightly brown.

When the sauce is ready, preheat the oven to 200°C/400°F. Spread some sauce onto the bottom of a 20x30cm baking dish.

Top with a layer 1/3 of the eggplant slices. Spread 1/3 of the remaining tomato sauce on top. Add 1/3 of the mozzarella cubes, and 1/3 of the Parmesan cheese.

Create the second and third layer in the same way.

Bake for 35-40 minutes. Before serving, let rest for a few minutes and, finally, add fresh basil leaves to garnish.
Caution
Nutritional information shall not be used for medical reasons.