20-minute easy fluffy pancakes
As we all know, pancakes are (usually) round and thin flat cakes. The batter is made with egg, flour, milk, sometimes butter or oil, and it is cooked on a frying pan with oil or butter. With this recipe, you will learn how to make 20-minute easy fluffy pancakes, ready to be served with fillings of your choice.
The history of pancakes
The origin of pancakes dates back to ancient Greeks and Romans and references to them can be found in poems written by Greek poets tracking back to the 5th century BC. Their name was Tagenites and they were made of wheat flour, olive oil, honey, and curdled milk.
The name pancakes started to be used in the 15th century but became a standard term only four centuries later in America. Before the spreading of the current term, pancakes were called, amongst the other names, Indian cakes or griddle cakes.
The pancake day
Maybe you are not aware of this but many countries celebrate pancake day! We all know that this should be a daily celebration but unfortunately, it only happens once per year!
Specifically, on Fat Tuesday (Shrove Tuesday), the day before Ash Wednesday, pancake day is celebrated in the UK, Australia, New Zealand, and Ireland. In Scotland, the celebration is known as Pancake Tuesday. In these countries, events are also organized to celebrate this day, for instance in schools.
Pancake varieties in the world
Pancakes are such a universal food that almost every country has its own versions, some of which are very particular. Of mention, for example:
From Russia, we all know how famous and yummy Blinis are. They are thin pancakes made with flour, egg, butter, milk, and yeast. In addition to them, Russians are also known for their Blintzes, thin pancakes (resembling crepes) that are prepared without the use of yeast (this is the main difference between them and the blinis). A third type are the oladyi, made with yeast or baking soda, and typical because they might include apples or raisins.
From Finland, we cannot skip mentioning the traditional Finnish spinach pancakes, which are loved by children and adults, and are part of the authenticity of the Finnish cuisine. Also thin crepe-like pancakes (lettu) are very popular.
In Poland, the most important pancake dish is Naleśniki. They are usually rolled and served with sweet or savory toppings, among which bilberries, fruit jam, or cheeses.
The perfect fillings for your 20-minute easy fluffy pancakes
Let's say you have made your 20-minute easy fluffy pancakes and you are wondering what to eat them with. Here you can find some ideas for your toppings:
As you can see from the picture, we ate these pancakes with berries. In summer, when you have fresh berries in Finland, you can't just help it. They need to be in your fridge everyday for almost every snack! We also added maple syrup on top (we love it!).
A second easy and sweet option is Nutella or any other sweet cream, such as pistachio. They are the exact perfect combination for a boost of pleasure and taste.
A third sweet idea is ice cream. Imagine a melting vanilla ice cream ball on your hot pancake. It's just yummy, isn't it?
If you prefer a savory topping, you might opt for eggs instead. 20-minute easy fluffy pancakes are fast to make, so having them for breakfast is not that difficult!
How to store pancakes
You have made your incredibly tasty 20-minute easy fluffy pancakes but some are leftover and you wonder whether you can store them or not. The answer is yes! Place them in an airtight container and put them in the refrigerator for 2-3 days. If kept in the freezer, they can be stored for a couple of months.
You can also keep your pancake batter in the fridge overnight if you want to make it in the evening and have it ready for the following day.
You can reheat frozen pancakes by using a microwave (1-2 minutes, check regularly) or in the oven on a baking sheet for 10 minutes at 175°C.
---
What is your favorite topping on your pancakes? We would go with Nutella or berries and maple syrup. Let us know in the comments!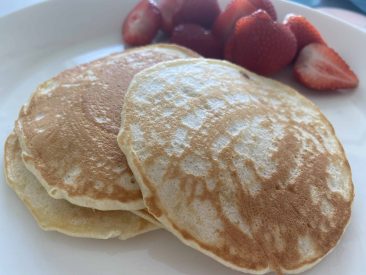 20-minute easy fluffy pancakes
Whether for a dessert or for a sweet breakfast, these 20-minute pancakes are what you need. Add berries or maple syrup to make them even better and tastier.
Ingredients  
150

grams

flour

2

tablespoons

sugar

salt

2

teaspoons

baking powder

240

milliliters

milk

2

tablespoons

vegetable oil

1

egg
Instructions 
In a bowl, mix together flour, salt, sugar, and baking powder (dry ingredients).

In a separate, larger, bowl, whisk together milk, oil, and egg. Start adding the mixed dry ingredients while whisking. Whisk until combined and only few small lumps remain.

Heat a large frying pan over medium heat. Add just a tiny bit of oil if necessary, spreading it with a piece of a paper towel, for example.

When the pan is warm, you can cook the pancakes for 2-3 minutes per side. Use about 3 tablespoons of batter per pancake. Spoon the batter onto the pan and lightly spread. The pancake can be quite thick.
Notes
To be faster, use two frying pans
Caution
Nutritional information shall not be used for medical reasons.