The translation service is offered by Google translate. By using it, you accept Google's Privacy Policy and their Terms of Service. Google will install a cookie when you click on a flag to store your preference.

AR
BG
ZH-CN
CS
EN
FI
FR
DE
HI
HU
IT
PT
RU
ES
A great solution for a fast lunch or dinner where you need only a few ingredients and little time is to make these super easy eggplant and tuna balls. They are extremely good and a perfect solution for an easy meal.
When I was a child, I used to eat mainly meatballs, and when in Finland I found out how common fishballs are. You mostly find salmon balls, as salmon is very much spread in the country and in the Nordics. Also, you can easily find salmon patties.
Ingredients and their benefits
As said, making these balls does not require much time. Ingredients are also extremely easy to spot: in addition to eggplant and tuna, you only need breadcrumbs, one egg, parmesan, and spices. All these ingredients are most of the time in our house.
One of the main issues when making food is the place of vegetables in our meal. We all know how healthy vegetables are and that we should include them in every meal of our diet. These easy eggplant and tuna balls are a great solution for having vegetables in our meal. We love eggplants so we have no issue with cooking them in various ways but, if for instance, children do not usually team them, this is the best way to let them eat this vegetable.
These easy eggplant and tuna balls are also great because of the benefits of the ingredients. Particularly:
Eggplants are an amazing source of protein while being low in calories. Also, they are a great source of sodium, potassium, and V vitamin. They have a high level of fibers that, combined with the low level of calories, make them food that contributes to controlling your blood sugar level. We cannot forget these easy eggplant and tuna balls are just one way of eating this vegetable because eggplants are so versatile and can be used in several dishes.
Tuna, as we all know, is full of Omega-3 fatty acids, good for your heart. Tuna is a source of high-quality protein and contains almost no fat. Generally, tuna helps your immune system and contributes to your general health.

How to cook these easy eggplant and tuna balls
You can cook these balls both on a pan and in the oven. Specfically:
If you cook them in the oven, preheat it at 190°C and cook them for 20 minutes. This is what we did to make ours.
If you prefer cooking them on a pan, it will take less time and you will need to use some oil on the pan, and then cook for 2-3 minutes per side.
How to store them
If you wish to store them, you can place your cooked eggplant and tuna balls in an airtight container and keep them in the refrigerator for a couple of days.
---
Have you ever made these easy eggplant and tuna balls? They are super easy to make, super tasty, and a great way to let children eat eggplants!
If you liked this easy eggplant and tuna balls recipe, please follow us on: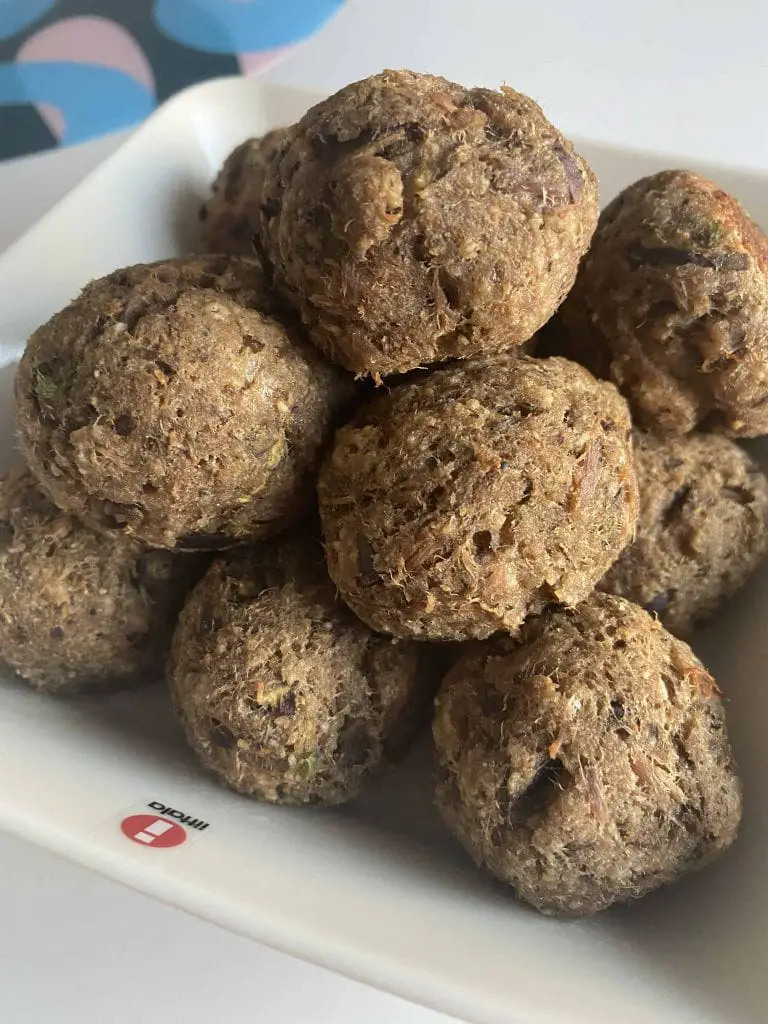 Easy eggplant and tuna balls
Instructions
Wash and cut the eggplant into small cubes. Put on a plate and cover with plastic wrap. Poke holes to the wrap with a fork. Cook in a microwave for 3-4 minutes (500W). 

If you don't want to cook the eggplant in the microwave, you can also use the oven, baking for about 15 min (190°C). But for this recipe, the microwave is just fine.

After cooking the eggplant soft in the microwave, place it in a bowl of a blender. Blend until well-mixed paste forms. Add tuna, egg, breadcrumbs, Parmesan, and spices. Mix well.

Form balls using your hands.

If cooking on a pan: Cook on a pan with olive oil for a few minutes on both sides.

 

If cooking in the oven: Place the balls on a baking tray, lined with baking paper. Cook for 20 minutes (190°C).

Serve with a side of your choice.
eggplant balls, tuna balls, healthy eggplant balls, eggplant and tuna balls
Did you make this recipe?