Banana and strawberry Belgian waffles
Imagine you wake up on a Sunday and crave something really tasty that would make your day so much better. We all know one of the answers would be Belgian waffles, and why not, banana and strawberry Belgian waffles. For most of us, that would be the only acceptable answer. After having eaten healthy porridge for almost a week, you need a break. C'mon!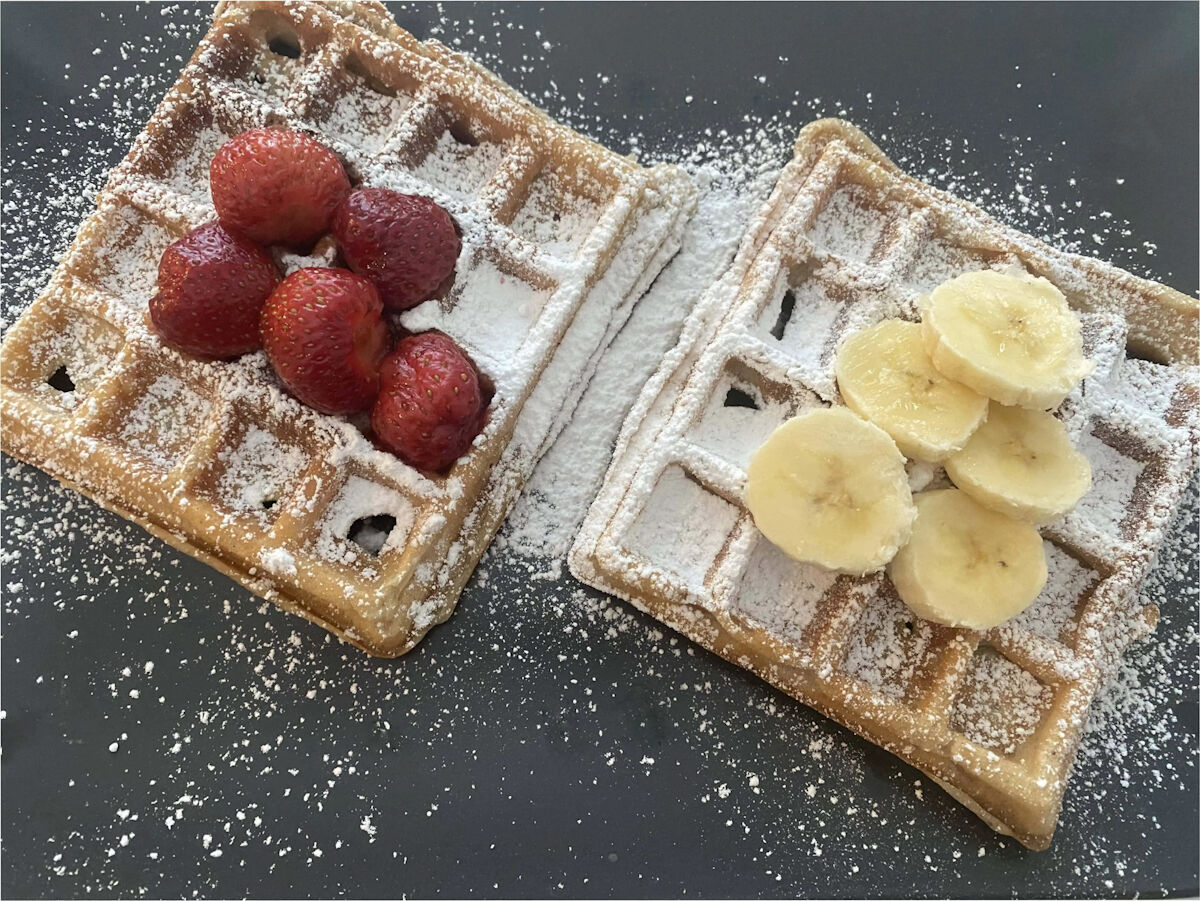 Why choose banana and strawberry Belgian waffles? They are fluffy, crispy, and definitely yummy. They differ from regular waffles because of their deeper pockets and lighter texture. To make Belgian waffles, you need a Belgian waffle iron. We used one of Ariete's and the result was really satisfying.
For this recipe, we used baking powder to speed up the process, but the original recipe contained yeast, as theoretically you would need to let them grow for a long time.
The history of Belgian Waffles
Belgian waffles originated in 1958 and were showcased for the first time in Brussels. From there they were exported to America. The first time they appeared in America was during the World's Fair in Seattle in 1962, sold by a man named Walter Cleyman, who had already served them in 1958 in Brussels during a World's fair. He served them with whipped cream and fresh berries, adding powdered sugar on top.

They became very popular during the World's Fair in Queens, two years later, in 1964. This time they were sold by Maurice Vermersh. A fun fact is that, as Americans were not aware of the name of the capital of Belgium (the waffles were originally called Brussels waffles), he changed their name into Bel-gem.
They were taller than the waffles originally known and made by Americans. Whipped cream and berries were something new as well because Americans used to add only maple syrup on top.

As we can see, they are very well known in Belgium and in the USA. This is the reason why we have decided to insert them both in the Belgian and the American cuisines. Nowadays they are known internationally!
As courses, they can be eaten for a sweet breakfast or as delicious desserts, after your savory dishes. They really do fit anywhere you wish!
What to add on the top of Belgian waffles?
For the topping of these waffles, we used maple syrup (our favorite!) with strawberries and slices of banana. We received the waffle iron with the maple syrup as a Christmas gift last year, so trying it was a must. Really, a great choice.
A healthy fruity touch makes it better. On the top, we added powdered sugar, but this is really up to you. We like them with a bit more sugar.

Alternatively, you can add Nutella or chocolate sauce, ice cream, caramelized bananas, or even melted butter or margarine. You will be spoiled for choice. You won't run out of ideas.
How to store banana and strawberry Belgian waffles
If you are not able to finish your banana and strawberry Belgian waffles on the same day or if you prepare a huge amount to eat for a couple of days, the good news is that you can store leftover waffles in the fridge.
They can be stored for 2-3 days in the refrigerator. The best way to store them is in an airtight container in order to preserve their freshness and taste. Alternatively, you can store them in the freezer for up to three months. When you store them, leave out the fruit. Use always fresh fruit on top of the waffles.

When you want to eat them again, you can use your microwave (for around 50 seconds), but they might become a bit chewy. If you have time, heat them up in the oven at 150 °C for around 10 minutes. Alternatively, heat them in the waffle iron, paying extra attention not to let them burn.

If instead, you do not want to store the leftover waffles but the batter itself, you can store it in the fridge for up to 2 days. Also in this case, please use an airtight container. It must be tightly sealed.
If, when needed, the batter started separating, you can whisk gently to bring it back to how it was when you stored it.

---
If you wish to have more ideas for a sweet breakfast or for desserts, please check out our Dessert page.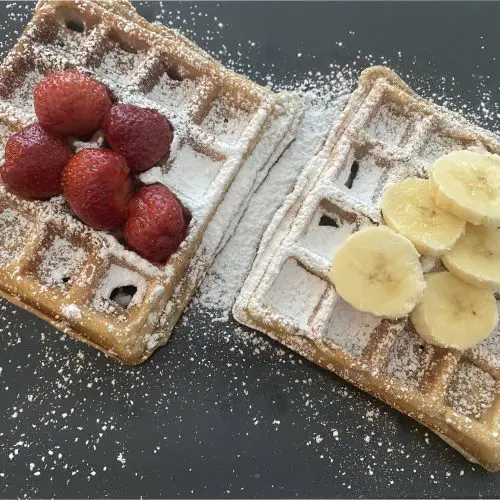 Banana and strawberry Belgian waffles
These Belgian waffles are fluffy, crispy, and definitely yummy. They differ from regular waffles because of their deeper pockets and lighter texture. On top we added banana slices and strawberries!
Ingredients  
2.6

deciliters

flour

1.5

tablespoons

sugar

0.5

tablespoons

baking powder

0.25

teaspoons

salt

1

Egg

235

milliliters

milk

60

milliliters

Vegetable oil

0.5

teaspoons

Vanilla extract

We used vanilla-flavoured sugar, so we reduced the amount
Instructions 
Preheat the waffle iron

Whisk dry ingredients together: flour, salt, baking powder, and sugar

In a different bowl beat the egg whites until stiff peaks form

Whisk the liquid ingredients (oil, milk, egg yolk), adding the extract of vanilla

Pour the liquid ingredients into the bowl of the dry ones and keep whisking

Add the beaten egg to the batter

Pour gently the batter onto the waffle iron and cook for three minutes each waffle
Notes
When preheating the iron, u

sing an oil spray would be the best solution. We just poured some vegetable oil and spread it on the surface with a paper towel.
If you want to save some waffles for later, we kindly suggest you heat them up in an air fryer or in the oven. Heating them in the microwave would affect their texture.
Be extremely careful with the amount you pour onto the iron. The batter might overflow.
Caution
Nutritional information shall not be used for medical reasons.