Easy cream cheese and zucchini pasta
In Finland, making pasta every single day is much less of a habit than in Italy but when we want to make a nice pasta dish, a great option is this easy cream cheese and zucchini pasta.
The combination of flavors of zucchini and cream cheeses is a gift to our palate. As you well know, zucchini fits perfectly also in classic Italian risotto with gorgonzola (blue cheese). Also, zucchini fits with fish. Check out our Black rice with shrimp and zucchini cream!
The ingredients for the perfect easy cream cheese and zucchini pasta
Making this pasta is very easy, also because of the ingredients. In fact, you will only need, in addition to pasta, zucchini, cream cheese, parmesan cheese, garlic, salt, pepper, and olive oil. You can use the pasta for this dish quite freely. The only strict requirement is that it is, so-called, "short pasta" (so no spaghetti, linguine, etc.).
You can use any plain cream cheese you wish. If you want to try something different, you might also choose a flavored cream cheese. For instance, a salmon-flavored cheese would fit with zucchini and pasta. Although, we recommend paying attention to the amount with flavored ones.
Can I store it?
If you want to make this pasta dish in advance, you can store it in the fridge for up to 2 days. This is quite a fast and easy dish to make so we do not recommend storing it anyways.
---
Have you ever made this type of pasta? Do you like to eat short pasta? Which spread cheese do you use for this dish: do you go for a plain one or do you prefer to add more flavors to this dish?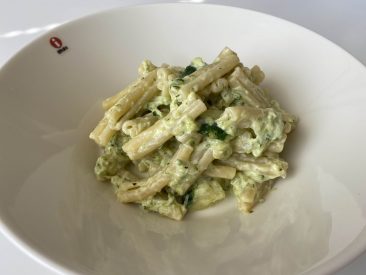 Easy cream cheese and zucchini pasta
This easy cream cheese and zucchini pasta is a great option for a quick lunch. The cheese fits perfectly with zucchini and the combination is amazing.
Ingredients  
350

grams

zucchini

180

grams

short pasta

penne, fusilli, etc.

4

tablespoons

cream cheese

parmesan cheese

(vegan parmesan to get a vegetarian dish)

1

clove

garlic

salt

black pepper

extra virgin olive oil

for cooking
Instructions 
Wash the zucchini and grate it. Wait for the water to boil, add salt and the pasta, and then proceed to the next step. (Cook the pasta al dente.)

350 grams zucchini,

180 grams short pasta

Add some olive oil into a pan over medium heat. Add garlic clove and, once the pan has heated slightly, add the grated zucchini.

1 clove garlic,

extra virgin olive oil,

350 grams zucchini

Add some salt and pepper to taste. Cook for about 5-6 minutes.

After the time has passed, take away the garlic clove. Turn off heat and add cream cheese and some grated parmesan. Mix it all together and taste. Add more parmesan, salt, or pepper if needed. (If you would like to have more cream cheese, you can add one more spoonful of it per person.)

4 tablespoons cream cheese,

parmesan cheese,

salt,

black pepper

Drain the pasta and add it to the pan and mix everything well. Serve.
Caution
Nutritional information shall not be used for medical reasons.