(Air fryer) Panzerotti are a typical dish in Apulia, Italy, that has spread to the whole country. Panzerotti are a type of bread where a side of the dough is folded over the other, and a filling is added inside. They are sealed and then cooked, usually fried in hot oil.
Panzerotti, calzoni, pizza fritta: are they the same thing?
We must not confuse calzoni and panzerotti as the first ones are commonly diffused in Campania, while panzerotti have their origin in Bari, Apulia, as said. Calzoni use the double of the dough of panzerotti, and they are usually cooked in the oven, while generally panzerotti are fried.
This said, panzerotti can also be cooked in the oven and nowadays in the air fryer. Air fryer panzerotti are becoming more and more an available option, thanks to the spreading of air fryers.

A second important difference to make is between panzerotti and pizza fritta. The second comes from Naples and it dates back to the period after the second world war, during which many ovens were destroyed. For this reason, people used the same dough of the pizza (what was left) to cook these small folded pizzas by frying. The shape is usually round with some filling inside.

Pizze fritte have become a cornerstone of Campanian cuisine and they are also known in the North of Italy. For instance, a pizza fritta can be easily bought in Milan while taking a walk along the Navigli.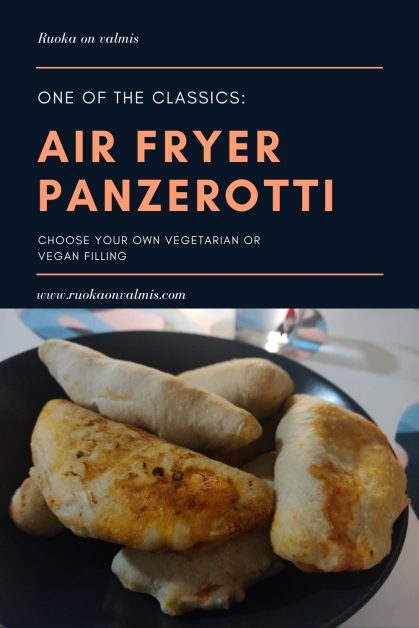 What filling to use with air fryer panzerotti?
In Apulia, panzerotti are usually made with mozzarella and tomato sauce or with a hard ricotta filling. People use minced meat or turnip greens as well. This does not come as a surprise as turnip greens are very typical in the south of Italy.
As we are not big fans of meat, and turnip greens are not always handy to find in northern Europe, we had to opt for a much simpler yet delicious choice. Unfortunately, we cannot have fresh mozzarella up here, but luckily Finland is among those countries where you can find almost anything. In fact, Italian companies export dozens of products here (and we thank them every day!).

Alternatively, another idea would be to use ricotta. If you opt for this, please, follow our recipe to make your own homemade ricotta!
Additionally, there are variants of the panzerotti filled with sweet fillings. For instance, during Carnival, in some regions, people use marmalade or gianduja chocolate. These are absolutely worth a try.
How to cook air fryer panzerotti
Coming from the south of Italy, I used to eat fried food quite often and we all know it's just delicious. We can't help it! For this reason, when I told my family we had bought an air fryer, it did not come as a surprise that they were kind of shocked. They were quite unaware of what that machine was. When explaining it and showing the result of what we have been making with it, they were all quite amazed.

Air frying is definitely healthier than frying as the machine works using hot air instead of oil. You won't need to use any oil at all! Isn't this amazing?

If you wish to deep fry them or to cook them in the oven, feel free to use the same exact recipe. You will decide which is the cooking method that suits you the best. Personally, we definitely prefer this over cooking in the oven. The result is definitely crispier than baking them in the oven.
If you are going to try this recipe out, please let us know if you like it or not. We welcome any suggestions. The number of servings is eight, assuming each person will get two air fryer panzerotti.
---
If you liked this air fryer panzerotti recipe, please follow us on: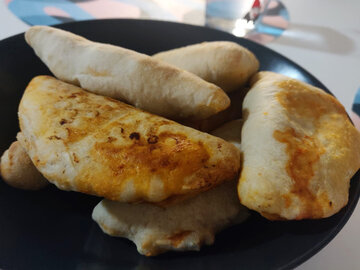 Air fryer panzerotti
Panzerotti are a type of bread where a side of the dough is folded over the other, and a filling is added inside. They are sealed and then cooked, usually fried in hot oil. This is a healthier version as they are not deep fried in oil but with an air fryer!
Ingredients  
300

grams

Flour

240

milliliters

Water

2

tablespoons

Olive oil

4

grams

Instant yeast

280

grams

Mozzarella

Tomato passata

to taste

Black pepper

Salt
Instructions 
Dissolve the yeast into lukewarm water.

Add the flour into a bowl and add gradually the water, where the yeast is dissolved into. Add the oil and keep working with your hands.

After working the dough for some minutes, let it rise for a couple of hours at room temperature.

Divide the dough into eight balls and flatten them using a rolling pin. In the meantime, cut mozzarella into cubes and let it lose excess water.

Mix together some tomato passata, salt and pepper.

Fill the flattened dough with mozzarella and the tomato passata. Close by folding one side on the other.

Preheat the air fryer to 200°C / 392° F and cook each side for three minutes.
Notes
You can change the filling as you please. For instance, you can fill them with ricotta and salami.
Be very careful when folding them. If not perfectly sealed, they will break when cooking. 
Nutrition
Calories:
492
kcal
Carbohydrates:
59
g
Protein:
24
g
Fat:
17
g
Saturated Fat:
9
g
Polyunsaturated Fat:
1
g
Monounsaturated Fat:
5
g
Cholesterol:
55
mg
Sodium:
991
mg
Potassium:
145
mg
Fiber:
2
g
Sugar:
1
g
Vitamin A:
489
IU
Vitamin C:
1
mg
Calcium:
369
mg
Iron:
4
mg
Caution
Nutritional information shall not be used for medical reasons.