Spanish salmon croquettes
Before moving to Finland, we lived in Madrid, Spain, for some time because of work. Most people can imagine how life in Spain is quite different from life in Finland. When it comes to the question "Which one is better?" there is no true answer. The only honest answer is "It's up to you". Each country has its own pros and cons and each of us evaluates them based on how we are.
One thing is sure, though: Spanish cuisine has some great dishes that you sure miss abroad. Many of the Spanish dishes are made with simple ingredients. Often even with meat and potatoes, kind of like in Finland, but others are fish-based or vegetarian, and simply delicious. One example of a simple dish is Spanish salmon croquettes, or simply croquetas, in Spanish. They are just extremely delicious, as many of the simpler foods are.
The origin of croquettes
Did you know that croquettes are not originally from Spain? Well, maybe you know that they are indeed originally from France, where they are called croquette. They were invented at the end of the 19th century by two French chefs, Monsieur Escoffier and Monsier Philias Gilbert. The idea is simple, you create a filling out of ingredients that form a dough-like consistency, shape it into a cylinder shape, bread it, and deep-fry it.
Croquettes have then spread to other European countries and many countries outside Europe have their own variety of croquette-like dishes. There are many variants to this delicious dish. One of the most common ways to make them is with a potato filling. This is often the way they are made in France. In Italy and Germany, potato croquettes are very common too. It does not come as a surprise to have them served in parties, or even at wedding lunches.
Spanish salmon croquettes made with bechamel
Spanish salmon croquettes, croquetas, are not made of potatoes. Instead, they are made of thick bechamel white sauce, with several fillings added to the sauce. You can find simple croquettes, with only bechamel as the main ingredient, or more commonly Spanish people use dry-cured ham. In fact, ham croquettes, croquetas de jamón, are extremely popular in restaurants and tapas places. Also, croquettes with salt cod, so-called bacalao in Spanish, are very common. This time we decided to make salmon croquettes, as we are lovers of salmon and it is easily available in Finland.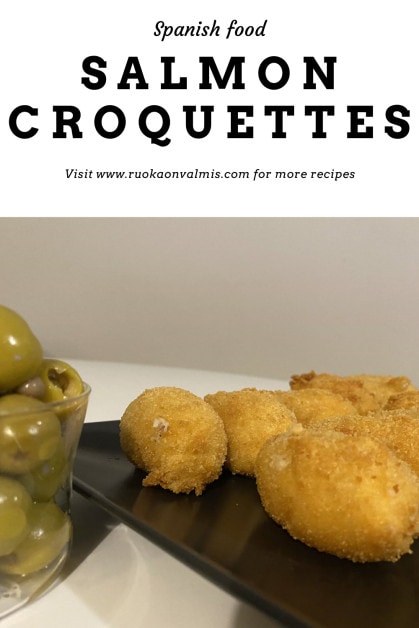 The ingredients to make Spanish salmon croquettes are very easy to find and simple: flour, butter, salmon, and milk, in addition to salt, pepper, and nutmeg. We decided to mold them in an elongated, cylindrical, shape. Although this is often the preferred shape of this delicious tapas dish, you can easily shape your salmon croquettes into a round shape as well. It is really up to you and your preference.
Whether you decide to make salmon croquettes or any of the other delicious fillings, croquetas are a must if you are planning an evening of tapas. They are one of the most common tapas dishes in much of Spain and deservedly so!
How to store Spanish salmon croquettes
If you have prepared and cooked an extra dose of Spanish salmon croquettes or for any reason you have not finished all of them, do not worry! You can always store them for later.
The best way to store them would be to do so before deep-frying. You can shape the bechamel filling into croquettes and store them in the fridge for 3-4 days. When you wish to eat them, just bread them and deep-fry them. This way you will have crunchy croquettes even after days.
If you already deep-fried too many croquettes and wish to store them for later, don't worry. Place them in an airtight container and store them in the refrigerator for 3-4 days. When you decide to eat them, you can warm them up in the microwave or in the oven. Unfortunately, they will lose some of the crunchiness when stored for later use.
When you need to store them in the freezer, the suggestion is to not fry them because of the huge amount of oil. If you really need to freeze them after frying, be very careful and dry them with absorbent paper. Additionally, it's very important that you have fried them properly so that there is no excess oil. Also, be sure that they are completely cooled down before you store them in the freezer.
If you want ti avoid frying, take a look at our Air fryer panzerotti!
---
If you liked Spanish salmon croquettes, please follow us on:




Spanish salmon croquettes
Did you know that croquettes are not originally from Spain? But Spanish know how to make perfect bechamel croquettes. This version includes salmon and you must try it out!
Ingredients  
For the filling
200

grams

salmon

olive oil

60

grams

butter

60

grams

flour

400

milliliters

warm whole milk

salt

pepper

nutmeg
For breading and deep-frying
eggs

bread crumbs

oil for frying
Instructions 
Cook the salmon with some olive oil in a pan. Once cooked, let it cool down and tear it to pieces. Set aside.

In a separate pot, add the butter and melt it over medium heat. Then, add the flour. Mix and cook the flour for a minute or two.

When the flour and butter have mixed into a paste, add the warm milk little by little, letting the milk mix into the paste. Keep mixing to avoid lumps.

When all the milk has been added and a smooth sauce has formed, bring the sauce to a boil and add salt, pepper, and nutmeg to taste.

Simmer the bechamel for 10 minutes. Remember to mix constantly to avoid burning and sticking.

After ten minutes have passed, add salmon. Mix and keep cooking for another 5 minutes.

The sauce that has formed should be very thick, thicker than normal bechamel sauce. Pour it into a tray or a container that you can put in a fridge. Refrigerate when cool enough and let it rest for 2-3 hours.

After the sauce has thickened in the fridge, it is time to form the croqueta shape. With the help of a spoon, take some bechamel and shape it with your hands in a cylinder shape. Continue until all the bechamel has been used.

Prepare two dishes; one with breadcrumbs and another with eggs. Roll each croquette in bread crumbs, then eggs, and then again in bread crumbs.

Deep-fry the croquettes and dry them from excess oil before serving.
Notes
The size of the croquettes is really up to you. These are meant to be finger food so a relatively small size is advised.
Caution
Nutritional information shall not be used for medical reasons.