If you are looking for a spicy dish with tofu, we have the answer for you: spicy garlic tofu. This dish is simple to make and is a great option for using tofu in your meals. By regulating the amount of chili, you get a dish that is just as spicy as you want it. Tofu is such a versatile ingredient that you can use to make very diverse dishes!
This dish is completely vegan and really easy to make, so really no reasons to skip this recipe! This recipe uses classic ingredients used in Chinese cuisine to make a vary tasty and sticky sauce that brings a lot of flavor into the tofu.
Ingredients and cooking
As just said, this garlic sauce tofu recipe is completely vegan. For the tofu, we suggest you use medium-firm tofu that you will cut into pieces of 1,5 cm in thickness.
The only part of the recipe that requires a bit more time is making the garlic sauce. For this, you will need oil, ginger, Sichuan chili bean paste, rice wine, vinegar, sugar, water, corn starch, and chili. If you have any supermarkets nearby, you won't have any issues finding all these ingredients. Only for the Sichuan chili bean paste, you might need to go to a grocery store specializing in Chinese cuisine. Plus, you won't use the entire amount so you will have it ready for your next Chinese dish. It is used in a lot of dishes!
You can stir-fry this dish, using a wok pan for instance. This makes it easier to avoid using excessive amounts of oil, to affect the taste of the dish, and to break the tofu. This might happen when frying tofu as it is quite fragile.
Sichuan chili bean paste
The Sichuan chili bean paste required for this recipe is made of fermented broad beans, chili peppers, soybeans, salt, and flour. It is important to choose the right beans sauce as there are many different ones in Chinese cuisine, depending on the region. The bean paste used in this recipe is the Pixian doubanjiang (郫县豆瓣酱) which is very common in Sichuanese cuisine. So pay attention when buying to get the right one!
This recipe for tofu with spicy garlic sauce is an example of Sichuanese cuisine, and therefore is rich in spicy and garlic flavors. The bean paste can also be used to make Mapo tofu (another tasty dish in Sichuanese cuisine) or even to flavor some Japanese dishes, like Ramen.
Tips for a perfect spicy garlic tofu
When making this recipe, please follow the following tips in order to have a perfect dish:
This spicy garlic tofu recipe uses pan-fried tofu, coated in corn starch, to create a crunchy, almost a fried kind of tofu.
Remove the excess water from the tofu. This is a very important step to follow because as you well know, splashing water while you are using oil is not ideal. It also improves consistency.
Heat up over high heat before you can start cooking the tofu. Once the oil is very hot, add the tofu onto a pan / wok and lower the temperature to medium heat.
The sauce contains a lot of corn starch to create the wonderfully sticky chili sauce, so remember to stir well before adding it into the pan.
What to serve this dish with
We usually like cooking rice when eating this spicy garlic tofu. Here you can find a detailed article on how to wash and cook rice (remember that not every kind of rice will need to be washed, eg. you will never need to wash Arborio rice for risotto).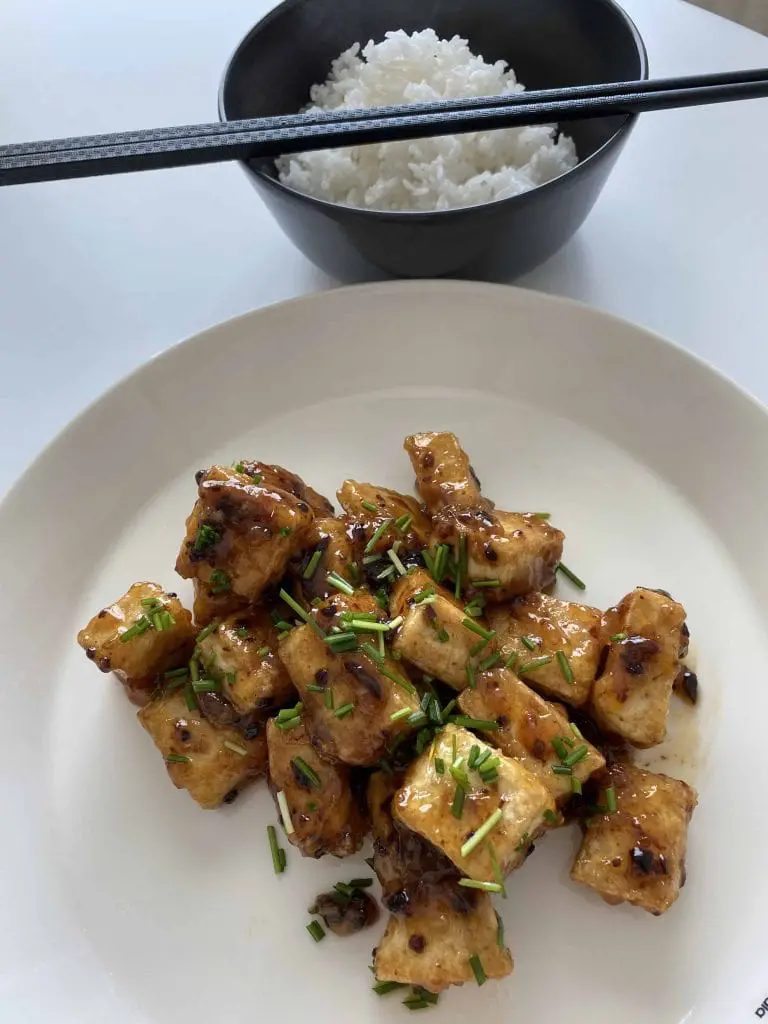 More uses for tofu
If you love using tofu in your kitchen and your recipes, you can't miss out on our tofu vegan bacon recipe, which we use to make our Amatriciana-style vegetarian pasta.
If you liked this Tofu with spicy garlic sauce recipe, please follow us on our social networks: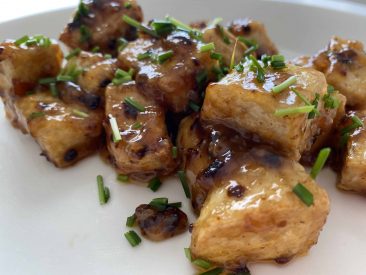 Spicy garlic tofu
With an amazing taste, this Asian dish is perfect to serve with rice or to use as an appetizer. Eaither ways, you will fully enjoy the flavors.
Ingredients  
Tofu
250

grams

medium-firm tofu

corn starch

2

tablespoons

oil for pan frying
For the sauce
1

tablespoon

oil for cooking

1

teaspoon

minced ginger

1

tablespoon

minced garlic

0.5

tablespoons

Sichuan chili paste

1.5

tablespoons

Shaoxing rice wine

1.5

tablespoons

rice vinegar

1

tablespoon

sugar

3

tablespoons

water

1

tablespoon

corn starch

chili

optional, to taste, fresh, flakes or powder
Instructions 
For the tofu
Remember to prepare your side dish (rice in this case). Prepare all the ingredients. Cut the tofu into squares of 1.5-2cm thickness. Dry each piece well and coat the tofu pieces with corn starch.

Heat 2 tbsp of oil in a wok or a pan over high heat. Pay attention to the temperature and place the tofu pieces when the oil is hot.

Lower the heat slightly. Cook both sides until golden brown. Using chopsticks or something similar makes flipping over the pieces of tofu easier.

While the tofu is cooking you can prepare the sauce (instructions below). Once the tofu pieces are cooked, transfer them onto a plate.
For the sauce
Mix Shaoxing wine (or Mirin), rice vinegar, water, sugar, and corn starch. Set aside.

Once the tofu is cooked, add 1 tbsp of oil into the pan you used before. Stir-fry, over medium-high heat, minced garlic, ginger, and Sichuan chili bean paste (and chili, if using) until fragrant and until the oil catches some red color.

Pour the liquid mix into the wok pan. Add the tofu pieces and move them around carefully. The sauce needs to be on the pan for a very short time. When the sauce is thick and the tofu is completely coated, it is ready.

Sprinkle some chopped scallions on top and serve immediately with rice.
Notes
When cooking in the wok, you might want to fry the tofu in two batches to make it easier.
When mixing the ingredients for the sauce, stir well because otherwise, the corn starch will stick easily.
If you do not have

Shaoxing rice wine, use Mirin. 

For a more intense flavor, use black rice vinegar.
Caution
Nutritional information shall not be used for medical reasons.