Teriyaki salmon with rice and vegetables
[the_ad id="615″]
Teriyaki salmon with rice and vegetables is a delicious full meal that includes salmon cooked with the teriyaki technique and is accompanied by Japanese rice and green vegetables of your choice (we love matching it with green beans with sesame sauce).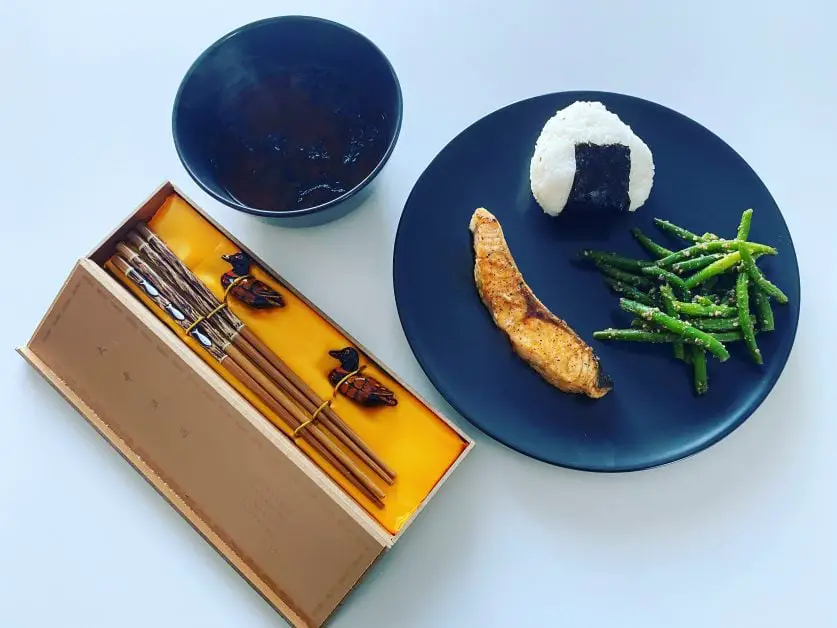 The salmon is very flavorful and juicy and it is one of the best ways, in terms of taste and flavor, to cook it. Considering the huge availability of salmon in Finland country and our love for Japanese food, this teriyaki salmon with rice and vegetables is a pretty common dish on our table. Once you taste it, you will understand why!
Ingredients
For this recipe, it's important to separate the ingredients for the teriyaki seasoning and the ones for cooking the salmon. Let's start with the teriyaki mix. It only needs four ingredients:
Sake
Mirin
Sugar
Light Soy Sauce (do not use dark soy sauce, because the flavor will be very much different)
Sake is often used in Japanese cooking but we usually don't have it at home because finding affordable sake for cooking is a challenge in Finland. Luckily, you can quite easily replace the sake with some additional mirin and the teriyaki will be just fine. Just use the same amount of additional mirin as you would use sake. This applies to both the teriyaki mix and the sake that is used for cooking the salmon.
When cooking the salmon, you will need additional ingredients:
Salmon fillets
Table salt
Black pepper
Flour to coat the fish (we used all-purpose flour)
Vegetable oil
Butter
Sake (here you can replace it with mirin as well in case you don't have it)
For the salmon, it is best to use fillets that are not too thick. That way the salmon will cook through nicely in a shorter time and you will have a good balance of crispiness and teriyaki flavor in your salmon as well. Either buy the salmon in not-too-thick fillets or buy a bigger piece and cut it yourself.
How to make teriyaki salmon
Making one of the most authentic Japanese recipes is easy. The flavors are incredible and this recipe is perfect for a lovely dinner, as teriyaki salmon is matched with a Japanese rice bowl and vegetables.
First, you need to combine the teriyaki ingredients in a bowl to make the seasoning.
Second, you need to cut the salmon into two fillets if you are not using ready-cut fillets. Rinse and pat dry it before seasoning with salt and pepper.
Coat the salmon with flour and remove the excess flour. Start the cooking process by melting first the butter in a pan and then adding the oil.
Add the fillets and cook for 3 minutes until each side is golden and crispy.
Once cooked for around 6 minutes, add sake (or mirin) and cover the pan. It will need to cook for 3 more minutes.
Once done, remove the salmon from the pan and add the teriyaki seasoning to the pan until boiling. Add again the salmon and coat it until covered completely.
When the sauce is thick, turn off the heat and plat the salmon.
What to serve with teriyaki salmon
We usually pair teriyaki salmon with Japanese rice and green vegetables, preferably green beans.
To prepare the Japanese rice, please follow these instructions (How to wash rice + cooking tips). In this way, the rice will lose the starch in excess and will become very sticky, as it should be.
When it comes to vegetables, our primary choice would be Green beans in sesame sauce (Gomaae), because it fits perfectly as a side dish! The gomaae is served at room temperature and refers to the way the vegetables are prepared with a delicious sesame dressing, so other vegetables are perfect for it too. Japanese spinach would be one of the most popular ones. Alternatively, you can cook several vegetables or green beans with a different sauce.
More Japanese recipes
Making teriyaki salmon with rice and vegetables is a delicious choice for your meal but if you want to explore more dishes of Japanese cuisine, take a look at this super simple Onigiri recipe, one of the most classic Japanese dishes! You can make them plain or, for example, filled with fish, such as salmon or tuna. Their taste will bring you instantly to Japan.
Also, highly recommended and again pretty easy to make is Agedashi tofu. Fried tofu in a dashi broth is a simple way of making your tofu taste incredible.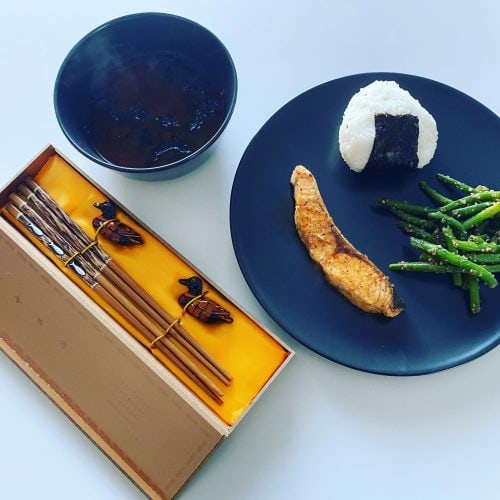 Teriyaki salmon with rice and vegetables
Teriyaki salmon is a common dish in Japanese cuisine and it is pretty easy to make. You can pair it with rice and vegetables for a full delicious meal.
Ingredients  
For the salmon
300

g

salmon

cut into fillets

0.25

tsp

salt

0.25

tsp

black pepper

flour

to coat the salmon

0.5

tbsp

vegetable oil

1

tbsp

butter

1

tbsp

sake

replace with mirin
For the teriyaki
1

tbsp

mirin

1

tbsp

sake

you can replace with more mirin

1

tbsp

sugar

2

tbsp

soy sauce
Additionally
2

portions

white rice

2

portions

vegetables

like green bean gomaae (see recipe below)
Instructions 
Cooking the salmon
Cut the salmon into as many fillets as the portions you are making. The best fillet is relatively thin and fast to cook.

Rinse the fillets and pat them dry with paper towels. Then season with salt and pepper.

Coat the fillets with flour.

Melt the butter in a pan over medium heat. When the butter is starting to melt, add the vegetable oil.

Add the fillets into the pan and cook for about 3 minutes until that side is golden brown and crispy. Flip.

Add the mirin (or sake) meant for the salmon and cover the pan. Let cook for about 3 minutes until cooked through. Remove the salmon from the pan but keep the pan on the stove.
For teriyaki
While the salmon is cooking, combine the teriyaki ingredients in a bowl. Make sure the sugar dissolves.

When the salmon is cooked through, add the teriyaki mix onto the pan and increase the heat slightly. Bring to a boil.

Once boiling, add the fillets back onto the pan. Coat the salmon with the teriyaki mix.

When the teriyakin mix is thick and the salmon is well-coated, remove from heat and plate the salmon with the rice and vegetables.
Notes
It is best to use a pan that you are able to cover with a lid.
The teriyaki mix turns thick quite fast after boiling, so be careful not to overcook the salmon and teriyaki.
You can use any vegetables and cook them in any way you like but the linked recipe for green beans fits very well with the salmon.
Nutrition
Calories:
319
kcal
Carbohydrates:
13
g
Protein:
32
g
Fat:
13
g
Saturated Fat:
2
g
Polyunsaturated Fat:
6
g
Monounsaturated Fat:
4
g
Trans Fat:
1
g
Cholesterol:
83
mg
Sodium:
1436
mg
Potassium:
794
mg
Fiber:
1
g
Sugar:
9
g
Vitamin A:
125
IU
Vitamin C:
1
mg
Calcium:
33
mg
Iron:
2
mg
Caution
Nutritional information shall not be used for medical reasons.