Spaghetti alla puttanesca
[the_ad id="615″]
Spaghetti alla puttanesca is a typical pasta dish from Naples, but also from the Lazio region, in Italy. In Naples, it's also called aulive e chiapparielle, literally translated as "olives and capers".
Even if the dishes from Naples and from Lazio differ in some ingredients, the main ones are the same. As usual, online you can find various recipes with some additions or some ingredients that have been removed. After having a look at the history and etymology of the dish, I'll dedicate a paragraph about the ingredients of this incredibly tasty dish.
History and etymology of spaghetti alla puttanesca
History-wise, it seems that this dish already existed in the 19th century, when in several cookbooks a similar dish was presented. The first mention of this dish under the current name occurred in 1960s.
Etymology-wise, the name of spaghetti alla puttanesca is very particular and we have various theories on how the name developed. One of these theories takes into account the name of the dish, as in Italian puttanesca might derive from puttana, whose translation is prostitute, but more with a negative meaning. This said the theory has that this dish was born in one of the quarters of Naples that was known for prostitution.
A second theory relates again to the name of the dish. This time the term puttanesca is meant as something said to mean that the pasta dish has a lot of ingredients, all thrown in there. The significance relates to the English word shit used as an all-purpose profanity.
The ingredients
As said, in Italy different versions of spaghetti alla puttanesca exist. The sauce used with the spaghetti is called sugo alla puttanesca. In Naples, it contains olive oil, olives, capers, and tomatoes. The pasta used is spaghetti, but also vermicelli are a suitable option to replace the first.
In Lazio instead, the recipe has two additional ingredients: anchovies and garlic, which, we must admit, add extra flavor. So if you wish to make this dish completely vegan, just leave out the anchovies and you'll still have an authentic and delicious spaghetti alla puttanesca!
Other spices are oregano, which seems to be common for this recipe, or even parsley. When hundreds and hundreds of years pass, ingredients can slightly change or differ based on the region or even cities in the same region. We are not surprised at all that this happens for this dish as well.
How to store spaghetti alla puttanesca
If you are unable to finish your pasta dish when you make it, or if for any reason you wish to store it, you are free to do it. Please, place the pasta in an airtight container and close it properly. You can reheat your dish within two days. We do not recommend you store it for a longer period of time.
Freezing this dish is not recommended either.
Alternatives to spaghetti alla puttanesca
Not sure of making spaghetti today? Why don't you have a look at our other recipes? Here some for you:
Gnocchi alla sorrentina: this dish won't save you time as it's baked and our recipe contains homemade delicious gnocchi (you can use readymade ones, of course);
Black rice with shrimp and zucchini cream: this elegant dish is perfect if you want to surprise someone as it has a green zucchini cream on the bottom of the place, with black rice and shrimp on it. It's just perfect for any occasion!
Margherita pizza: if you have enough time to make a pizza for your lunch (not on the same day though), you will have a perfectly done authentic Neapolitan pizza for your meal.
---
If you liked this spaghetti alla puttanesca recipe, please follow us on:





Also, let us know how your spaghetti turned out, and leave us a comment!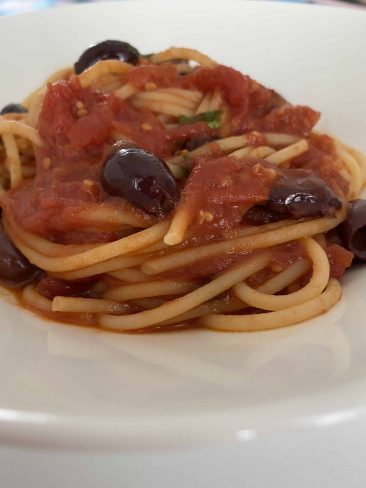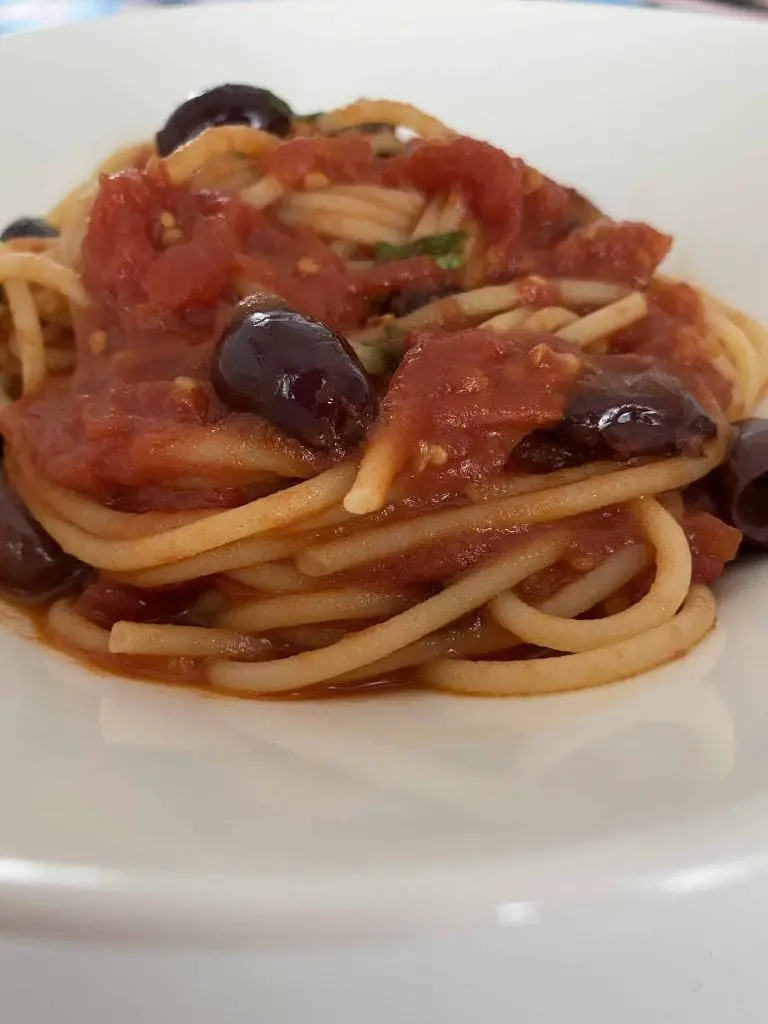 Spaghetti alla puttanesca
Spaghetti alla puttanesca is a typical pasta dish from Naples, but also from the Lazio region, in Italy. In Naples, it's also called aulive e chiapparielle, literally translated as "olives and capers".
Ingredients  
180

grams

spaghetti

5

anchovy fillets in oil

0,5

tablespoons

capers

2

cloves

of garlic

15

grams

olive oil

400

grams

peeled whole tomatoes

12

Gaeta olives

chili flakes

salt

a handful of fresh parsley
Instructions 
Rinse the capers to eliminate excess salt. Dry them and chop them into small pieces. If the olives have the pit, remove it. Then use the side of a knife blade to squish the entire olives.

Add the oil, entire garlic cloves, and chili into a large pan. Add the anchovy fillets and capers.

Cook over medium heat for 5 minutes and mix to completely melt the anchovy fillets. In a separate pot, bring pasta water to a boil.

Add the tomatoes into the pan, mix and squish the tomatoes while cooking for 10 minutes. In the meanwhile, cook the spaghetti.

After ten minutes have passed, take away the cloves of garlic and add the olives and parsley.

Add the cooked spaghetti into the pan and mix for half a minute. Serve immediately.
Notes
For a vegan dish, just don't use anchovies. Just add more salt to the sauce.

If you do not have Gaeta olives, the

best replacement is the Kalamata olives.

Use as many chili flakes as you wish, this is up to your taste.
Caution
Nutritional information shall not be used for medical reasons.