[the_ad id="615″]
Smoked salmon waffles are a very easy and yummy idea for an alternative lunch. They are made with the classic waffle ingredients and then topped with smoked salmon, smetana and lemon.
These are Belgian waffles
What makes these waffles different from any other recipe is that we actually used Belgian waffles.

Smoked salmon waffles made with a Belgian waffles recipe are not something you commonly find on food blogs as a recipe. Let's be honest. We admit that Belgian waffles fit perfectly with sweet toppings. In fact, if you happened to view our Belgian waffle recipe, you know that we made them for a lovely Sunday breakfast. They are great for a sweet delicious breakfast, but also for a dessert.
In spite of this, they were not too sweet so they fit perfectly with smoked salmon, smetana, and lemon, with some ground black pepper on the top. We had some waffles left and we wanted to avoid a second round of sweet waffles for the morning. We opted for a savory dish. And we did not regret it at all. Why not try these smoked salmon waffles?
Ingredients
To make the waffles:
Flour – we tend to use all-purpose flour
Sugar – you can skip the sugar if you prefer as these are savory waffles
Baking powder
Egg – medium sized
Milk – low fat
Vegetable oil
Vanilla extract – We used vanilla-flavoured sugar so we slightly reduce the amount of sugar, as we did not have vanilla extract. If you do have it, use it.
Salt – just a quarter of a teaspoon
For the topping:
Cold smoked salmon or gravlax
Smetana or crème fraîche
Lemon
Black pepper
When making sweet Belgian waffles for four servings (two waffles each), we used 1.5 tablespoons of sugar, but feel free to slightly reduce that amount if you wish.

Some recipes contain cinnamon as well when making the sweet ones, so definitely take it off the list of ingredients if you wish to use them with non-sweet toppings (and with sweet also, as we did).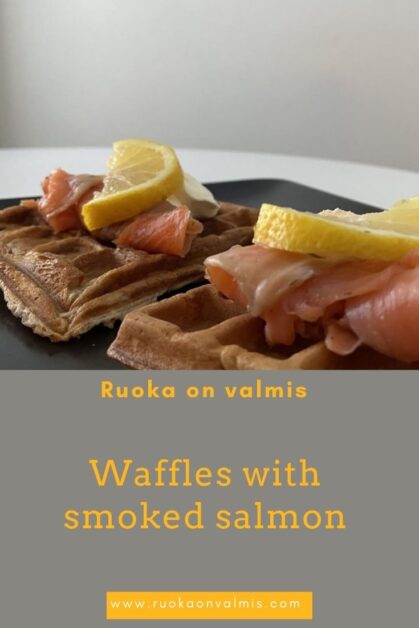 Alternatives to salmon
The ingredients of this recipe are quite easy to spot but if for any reason you do not have salmon, or if you prefer vegetarian dishes, there are some alternatives you might want to try out.
For instance, you can try sautéed mushrooms with caramelized onions and shredded Parmesan or Goat cheese and balsamic syrup. These two really sound tasty and are worth a shot!
Alternatively, you may want to try Ham and Goat cheese or sautéed spinach with lemon.
I have to confess that our main issue when choosing toppings is more related to the main question: sweet or savory? Smoked salmon Waffles or Belgian waffles with Maple Syrup and berries?
We took the picture below to help us decide the following time. I mean, it will make it easier, won't it?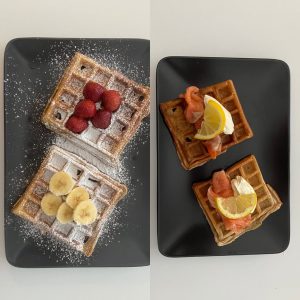 How to store them
As this recipe contains only fresh cold smoked salmon, lemon, smetana, and pepper, we really do not recommend storing it with ingredients on the top.

If you wish to refrigerate only the waffles, you can place them in the fridge for a maximum of 2-3 days, using an airtight container that would preserve the freshness.
If instead, you want to conserve them in the freezer, you can keep them for up to 3 months.
When it's time to eat them again, you can use your microwave to heat them up for around 50 seconds, or the oven for 10 minutes at 150 °C / 302°F.

If you wish instead to take out the waffle iron again to heat the waffles up, you can of course do it. The suggestion is to pay more attention for them not to overcook or even burn.
As also said in our sweet Belgian Waffles recipe, you can also keep the batter in the fridge for a couple of days if properly closed in an airtight container.
---
Did you try to make these smoked salmon waffles? Please, let us know about the result and share any tips if you have. They are always very welcome.
If you liked this smomed salmon waffles recipe, please follow us on: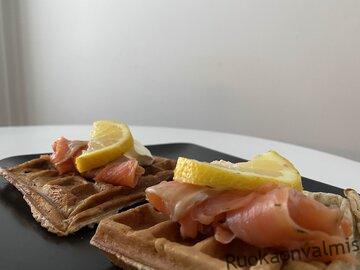 Smoked salmon waffles
Smoked salmon waffles are a very easy and yummy idea for an alternative lunch. What makes these waffles different from any other recipe is that we actually used Belgian waffles.
Ingredients  
Waffle batter
2.6

deciliters

flour

1.5

tablespoons

sugar

0.5

tablespoons

baking powder

0.25

teaspoons

salt

1

Egg

235

milliliters

milk

60

milliliters

Vegetable oil

0.5

teaspoons

Vanilla extract We used vanilla-flavoured sugar

so we reduced the amount
Topping
600

grams

Cold smoked salmon or gravlax

400

grams

Smetana or crème fraîche

1

Lemon

Black pepper
Instructions 
Waffle batter
Whisk dry ingredients together: flour, salt, baking powder, and sugar

In a different bowl beat the egg whites until stiff peaks form

Whisk the liquid ingredients (oil, milk, egg yolk), adding the extract of vanilla

Pour the liquid ingredients into the bowl of the dry ones and keep whisking

Add the beaten egg to the batter

Pour gently the batter onto the waffle iron and cook for three minutes each waffle
Smoked salmon topping
Prepare the ingredients. Cut the lemon into slices, prepare the salmon by separating the slices, and take out smetana and pepper.

Once the waffles are ready, serve them on a table, adding one / two slices of smoked salmon and half a slice of lemon on the top. Add a spoonful of smetana on the salmon or on the side. Sprinkle some black pepper on top.
Notes
When preheating the iron, u

sing an oil spray would be the best solution. We just poured some vegetable oil and spread it on the surface with a paper towel.

Gravlax is very similar to cold smoked salmon except that it is only cured with salt, and thus missing the smoky flavour of cold smoked salmon.
Nutrition
Calories:
818
kcal
Carbohydrates:
63
g
Protein:
40
g
Fat:
45
g
Saturated Fat:
17
g
Polyunsaturated Fat:
12
g
Monounsaturated Fat:
12
g
Trans Fat:
1
g
Cholesterol:
133
mg
Sodium:
1603
mg
Potassium:
611
mg
Fiber:
3
g
Sugar:
11
g
Vitamin A:
917
IU
Vitamin C:
15
mg
Calcium:
306
mg
Iron:
5
mg
Caution
Nutritional information shall not be used for medical reasons.