Strawberry birthday cake with buttercream
[the_ad id="615″]
When it's summer and you are in charge of making a cake for a birthday, a strawberry birthday cake with buttercream might be the right choice. You prepare a sponge cake, fill it with strawberry mix and cover it in buttercream. It's easy, it's relatively fast, it's yummy, and it tastes fresh.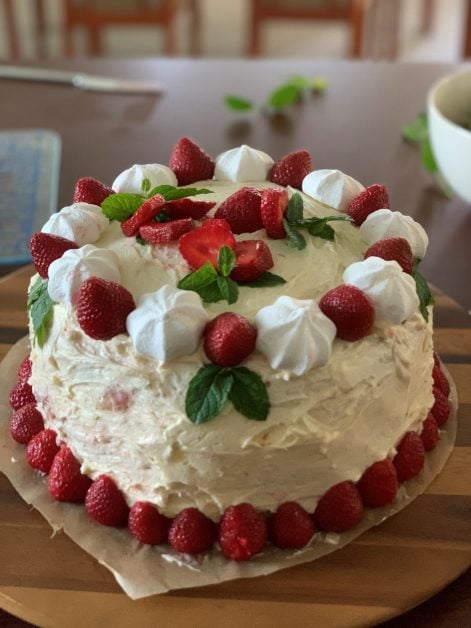 When and why to make this cake
We had a birthday in our family in Finland a couple of weeks ago and they wanted us to make a summery birthday cake. For these celebrations, we would usually make a cheesecake or more traditional summer desserts, such as Pavlova or Brita cake, but this time a proper "Birthday layer cake" was an explicit request.
So we thought of summer fruits and berries, as we are in Finland, where berries and summer really go hand in hand. And what is a more summery berry than a strawberry? It was an easy choice, as we love them (and everyone in our families does!). To make it even more a fit for summer, we topped it with additional strawberries and meringues (both are ingredients of the two summer cakes mentioned before).
This strawberry birthday cake with buttercream is a perfect solution for summer. You need to use the oven to cook the sponge cake but that's the only sacrifice you need to make.
How to make the sponge cake
Let's face it: when you make a birthday cake, the most difficult part is baking the sponge cake for the layer base. The batter can turn out wrong, the cake itself can overcook, and the cutting part seems so complicated. Well, do not worry! It's not as complicated as it seems.
Follow our recipe to make your own sponge cake, ready to be filled. You will only need 15 minutes to make it, 40 minutes to bake, and it will turn out as soft and as spongy as you need.
Ingredients for an easy strawberry birthday cake with buttercream
Birthday cakes can be very complicated and full of layers, ingredients, and decorations. However, this strawberry birthday cake with buttercream is relatively easy, and really anyone can make it.
All in all, the entire process is a piece of cake, in almost every sense. The cake was cut into three layers, moistened with juice from the strawberries, and filled with a double filling; one of strawberries and another of cream and quark. The quark is used to make the filling denser and to balance out the sweetness of the other ingredients.
We covered this strawberry birthday cake with quite a standard vanilla buttercream (super fast to make!) and on top we added strawberries and meringues, alternating them in a circle and placing them in the center. We added some mint leaves as well to boost the flavor and to place more color on the cake.
If you want a tip, we suggest you make the cake the day before serving, and on the serving day, you make the buttercream before serving. In this way, the cake will have more time to moisten and this will boost the flavor. If you need the cake for the evening/late afternoon, making and filling it the same morning is enough.
How to store it
After serving the cake, if you have some left, you can store it in the refrigerator for a couple of days.
We do not recommend you freeze the cake. If you really need to, you can freeze the sponge cake without any filling, but we are lovers of fresh food, cakes included.
---
What do you think of this strawberry birthday cake with buttercream? Have you ever made this? Do you like buttercream or do you prefer to cover your cakes in whipped cream or in something else? Let us know, we can't wait to hear what you think!
If you liked this strawberry birthday cake with buttercream recipe, please follow us on: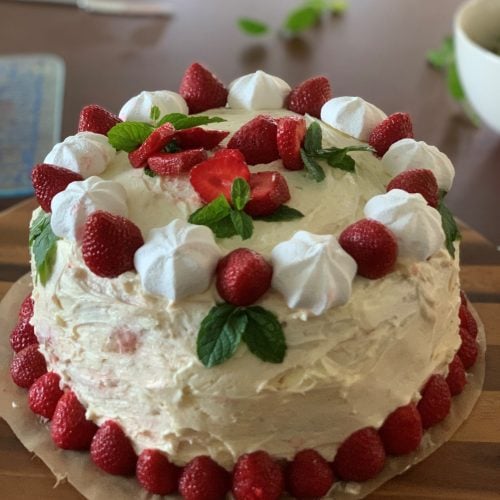 Strawberry birthday cake with buttercream
This strawberry birthday cake with buttercream is the perfect option for a celebration in summer.
Ingredients  
Cake base
Sponge cake

follow instructions in the recipe instructions
Strawberry filling
900

grams

strawberries

35

grams

powdered sugar
Cream & quark filling
600

milliliters

whipping cream

250

grams

quark

opt for one with a higher content of fat, around 7%

65

grams

sugar

1.5

tablespoons

vanilla sugar

1.5

tablespoons

lemon juice

Buttercream frosting

150

grams

butter

375

grams

powdered sugar

45

milliliters

milk

1.5

tablespoons

vanilla sugar
To decorate
small meringues

you can also use whipped cream

strawberries

mint leaves
Instructions 
Cake base
Prepare a cake base of three layers following this recipe for a fluffy Italian sponge cake. Cut the base into three equal-sized parts when cooled down.
Strawberry filling
Mash the strawberries of the filling with a fork. Strain the mashed strawberries in a sieve but, instead of letting the juice go to waste, collect it by placing a bowl under the sieve. The juice will be used to moisten the sponge cake.

Place the strawberries into a separate mixing bowl and add in the powdered sugar for the strawberry filling. Mix.
Cream & quark filling
Whip the cream. In a separate bowl, combine quark with lemon juice and sugars. Mix with the whipped cream by folding gently.
Assembling the cake
Lift the first of the three sponge cake layers onto a serving tray. Moisten with the strawberry juice. (Moisten the first two layers less. The top layer needs to be moistened the most).

Spread half of the strawberry filling on the layer and then half of the cream & quark filling on top of that.

Add the next sponge cake layer. Moisten and spread the rest of the fillings like before. Place the last layer on top, moisten well. Even out any filling coming out of the sides. Place in the refrigerator for at least some hours before serving, even overnight.
Buttercream
Prepare this before serving. Cut the butter into cubes and place it into a mixing bowl. Add milk and sugars.

Mix with a mixer until a thick cream forms. You can add a spoonful of more milk if the frosting seems too thick to spread.

Spread evenly on the cake using a rubber spatula.
Decorating the cake
Decorate how you wish, using strawberries, mint leaves, meringues, and whipped cream to make the cake look summery. Serve.
Caution
Nutritional information shall not be used for medical reasons.