[the_ad id="615″]
Vegan piadina is a thin flatbread, originating from Emilia-Romagna, a region in the North of Italy, and specifically from some of the cities, such as Rimini (located in Romagna). The traditional piadina often contains lard, but this recipe uses olive oil to replace it so it's fully vegan, unless you use non-vegan fillings to fill this delicious flatbread.
History and etymology
This dish, which has been listed among the most authentic foods of the Emilia-Romagna region, dates back to many many many years ago. In fact, history has it that it was already prepared by the ancient Romans. Even the first written mention of the piadina dates back to the 14th century.
On the etymological side, we are uncertain of the origin of the word and many theories are available. One hypothesis is that the term comes from the greek πλακούς, focaccia. We need to specify that piadina as we intend it today differs from the first type, which was more like focaccia (it was a flat piece of bread cooked in the oven). Throughout the years, the recipe and the way of making it evolved to the flatbread we know now.
Two types of piadina in Romagna
If you happen to visit Romagna and for instance, you drop by Cesena and Rimini, you will be able to eat two different piadina. In fact, you will have a piadina romagnola in the first case and a piadina romagnola alla riminese in the second case. The first is thicker than the second one, but among the cities that make the first, you can also find some differences, mostly based on the size.
The piadina romagnola alla riminise shows an important difference compared to the other: it does not have yeast. Due to it using no yeast and being thinner, we can classify our piadina as a riminese.
How to eat a vegan piadina
As piadina is a flatbread, you can eat it as you wish. For instance, you can just choose to eat it as a side dish to accompany your main meal. We need to point out though that piadina is usually served filled and with many fillings. Some good fillings to start from are spread cheese, tomatoes, and arugula, to which you can add many other fillings as well. Here you can find some combinations:
If you eat meat, an easy way to fill them is with cold cuts, for instance ham, salami or dried cured ham. To these, you can add mozzarella or spreach cheese, with cherry tomatoes or tomatoes.
If you are pescatarian or a fish lover, you can opt for salmon or tuna in your piadina. In this case as well, you can use spread cheese and some vegetables to have a full dish.
If you are vegetarian or vegan, you can adopt for (vegan) spreach cheese, roasted eggplant, and tomatoes. Alternatively, you can opt for vegetable proteins that can fit in the dish, or cold cuts-like vegan products.
For a sweet moment, a piadina with Nutella is a must (everyone loves that). Yet, for a vegan piadina, feel free to opt for a vegan product. A marmelande can do as well.
How to store your homemade vegan piadina
After you have cooked your vegan piadina, if you want to store them, feel free to place them in a plastic freezer bag or in an airtight container for a couple of days in your refrigerator.
Piadina can also be frozen. When you want to eat them, take them out from the freezer and let them thaw. They should not take more than 10-15 minutes.
---
Did you this vegan piadina recipe? Have you ever made it or eaten it in Italy or abroad? It is extremely good and it's amazing how you can make it home in so little time, ready for a special Italian dinner!
If you liked this vegan piadina recipe, please follow us on: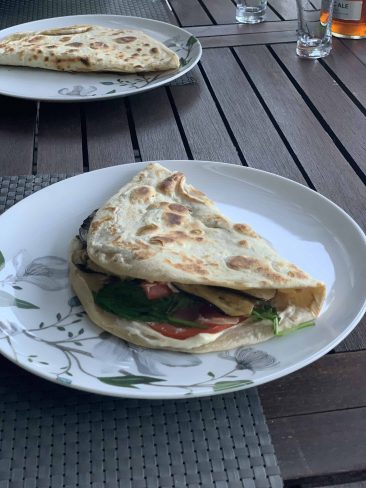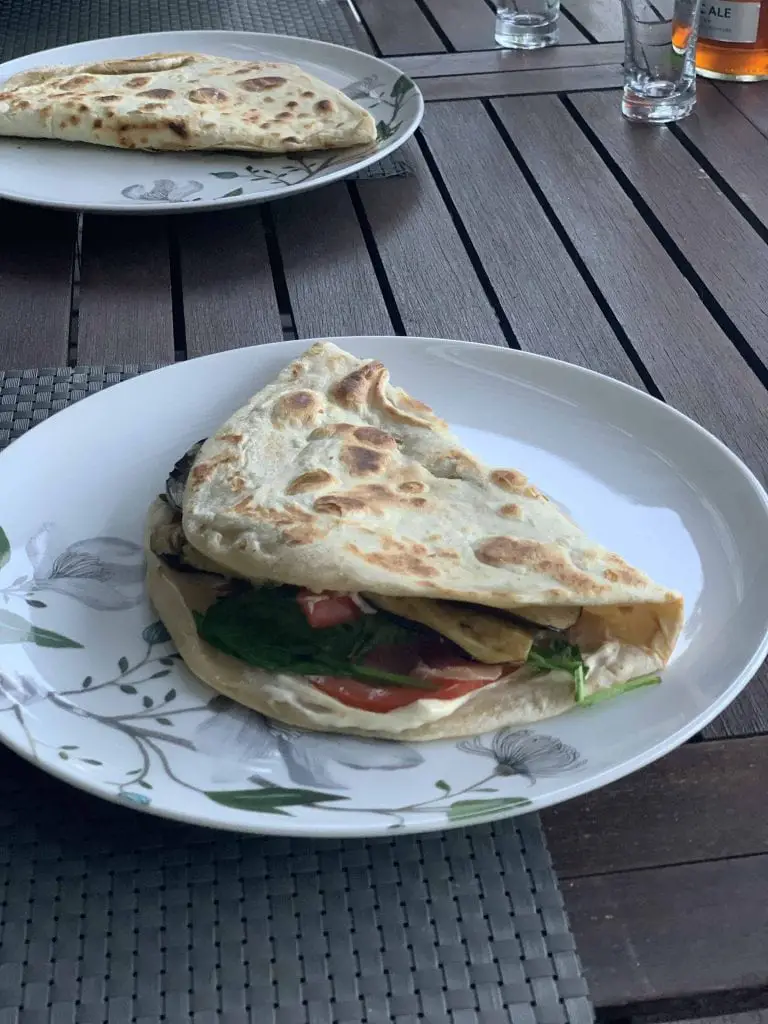 Vegan piadina
Vegan piadina is a thin flatbread, originating from Emilia-Romagna, a region in the North of Italy, and specifically from some of the cities, such as Rimini (located in Romagna). This recipe does not use lard but olive oil so it's fully vegan.
Ingredients  
600

grams

flour

300

milliliters

water

70

grams

extra virgin olive oil

8

grams

salt
Instructions 
In a large mixing bowl, add the flour and create a dent in the middle.

Start pouring the water and mixing. When it becomes heavier, start kneading with your hands. Knead for a few minutes and then add salt. Keep kneading for a minute more and add oil.

Knead until a smooth and elastic dough forms. This might take some time but is important to create a good dough for making piadina.

Cover the dough with plastic wrap or a cloth. Let rest for 30 minutes.

Divide the dough into 8 pieces and roll them into balls. Heat a large frying pan (two to make it faster) over medium-high heat with just a small amount of oil.

Roll out the balls into thin circles and start cooking them.

If cooking the piadina without a filling, cook each side for 2-3 minutes until golden brown.

If cooking with the filling, cook each side for 2-3 minutes until golden brown. Lower the heat. Then add the filling on one half of the piadina while still on the pan. Fold it in half and, cook for some seconds and remove from heat.

Cook all the piadina and serve.
Nutrition
Calories:
350
kcal
Carbohydrates:
57
g
Protein:
8
g
Fat:
9
g
Saturated Fat:
1
g
Polyunsaturated Fat:
1
g
Monounsaturated Fat:
6
g
Sodium:
391
mg
Potassium:
80
mg
Fiber:
2
g
Sugar:
1
g
Calcium:
13
mg
Iron:
4
mg
Caution
Nutritional information shall not be used for medical reasons.