[the_ad id="615″]
If you wanna ever become an Italian citizen, you gotta learn how to prepare homemade orecchiette. They are a type of pasta that is very common in Apulia and Basilicata, two Southern Italian regions. Their name comes from orecchie, ears, because of their shape. In fact, orecchiette literally means small ears.
Like most pasta types from the southern parts of Italy, orecchiette are made without eggs. The only ingredients you need are water, semolina, and salt. The great thing is that this type of pasta is made entirely by hand, so you won't need a pasta machine, just a knife and some patience for rolling all the dough into shape.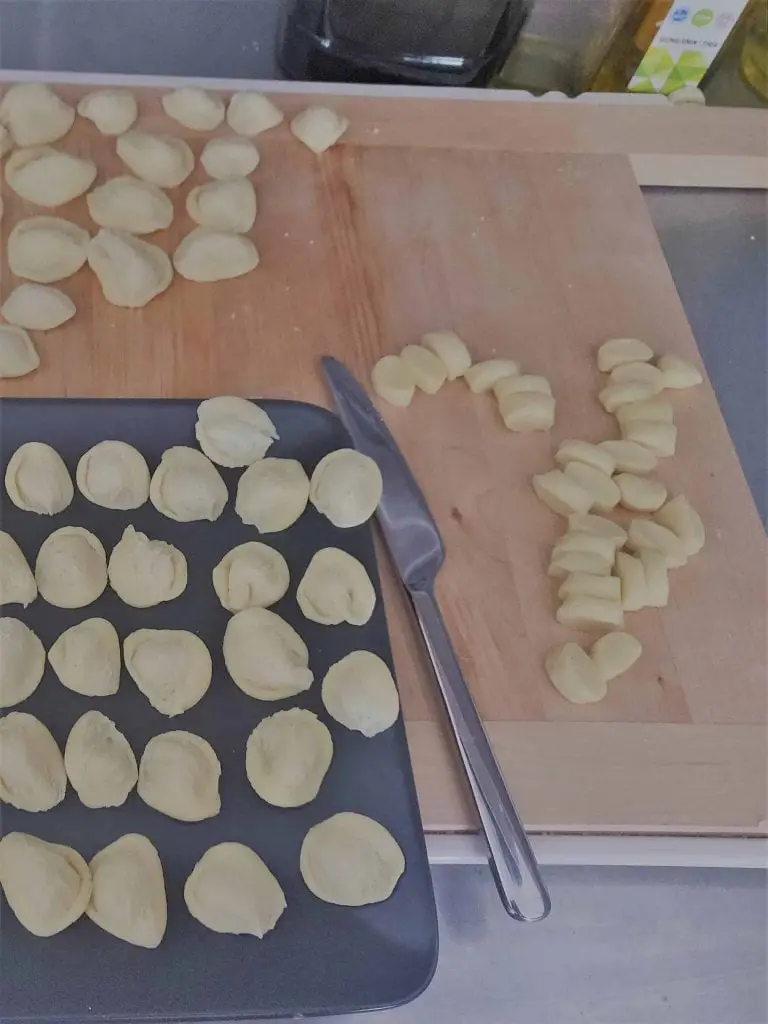 Homemade orecchiette are part of Bari's daily life
As I come from Apulia, homemade orecchiette represent for me an important part of my life in Italy. My mum always cooks them with turnip greens and pan-fried breadcrumbs in hot oil.
Also, if you happen to be in Bari (the capital of Apulia), you cannot miss visiting the so-called Bari Vecchia, the old town of Bari, where women sell their own homemade fresh pasta and taralli. Among the type of pasta, orecchiette are the most common ones. They have become more and more known not only in Italy but also around the world. In fact, it's a must for tourists who visit the area.
Here's a video from Bari vecchia!
The history
As for many other dishes, the origin and history of this type of pasta are uncertain. In fact, some believe that this pasta originated in Provence, in France, and therefore it's not Italian. According to this theory, the Angevins brought it to Italy, particularly in Apulia and Basilicata, which are, as said in the beginning, the places where this kind of pasta is the most known, made, and eaten.
A different theory has that the orecchiette originated in Sannicandro di Bari, a city in the province of Bari. In this case, they originated from the Jewish community, and they are based on the Hammantash, in Italian le orecchie di Haman, a pastry that has a concave shape.
What to eat with homemade orecchiette
As with any other kind of pasta, combinations are multiple. Here we see some classical examples of how to eat the authentic Italian orecchiette:
Orecchiette with turnip greens (orecchiette alle cime di rapa). These are the most common ones in Apulia, where turnip greens are available in generous amounts. The traditional version includes anchovies, but some people leave them out. My mum for instance does not include them all the time when making them.
In Salento, a geographic and historical region of the administrative Apulia region, orecchiette are usually cooked with tomato sauce (with or without meat) and with strongly flavoured ricotta.
In Matera, the capital of Basilicata, orecchiette alla materana (from the name of the city) are made with tomato sauce, minced lamb, mozzarella, and pecorino cheese.
These are most probably the most famous way of eating authentic Italian orecchiette. Indeed, there are more, both traditional and less traditional versions.
How to store them
If you want to store your fresh homemade orecchiette, let them dry for 60-90 minutes. After this time, your pasta will be dry and harder than before.
Sprinkle with semolina and mix with your hands. Let them rest for 30 more minutes. You can place them in an airtight container or in a freezer bag and store them in your refrigerator for 2-3 days. As it is fresh pasta, it won't stay good for much longer.
Alternatively, you can freeze them. Remember to use airtight containers or freezer bags in order to preserve the freshness of the pasta. It's recommended to place a tray in the freezer with all of them in order to freeze them before placing them in a bag. In this way, you will avoid them sticking to each other when they are in the bags.
When you need to cook them, just throw them in boiling water, without thawing them.
---
Did you know how to prepare homemade orecchiette? Can you find turnip greens in your country? If not, what is your favourite dish with this pasta?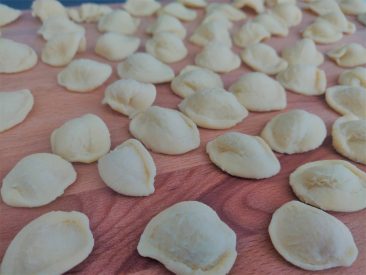 Homemade orecchiette
Orecchiette are a type of pasta that is very common in Apulia and Basilicata, two Southern Italian regions. Their name comes from orecchie, ears, because of their shape. In fact, orecchiette literally means "small ears".
Ingredients  
400

grams

semolina

200

grams

lukewarm water

salt
Instructions 
On a flat, big working surface, mix semolina together with salt. Create a "volcano" shape out of the semolina, by creating a hole in the middle of the flour pile.

Add lukewarm water little by little into the center and mix it into the semolina, allowing the semolina to absorb all the water.

Knead the dough by hand for about 10 minutes, until elastic and well-mixed. Cover and let rest for 15 minutes at room temperature.

Cut a piece of the dough (about 1/4 or 1/6) and roll out into a 1-1.5cm thick "sausage". Keep the rest of the dough covered. Cut into pieces of about 1 cm long.

To shape a piece, take a normal table knife, and push the piece downwards by pushing the flat part of the blade with your fingers and pulling the knife towards you. The dough will stretch and curl around the knife. Invert the pasta curl by pushing it with your thumb, to create the inside-out shape.

Store covered and preferably don't let the individual pasta pieces touch each other to avoid sticking together. Continue shaping the entire dough, piece by piece until finished. When fresh, cooking the pasta takes about 4 minutes. If using dried or frozen ones, increase cooking time.
Notes
Use a wooden surface, or anything similar, to create a more rustic look on the orecchiette when you drag them with a knife.
Nutrition
Calories:
240
kcal
Carbohydrates:
49
g
Protein:
8
g
Fat:
1
g
Saturated Fat:
0.1
g
Polyunsaturated Fat:
0.3
g
Monounsaturated Fat:
0.1
g
Sodium:
325
mg
Potassium:
124
mg
Fiber:
3
g
Calcium:
13
mg
Iron:
3
mg
Caution
Nutritional information shall not be used for medical reasons.