Black venus rice with shrimp and zucchini cream
[the_ad id="615″]
When I was a teenager and I used to live in Italy, I ate black venus rice almost exclusively at every Christmas or at other special events, like birthdays, as it is not a recurrent dish in everyday Italian cooking.
The type of rice used by us to make this black rice with shrimp and zucchini cream recipe is something called Venus rice (or riso venere), an Italian variant born in 1997 in Sardinia and Piedmont. It was created by crossbreeding an Asian variety and an Italian variety, from the Po Valley, Pianura Padana, in Veneto. Currently, it is cultivated in the two Italian regions it was born in and it is a 100% Italian product.
It is unfortunately not very common to spot in Finland, but we were able to get it from Italy, even though it might be available somewhere and we just do not remember to have seen it, or we have not looked for it hard enough.
History and varieties of black rice
Black rice is also commonly called the forbidden rice and this name comes from when in ancient Chinese history black rice was only affordable by the Chinese upper class.
It is a group of rice varieties that belong to the species Oryza sativa. Several types of black rice are now available on the market, among which the Philippine balatinaw rice or the Thai Jasmine black rice.
The rice itself has a stronger flavor than white rice. Its characteristic taste is slightly nutty, akin to brown rice.
As said, the rice used to make this black venus rice with shrimp and zucchini cream recipe is Venus rice but you can replace it with a different black rice type, for instance, Jasmine black rice.
The advantages of Venus black rice
The Venus rice is a whole grain product and it combines a high content of starch with a generous amount of dietary fiber. This eases digestion, for instance.
Additionally, it has a high amount of vitamin B1 (Thiamin) that contributes to the proper functioning of our brain activity, but also for the heart and for muscles.
Being whole grain rice, it also contains vitamin E that is important for vision and for helping the heart, the skin, and the brain.
With the advantages of the rice, healthy zucchini and shrimp, black rice with shrimp and zucchini cream is definitely a lighter and healthier choice for when you don't feel like eating something too heavy.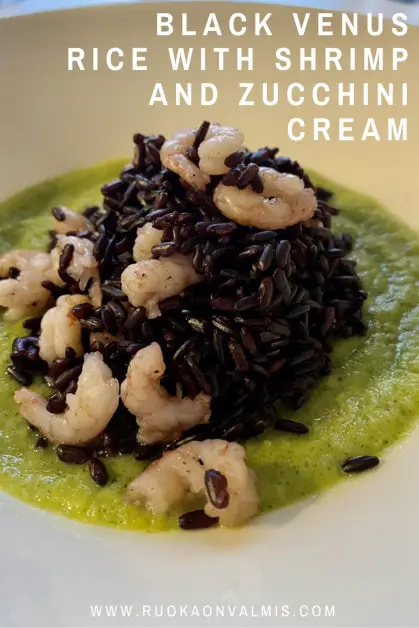 Ingredients
This recipe is extremely simple and will make your dish look super superb! The zucchini cream will be on the bottom of the plate with the rice and the shrimp on top. It will look great and elegant. The green of the zucchini cream, the red of the shrimp, and the dense black color of the rice will make the dish look great.
Making black venus rice with shrimp and zucchini cream is really easy. The ingredients are very basic, in addition to the rice: zucchini, onion, garlic, salt, pepper, cayenne pepper, olive oil, and shrimp. Nothing more than these basic ingredients to make a perfect delicious Venus rice dish!
In our recipe, we used frozen shrimp so we only cooked them for a minute or so at high heat after they thawed for some hours. However, it is preferable to always use fresh shrimp for a better taste. If you have fresh shrimp, you will need to peel them, if they are unpeeled, and to cook them for a slightly longer time. It is very easy to overcook shrimp, so be careful and cook only until they turn red.
Can I store it?
If you have cooked an extra dose of black venus rice, you can keep it in the fridge for a couple of days. Fresh shrimp can also be kept in the fridge, after being cooked, for 1-2 days. Place the rice into an airtight container and place it close to the coldest part of the refrigerator.
You could also freeze cooked shrimp but we do not recommend storing this dish. It really takes no more than 25 minutes to make it and there is no need to freeze it.
---
If you have tried this black venus rice with shrimp and zucchini cream recipe, please leave a comment and let us know how it turned out. We will be more than glad to know it. And, if instead, you are looking for pasta recipes, take a look at our incredibly delicious homemade gnocchi!
If you liked this black venus rice with shrimp and zucchini cream recipe, please follow us on: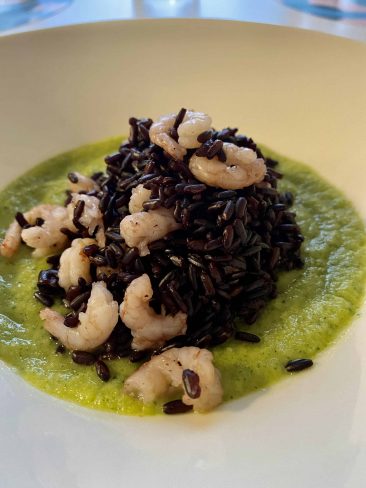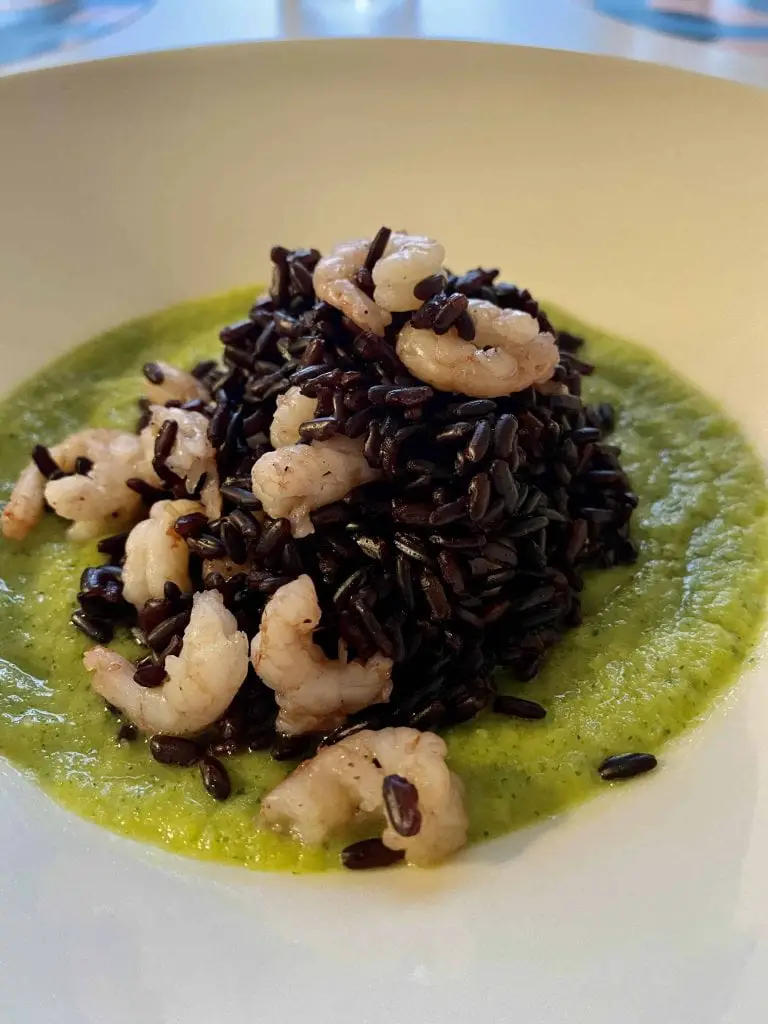 Black venus rice with shrimp and zucchini cream
This recipe is a real delicacy. The rice we used is from Italy but you can replace it with a different type of black rice. The zucchini cream and shrimp add the right combination of flavors.
Ingredients  
180

grams

venus black rice rice

200

grams

shrimp

2

medium zucchini

0.5

onion

1

garlic clove

salt

pepper

cayenne

200

milliliters

water

oil
Instructions 
Add some oil and the minced garlic clove into a pan and cook for some minutes over medium heat. In the meantime, bring water to a boil in a pot.

Add the zucchini that you have previously cut into small pieces and let them fry slightly.

Add a pinch of salt, pepper, cayenne, and the water into the pan with the zucchini and garlic. Cook for 14-18 minutes. When the water boils in the separate pot, cook the rice for the recommended time.

When the zucchini is very soft and cooked through, move the zucchini mix into a blender and blend for some minutes until the cream is dense and completely mixed.

Add a drizzle of oil to the cream.

Heat up the pre-cooked shrimp in oil at a high temperature for a minute or so.

Mix the shrimps with the venus rice after you have drained the water from the rice.

Place the zucchini cream on your plate and then serve your rice with shrimp on top of the cream.
Notes
The zucchini have to be very soft when cooked.
If your shrimp are not pre-cooked, you will need to cook them for a slightly longer time. On a pan for 2 minutes on each side or by boiling them for 3 minutes or so. When the shrimp have their red color on both sides, they are cooked. Overcooking them makes the shrimp rubbery and chewy. In this recipe, it doesn't matter that much whether you peel the shrimp before or after cooking, or whether you use shrimp that are already peeled.
Nutrition
Calories:
468
kcal
Carbohydrates:
80
g
Protein:
30
g
Fat:
4
g
Saturated Fat:
1
g
Polyunsaturated Fat:
1
g
Monounsaturated Fat:
1
g
Trans Fat:
1
g
Cholesterol:
161
mg
Sodium:
535
mg
Potassium:
1042
mg
Fiber:
6
g
Sugar:
7
g
Vitamin A:
401
IU
Vitamin C:
38
mg
Calcium:
135
mg
Iron:
3
mg
Caution
Nutritional information shall not be used for medical reasons.