How to wash rice (+cooking)
This recipe will be a little bit different from the rest. In fact, this will explain how to wash rice, plus how to cook it properly for many East Asian dishes.
In the last months, we have spent a lot of time getting to know more dishes from East Asia, mainly from Japan and China, and how to make them like pros. We love experimenting with new types of recipes and nothing rewards you more than trying out something new and finding out that the result is delicious. One of the basics to know is how to wash rice for cooking.
Does each rice type need to be washed?
Well, the answer is no. In Asian cuisine, where for instance Jasmine rice is widespread and very much used, rice is washed and cooked accordingly, to be served as a side dish. The same applies to Japanese varieties of rice, for example. The goal is to make cooking the rice easier and to create rice that sticks together. The consistency of this type of rice allows us to easily eat it with chopsticks and to create other wonderful dishes with it. Plus, it tastes great!
Outside Asian cuisine, washing rice is not very common and should not be done for every dish.
If for instance, you are making our Salmon risotto where we use arborio rice for risotto, you don't need to wash it (actually, avoid washing it altogether because it will impact the consistency of the dish as we want our risotto to be as creamy as possible).
How to wash rice: secrets
The entire process to wash our rice will take approximately 35 minutes, of which 30 will be needed to let it rest after you have washed it. Below you will find the entire step-by-step guide but here we will list three important secrets on how to wash rice. This method is optimized for creating the stickiest rice possible and we highly recommend it! Note that rice varieties have some differences. The best for the stickiest rice are Japanese white rice varieties. We usually use Jasmine rice as it is the easiest to buy and fits well with most dishes. We found out that, by using this method, it is suitable for even some Japanese dishes like the famous onigiri.
The process to wash the rice needs to be repeated until the water in the bowl is clear. It might take 3-5 times so have some patience when doing it. You will notice the difference afterwards.
After washing the rice, it needs to rest for 30 minutes. The result will be different if you do not follow this step.
After resting, the rice needs to soak in water before cooking so it absorbs some water.
Do I need to use a rice cooker?
At the moment when we write, we do not own a rice cooker and we only have a common pot to cook the rice. The answer is then that you do not need a rice cooker.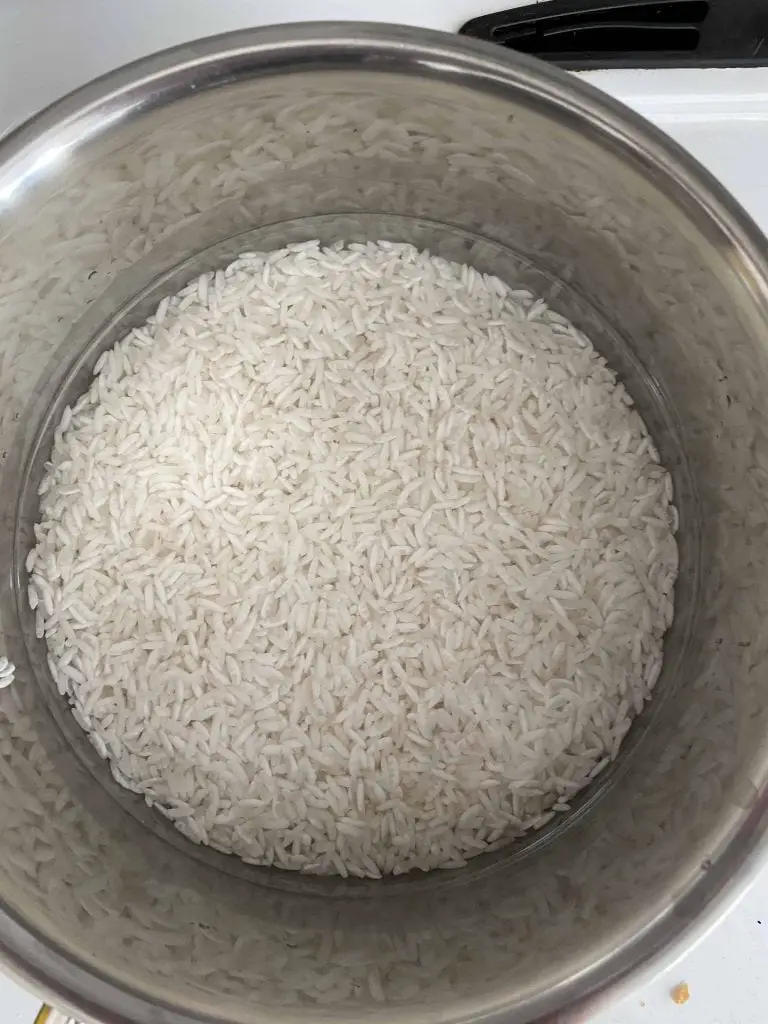 This said, if you want to buy a rice cooker, we won' stop you. It does make cooking rice to perfection easier. When buying a rice cooker, pay extreme attention to which one you are buying: the Japanese and Chinese rice cookers are meant for different types of grains of rice as the Chinese rice has a lower starch content in it. Also remember that with a rice cooker, it is even more important to know how to wash rice properly before cooking.
Suggested dishes to eat with rice
Now that you have learned how to wash rice and how to cook it properly, it's the right moment to think about what to eat with it. Alternatives are endless, but here you find some of our suggestions.
The most common way is to use this rice as a side dish to many great Chinese, Japanese, etc. dishes.
For example, you can follow our recipe to make your own vegan version of the authentic beef stir-fry dish. This is a classical Chinese meaty dish but with a good vegan replacement (such as soy), you will make a very similar version that you will be proud of.
Or have it as a side dish is to your tofu in a sticky garlic and chili sauce. See the picture below for our dish.
Alternatively, use this rice is to make onigiri, the classic Japanese snack that can be eaten either filled with different ingredients (such as salmon) or plain. Both are extremely yummy and delicious.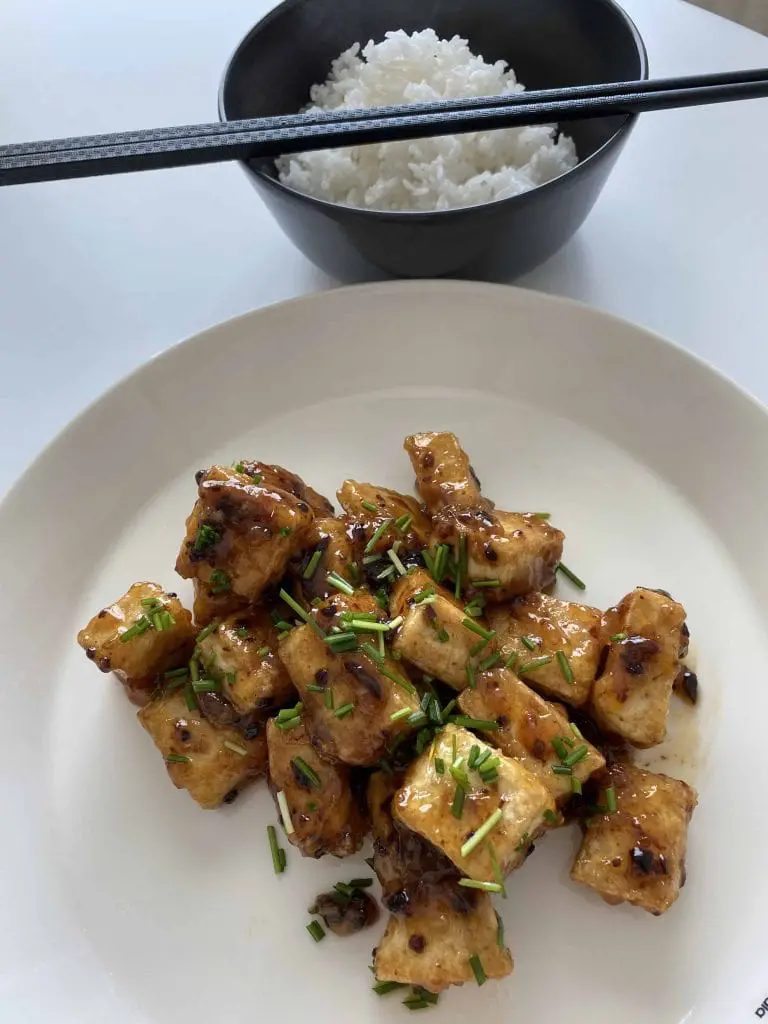 ---
Did you know how to wash rice properly or not? Let us know, leaving a comment under this article. We would love to hear your opinion on this!
If you liked this article on how to wash rice, please follow us on our social networks: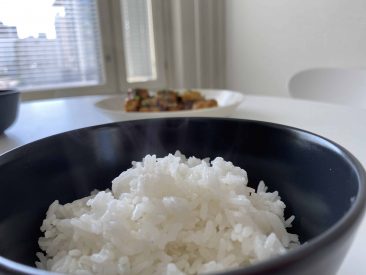 Print
How to wash rice (+cooking)
These instructions are tips for washing and cooking Japanese rice for any dish you might need to use it.
Materials
300

grams

Japanese white rice

or Jasmine rice (as said, the rice varieties differ in their starch content)

430

milliliters

water

for cooking the rice
Instructions
Take a bowl and place the rice in it, then cover it with water.

Mix using your hands and then pour out the water (use a strainer to catch the rice).

In order to remove the excess starch, put your hand into the bowl. Cup the rice by lifting it from the bottom of the bowl and turning it on the top. Repeat 15-20 times. Make small circles while doing it.

Again, cover the rice in water and you will see that it is not completely clear. Immediately pour out the water and repeat the previous step until the water is clear.

When the water is clear, pour it out, drain the rice and let it rest for 30 minutes in a strainer.

Place the rice in a pot with the requested amount of water in the ingredients. Let the rice absorb some of the water before cooking.

Cover the pot and bring it to a boil over medium heat. Immediately lower the heat to the minimum once it starts to boil and cook for 10-13 minutes.

When 10-13 minutes have passed, take it off the heat and let it rest for ten more minutes. Then stir the rice and serve or use as needed.
Notes
Do not remove the lid while cooking.
Use a wet spatula to stir the rice.